Subaru enhances its Legacy and upgrades its Outback for 2015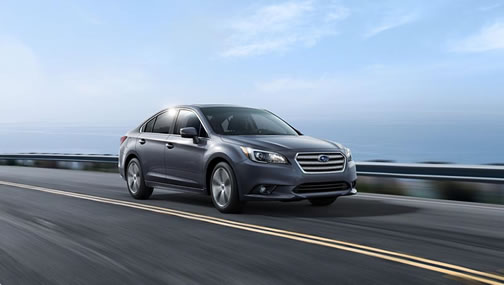 By Jim Bray
October 9, 2014
Love 'em or hate 'em, Subarus have earned a loyal following for their tradition of offering all wheel drive vehicles that can take you virtually anywhere at any time. And for 2015, two of the company's top models have been tweaked to make them an even better choice for those susceptible to the brand's charms.
Click here or on the image to open a slideshow
That has never really included me - though I like the Forester quite a bit - but I can certainly see why people love their Subarus. They're built well, offer most - if not all - of the technology a modern car should, and they'll probably perform yeoman's service for their owners virtually forever.
But it's a competitive marketplace and carmakers have to keep up to keep up. So it is that the 2015 Outback and Legacy up their antes at least a bit over their 2014 versions.
I got to spend about a week with each of these vehicles, including some serious seat time in the Legacy as we sallied forth to the Columbia Icefields Parkway in the Rocky mountains, a wonderful test of any car's mettle.
The Outback came first, however, so let's start there. This is the vehicle Australian actor Paul Hogan first introduced to people many years ago, calling it the "first sport utility wagon," differentiating it from sport utility vehicles that are/were more truck-like than car-like, at least in that they're taller and give you a better view of the traffic around you. The Outback doesn't do this, despite generous ground clearance, and while that doesn't help you see over traffic, it does make the vehicle easier than an SUV to get into for shorter people. Since my legs barley reach the ground when I stand, I liked that!
Subaru Canada sent their sample Outback wearing the 3.6R Limited Package livery, a vehicle that came in at a suggested price of $38,895, which is a pretty hefty tag all things considered. Of course you have to take into consideration its four wheel drive and other modern features before you dump too much on it for its price. And, really, since it occupies a pretty thin niche, its only competition would come from cars such as the Audi A4 Allroad (starting at $46,600 Canadian) and the Volvo XC70 (starting at $42,100), though to also be fair, both of those competitors are really at least one level of "premiumness" above the Outback and those prices stated would not include options, whereas the Subaru's does.
Anyway, the new Outback is a tad larger than last year, with a bit of extra room, and it looks a bit better as well, with cleaner styling. Inside, the design is clean, though a tad Spartan for my taste, and while I usually look upon Subaru products as being a tad cheap-looking and feeling, this new one isn't quite as bad. The seats are comfortable for long trips, there's good room in the back seat (though it's still tight for three adults) and of course you can fold down the back seat to enhance hauling space even more - not that that's unique!
The instrument panel is straightforward and modern, with two big analog gauges that are easy to read (and a digital display you can customize; I liked using it to display a digital speedometer, though that's only one of the choices). Subaru's test sample had the optional seven inch LCD touch screen mounted above the HVAC controls by which you can operate the audio, phone, navigation and the like. Of course there are also steering wheel-mounted controls.  It all works just fine.
Subaru's sample also came with the bigger engine choice, a 3.6 liter flat "boxer" six that I imagine (after having driven the four cylinder Legacy) is a lot more interesting than the 2.5 liter flat four would be. The difference in horsepower is substantial: 256 for the six, 175 for the four. 
Alas, Subaru has chosen to inflict a continuously variable transmission on both cars, though at least it's more interesting than many CVT's. Subaru's version pretends to be a conventional automatic, "shifting" through "gears" as you accelerate.  You even get paddle shifters to enhance the experience, though if you downshift with the car in default automatic mode the transmission is quick to shift  back up again, undoubtedly a gas-saving strategy. But you can pretend the car has a six speed automatic and the car does a pretty good job of pretending along with you.
It's a decent car to drive, though I must admit I enjoyed driving the Legacy more, which surprised me. The sample Legacy's suspension was more cat-like, sporty but not jarring, and that served us well in the mountains. What didn't serve us well was the Legacy's four banger, which really didn't like the mountains a lot - and that caused me to put my right foot down more than I had to with the flat six, which meant I also unleashed the wildly whining banshee noises from which CVT's can suffer.
The Outback has leather, a power tailgate, which is always a nice feature, and the sample also sported safety stuff such as blind-spot monitoring (which you can turn off and it stays off, though it then inflicts a little warning light on the instrument panel to remind you you're messing with mother nature), lane change "assist," rear cross traffic alert, and adaptive cruise control. It also had a rear view camera that was very slow to fire up, meaning I could be halfway out of the parking space before it showed the view behind. Kind of pointless unless you sit and wait for it to catch up with you. I like technology that leaps to attention when you call upon it.
The Legacy had this stuff, too, with the same results. Unlike the Legacy, however, the Outback also offered Xenon HID low beam headlights.
I hadn't driven an Outback for several years, so it was interesting to see how the vehicle has evolved. And it has kept up well with the marketplace, while remaining true to its roots. Despite my Subaru angst, it's a nice vehicle.
Ditto for the Legacy sedan, the sample of which was lower end than the Outback that's actually based on it. Subaru sent the Legacy 2.5i with Touring Package, a car that came in at just under $39,000. That does seem like a lot of cash for a sedan in this class, but you do get all wheel drive and I guess that counts for something if that's important to you.
The new Legacy is a handsome car, only available with all wheel drive and you can get the same flat six as Subaru's sample Outback had. The four's 175 horsepower, which also gets to the wheels via a CVT, is more than adequate for city driving and it's even okay for the highways as long as you're in relatively flat land. And of course it'll get you better gas mileage than the six if you drive in a gas-friendly manner.
As mentioned, the little four proved to be adequate at best when the hills got steep, and the CVT didn't make it any more interesting because when you step on the gas the noise level from the banshees gets ramped up considerably. We were worried the national park police would pull us over for frightening the wildlife.
The pretend manual mode helps, but you're best leaving it in "full" manual (via the gear selector lever) and using the paddles than you are using the paddles in auto mode (leaving the gear selector in "drive"), because (as with the Outback), it wants to shift up as quickly as possible, to ensure the best gas mileage. Also unfortunately, the CVT is the only transmission offered.
This would be a terrific car to drive if not for the CVT. It has a fully independent suspension (struts up front with a double wishbone rear) that's surprisingly fun, handling the twisty bits heading into the mountains with ease, yet it was still surprisingly smooth - a nice balancing act, in all. There's a bit of understeer, which isn't surprising in an all wheel drive vehicle, but it's never to the point where you think you're going to continue in a straight line despite your best steering input.
And speaking of steering input, the Subaru's power-assisted steering feels just right - not "hard wired into your brain" like a Porsche or Mazda MX-5, but plenty rewarding enough for a mid-range family sedan. Ditto for the brakes, which are four wheel discs with the usual aids.
Despite my bellyaching about there not being enough torque (there rarely is!), the four cylinder engine will undoubtedly serve its owners well - and if you need that extra oomph for the terrain in which you drive, the six banger should do the job just fine.
The Legacy was also of a lower trim level than the Outback, and it therefore had lower end interfaces for its electronics via the LCD screen. And they aren't as good; there are fewer choices and it just seems a tad clunkier to use than the optional system. It isn't a huge deal, though and if you haven't played with the higher end one you probably won't miss anything.
This generation of Legacy is appreciably nicer than the last one, so that's a good step in the right direction. The seats are very comfortable, everything is where it should be and it all works well. And the dual-zone automatic climate control kept the windows nice and clear when the mountain weather (rain, rain, rain) wanted to fog them up.
Alas, the "upgraded" audio system, which features six speakers and AM/FM/CD/MP3/WMA/AHA performance, was anemic at best; it really needs better amplifiers and, perhaps, speakers. This isn't just a Subaru thing but an issue I notice with many, if not most, mainstream Japanese cars: they just don't seem to get amplification like many, if not most, German carmakers do. This changes somewhat with the higher end stuff - like Lexus' optional systems - but even most of those don't seem to rock like a mid-range audio system from the land of lederhosen.
Still, the Subaru offers good connectivity and streams via the same Bluetooth interface you use for your phone. And if you want better audio, the company offers an upgraded Harman Kardon 12 speaker system with a 576 watt amplifier. That's the system Subaru had installed in the Outback, and it's head and shoulders better.
Another thing I noticed that seemed a tad strange was that there was no handle inside the Legacy's trunk to help facilitate closing it - a small thing that it seems most cars offer these days. Such aids are nice because, since they're mounted inside the trunk, you can close the lid without getting your hands dirty during winter or wet weather.
Either of these Subarus would probably serve you well and they're getting more competitive when it comes to amenities and perceived quality. They aren't cheap but, after checking out some of the competition, they aren't really overpriced, either. And since they offer all wheel drive, they're playing in a pretty thin competitive field. That seems to have been - and continues to be - Subaru's ace in the hole.
That and the fact that they never seem to wear out.
Copyright 2014 Jim Bray
TechnoFile.com