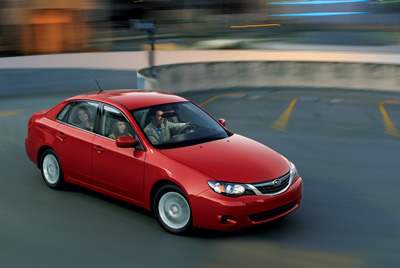 Entry Level Subaru Still "Impreza-ive"
By Jim Bray
April 21, 2010
The 2010 Subaru Impreza sports a few upgrades and enhancements designed to make it more attractive to its base of loyal customers – and others – while remaining true to its "rally-bred" roots.
And why not? The Impreza 2.5i I drove may not be the most refined vehicle on Earth, but it still has a lot going for it. Chief among these is Subaru's famous symmetrical all-wheel drive system coupled with the "boxer" engine that sits low up front, pistons moving horizontally toward each other (hence the "boxer" moniker), helping give the car a very, well, down to earth center of gravity. Both features come in very handy in climates that experience stuff like snow and ice.
In fact, when I was on an Alaska cruise last fall, I was amazed at how many Subarus there were in the towns we visited, though I guess I shouldn't have been. I imagine they'd be ideal in such an environment.
The 2010 Impreza 2.5i is available in four and five door versions. There's also a hot, turbocharged WRX model I look forward to peeling out in, er, driving carefully and sedately, in the future. But in the meantime, my four door sedan test car was basically an entry level Impreza, with little in the way of optional fun and comfort stuff. Yet it managed to get me around just fine, while still being quite a bit of fun.
Outside, the new-for-2008 body style is the most attractive of Impreza generations, at least in my never humble opinion, a handsome vehicle. I'm not as enamored with the wagon's bum as I am with the sedan's, though, though both offer an excellent greenhouse that gives the car's occupants very good outward visibility.
It manages to be a pretty handsome vehicle inside as well, though I wish the company would upgrade the look and feel of some of the interior materials. For example, Subaru calls the accents in my test unit "aluminum look" but they sure looked like silver/gray plastic to me. And, like in some Volkswagens I've driven recently, the fabric seats are absolute pet hair magnets. Take that as a good excuse to order leather!
The base boxer engine punches out 170 horsepower @ 6000 rpm and 170 lb.-ft. of torque @ 4400 rpm. This is nicely competitive in this market segment. The engine sounds a bit buzzy from inside the car, but it performs well. The WRX version gets a high-pressure turbocharger and intercooler and develops 265 hp @ 6,000 rpm and 244 lb.-ft. of torque @  4,000 rpm. I imagine it's quite a bit of fun, too, especially if turbo lag has been tamed.
The Impreza handles well, too, and not just because of the all wheel drive. Its suspension is independent all the way around, with MacPherson struts up front and double wishbones "out back" (I know, I know…). Both ends of the equation also get stabilizer bars. Brakes are discs with four channel, four sensor ABS all around – and they come with the usual brake assist and electronic brake force distribution nannies. You also get vehicle dynamics control and traction control.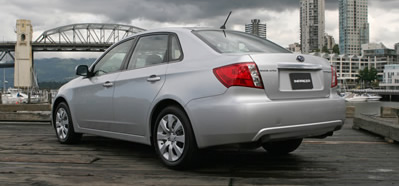 My test unit came with a five speed manual transmission with a hill holder system. Shifts feature rather long throws, but it works fine and the clutch is nice and light. Also available is a four speed automatic with sport shift, which seems so last decade in an age of five, six, seven and eight speed automatics.
On the other hand, four speeds is competitive in this price range.
Inside, the Impreza means business, with instruments and controls that are legible and well laid out, with those "aluminum look" inserts. My low end test car didn't come with a lot of the tools and toys that are optional, such SIRIUS satellite radio, heated front seats and, on the outside, multi-reflector halogen fog lamps and windshield wiper/de-icer, but that's what you get for not optioning up the vehicle. Talk about roughing it! On the other hand, you get stuff like power windows, air conditioning with air filtration, keyless entry, a tilt (but not telescoping) steering wheel with integrated cruise control controls, heated power mirrors and the like.
The base, four speaker AM/FM/CD/MP3/WMA audio system is merely adequate, though it does have an auxiliary input and power supply in the center console that I used to stream tunes from my iPhone.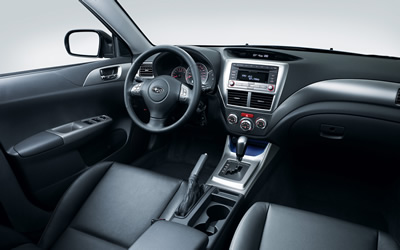 I'd have loved to try premium audio system with the newly available media hub, which Subaru says offers complete iPod and USB integration; if it works like it does in other vehicles, it's a really cool feature I've grown to appreciate. If you like good sound and great integration, this is an option worth considering.
Subaru also offers optional rally sport style front seats and I would recommend these if you plan to go long distances. I drove the base Impreza for a week and during my urban jaunts it was just fine, but when I sallied forth (well, fifth) toward the Rocky Mountains for a day trip the lack of padding on the seats made me glad that my own bottom has plenty of its own.
Who'd have thought there'd be a reason for joy in being overweight?
To be fair, it wasn't as if I fell out of the car and kissed the ground at the end of the trip; I was just a tad stiff.
The trunk is nice and big, though not completely flat and the hinges got in the way a bit when we were stuffing some boxes of electronic equipment into it. Fortunately, the back seat is roomy and splits/folds to enhance your ability to carry stuff, which helped us haul the electronics with no trouble.
Subaru prides itself on the safety equipment it manages to stuff into the car, and likes to trumpet the fact that the Insurance Institute for Highway Safety named the Impreza a Top Safety Pick in frontal offset, side and rear impact tests for the small car segment. Standard safety equipment includes active front head retraints and front seatbelts that have electrically triggered pre-tensioners and force limiters.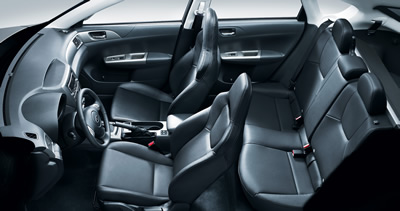 The air bag collection includes standard side-curtain airbags and Subaru's advanced frontal airbag system, the latter of which means the driver's side front airbag deploys according to how close the driver is to the steering wheel.
So while the base Impreza may still be an entry level vehicle, its handling and overall performance belie its fairly innocuous price. I'd like to have more stuff in it, but if you want Subaru's "rally-bred" performance at a fairly basic price, this model may be worth a look.
If not, start ticking off those option checkboxes!
The 2010 Subaru Impreza 2.5 1 starts at $17,495 U.S./$20,995 Canadian.
Copyright 2010 Jim Bray
TechnoFile.com