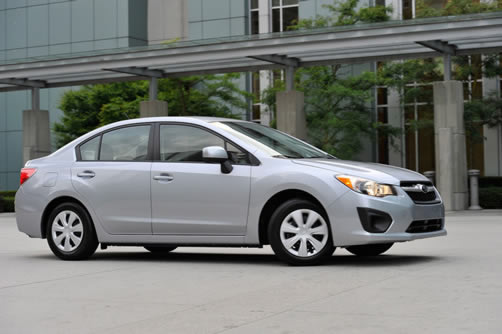 Subaru Impreza aims for four wheel economy
By Jim Bray
July 19, 2012
Subaru made its name in part by creating a niche made up only of all all-wheel-drive vehicles, and the 2012 Impreza continues that commitment in a reasonably priced car that will undoubtedly appeal to Subarufionados.
Perhaps ironicially, the company's all-awd era ends with the new BRZ, a nifty-appearing rear wheel drive coupe that's just starting to appear on our roads – but even that car maintains Subaru's other tradition of offering what are known as boxer engines, a trait shared by only one other company I can think of: Porsche.
That's pretty good company!
The Impreza is a more typical Subaru in that it combines both all-wheel-drive and the boxer, the two liter's four horizontally-opposed "fists" jabbing toward each other in a way that helps ooze out a total of 148 hp and 145 lb.-ft., which is apparently down from the previous Impreza's 2.5 liter boxer.
This is undoubtedly due to the same quest for increased gas mileage that's inflicting SKYACTIV on some new Mazdas and, while there's nothing wrong with pursuing efficiency, it leads to tradeoffs I don't happen to like – such as reduced performance and a less interesting ride.
This is what I found afflicted Subaru Canada's pretty low end four door sample. That said, the Impreza rides fine, as long as you don't mind a more leisurely response from this version of the car.
And as long as you don't mind a continuously variable transmission. I do. I've learned to hate most of them for their noisy and fun-sapping ordinariness.  Subaru's pretends to be a six speed manual, too, even offering the paddle shifters I would order in a heartbeat normally – except that here all they do is draw attention to the fact that this isn't really an auto/manual and the reactions to your paddle inputs are really just computerized "shifts" that don't add a lot of feel to the drive.
It does, according to Subaru's stats, get you better city gas mileage than the five speed manual transmission does, however. That is undoubtedly important to many people.
There's a lot to like with the Impreza, though, starting with an attractive "Legacyesque" exterior with "hawk-eye headlights" and a hexagonal front grille that actually looks pretty spiffy. The profile and buttocks are also easy on the eyes.
The strut-type front and double wishbone rear suspension feels very nice, tight enough that it could be interesting (if the engine were equipped with a turbo!) but still comfy enough for urbane urbans.
The inside of the sample Impreza was pretty stark, with so much black just about everywhere it looked like a mobile, five passenger version of Dracula's coffin. The materials don't exactly scream "touch me, you'll like me!" either. On the other hand, the greenhouse is very good.
Now, for twenty grand you can't expect everything, but I remember some Korean cars I've driven in the same price range that managed to feel luxurious at the same time.
The Subaru's front seats are very comfortable, but the low end upholstery in the sample seemed to attract pet hair out of thin air, like many competitors', alas,  and were the dickens to vacuum clean.
Instrumentation and controls are straightforward and everything is where it should be for easy access and operation. The audio system isn't too bad, either, all things considered.
If this sounds like an underwhelming review, you're right. This entry level version of Subaru's popular Impreza is less "imprezzive" than I'd hoped. Boxer engine and all weather handling provisions aside, there are much more interesting cars than this for about the same money.  
On the other hand, if you want to part with more coin, you can up-equip your Impreza quite nicely. You get the same engine and transmission choices (unfortunately – at least until they bring out a new version of their hot Imprezas), but you can add 17 inch alloy wheels, leather,  a Bluetooth hands-free system with steering wheel-integrated controls, a Pioneer audio system with iPod/USB audio integration and auxiliary input, and extra speakers.
Dual zone automatic air conditioning, a color LCD display and power seats are also available. Expect to pay closer to 30 grand for that Impreza, though. That's getting into Camry/Optima/Sonata/Accord/Altima territory.
Subaru has a loyal following and this new version of an old favorite may strike a chord with them, and maybe even with some new buyers who want its particular blend of form and functionality.
Copyright 2012 Jim Bray
TechnoFile.com