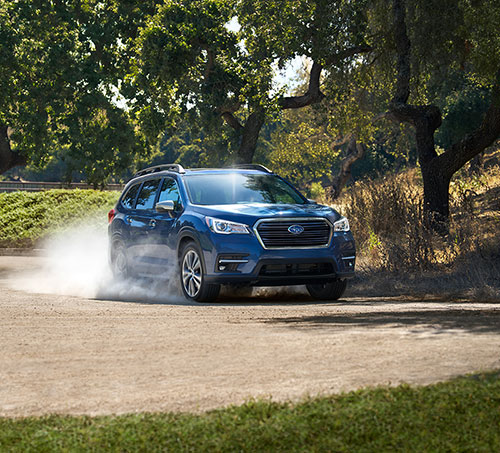 Subaru Climbs back into the three-row market with Ascent
By Jim Bray
December 13, 2018
Consumers looking for a three row SUV/Crossover have a new choice in Subaru's latest new model.
The Ascent, new for 2019 and, according to Subaru, their largest vehicle ever, is aimed straight at such vehicles as Mazda's terrific CX-9, the Honda Pilot, Toyota Highlander, VW Atlas, etc. etc. etc. etc. etc. Yep, it's a pretty crowded niche.
And that's great! More choices are certainly better than fewer.
Click on the image to open a slideshow.
The Ascent (add a couple of "S's" to the name and you surely have a decent – or de-scent – fart joke!) seats up to eight people and features all the stuff that has made Subaru popular with its loyal audience – such as symmetrical all-wheel drive that's comfortable on and off road. Alas, it also inflicts a couple of things that aren't so good – stuff such as a continuously variable transmission (though this one is far from being the most annoying CVT I've experienced) and nannies that are so annoying I found myself cussing at the vehicle repeatedly.
That said, there's a lot to like about the Ascent, including a comfortable and attractive interior that's designed and built mostly logically, as well as coming with most of the more mainstream tech features found on most new vehicles these days – stuff like Bluetooth, power this and that, you name it.
The Ascent is Subaru's first foray into this niche since it killed off the old Tribeca, which was a pretty bizarre-looking (another fine Subaru tradition: remember the SVX?)  but fine to drive "crossover" (it toed the line well between minivan and SUV).
The Ascent's interior also features pretty darn good access to the third row, via a simple lever you pull to make the second-row fold and slide out of the way. And that third row is actually pretty roomy, all things considered, though if you actually put three people back there, they'd better know each other well before they get in or they will surely once they get out!  This is a common refrain with three-row SUV's, though.
I sat back there (by myself) for one short trip and found it quite adequate for such purpose and getting my short, fat, middle-aged body in and out was less of an ordeal than it often is with such vehicles.
As is the trend these days, the Ascent gets its power from a turbocharged four-cylinder engine and in this case, it's rated at 260 horses and 277 lb.-ft. of torque. There's little turbo lag (in fact, my first quick drive made me wonder if it were a V6) and that amount of oomph was perfectly adequate for our needs during our week with the Ascent. I'm not sure it would be enough with eight people and their stuff, but it's probably adequate at the very least.
That darn CVT does its best to play make-believe that it's a real automatic, by pretending to shift and giving you paddles with which you can also join in the fantasy.
The vehicle handles well, though I thought the independent suspension was a tad soft for my taste. Pedal feel is fine, though, and braking performance from the four-wheel discs (with ABS etc. of course) was just fine on the snowy roads we had during my test period.
Snow and Subarus go together well, and enhancing the AWD system is the X-MODE system, which Subaru says is meant "for when the going gets really tough," i.e. snow, ice, really crummy roads. Apparently, it adjusts the engine's torque output and where it's sent, depending on where it's needed.
There's also plentiful ground clearance.
Add an abundance of safety features to the mix, including "the award-winning Subaru EyeSight Driver Assist Technology," according to the company. There's automated emergency braking and lane keeping assist which, try as I might without resorting to reading the manual, I could mute but couldn't shut off completely. I thought I was going to die!
Even the base Ascent ($35,995 CAD) comes equipped well, including that EyeSight driver assist technology, three zone automatic climate control, a good infotainment screen that includes both Apple CarPlay and Android Auto, a powered driver's seat and heating for both front seats. Seems like Subaru has been channeling the South Korean carmakers when it comes to adding goodies as standard equipment.
The optional Harman Kardon audio system is quite good, but it tends to run out of steam when you really crank it. This is a common failure of car sound systems, unfortunately, so Subaru is by far not the only culprit in this.
Subaru Canada's sample, which wore the "Limited" trim level, didn't seat eight, and I'm glad because most time I'd need it to seat only four (or four grownups and a couple of ankle biters who are best served strapped in Steerage anyway) and the sample had nice captain's chairs rather than a second-row bench.
Both "rear" rows can be folded flat to open up minivan-like hauling space, though with the captain's chairs you don't get a completely flat area. On the other hand, you do get plenty of little spaces in and around the chairs where you can stick your contraband.
The instrument panel is clear and clean and you can tweak various vehicle settings, though I thought the customization was pretty limited compared to some other vehicles. Naturally, you also get good viewing outside thanks to a decent greenhouse – and a set of cameras mounted seemingly all over the place helps you navigate parking lots safely. 
The EyeSight system also includes adaptive cruise control that, like many these days, will restart the car from a dead stop. I'm not a huge fan of adaptive cruise, but I'll take it any day if I can get rid of the lane departure warning. Even though I thought I'd shut the LDW off it would still whine at me if I dared apex a curve by crossing the white line on the roadside, or the centre. Leave it on completely and it'll fight you for control of the steering wheel. Again, this isn't a unique Subaru thing, but it sucks wherever it's found.
There's a switch with which you can supposedly turn the thing off completely, but I didn't find out about it until after I'd returned the vehicle. How's that for straightforward design (let alone due diligence research on my part!)?
And really, if you need such things on your vehicle, why not just take the bus and leave the car driving to those who enjoy it?
Subaru has not traditionally been one of my favourite carmakers but with this new Ascent (even though, as a three row SUV/crossover it isn't really my type of vehicle) they've upped their game. The vehicle feels modern, efficient, built well, and offers just about anything one could want in the current automotive marketplace.
Just watch out for those nannies!
The 2019 Subaru Ascent is available in a variety of trim levels, from the base "Convenience" ($35,995 CAD) through the Touring, Sport, Limited and Premier. Subaru's sample "LIMITED WITH CAPTAIN'S CHAIRS" model lists for $46,995 while the top line starts at $49,995.
That's getting up there for a "non-luxury" vehicle, but on the other hand a Mazda CX-9 Signature starts at $53,521 (though I'd argue it's a more luxurious and more compelling vehicle), a top-line Toyota Highlander starts at $50,945, and a high-end Kia Sorento starts at 48,865. So Subaru is in the ball park.
Copyright 2018 Jim Bray
TechnoFile.com
Jim Bray is a member of the Automobile Journalists Association of Canada. His columns are available through the TechnoFile Syndicate.