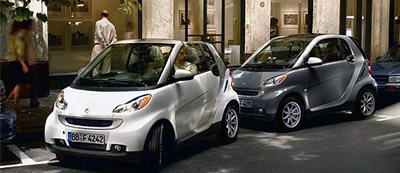 Smart fortwo – Smart, or just Politically Correct?
By Jim Bray
October 23, 2009
There are many, many good and economical cars on the market today. The "smart" fortwo is not one of them.
Now, before I go on, I should advise owners of the smart fortwo to stop reading now or risk getting your feelings hurt – and isn't "feelings" what the "smart" is all about?
Okay. Are the rest of you ready? Let's begin.
I thought it would take a long time to find a car I hated more than the Volkswagen New Beetle Convertible. In fact, in my 10 years or so of reviewing cars, I've only trashed one other vehicle: the Dodge Nitro. The state of the industry is such that it's hard to find a bad vehicle these days, so most of my reviews tend to be positive.
Here's the exception that proves the rule.
The "smart" fortwo is easily the worst new car I have driven. I knew within five minutes, maybe less, of having taken possession of the thing that my week would be an ordeal. And when my time was up I was very happy to turn in the stupidly-designed "black icons on a black background and therefore virtually illegible" key fob.
How many things rubbed me the wrong way? I lost count, but the first thing I noticed besides the key fob was the way the "smart's" doors creaked – like the doors of an old, crusty vehicle that's been ridden hard over a long time, despite my "smart" only having a couple of thousand miles on it. They creaked worse than I do when I drag my sorry butt out of bed first thing in the morning. I can only imagine what they'll sound like after some poor soul puts 50,000 miles onto it.  
The "smart" fortwo is available in three trim levels: the "pure", "passion coupe" and "passion cabriolet", the latter of which was what I drove.
Which reminded me of one thing I liked about the passion cabriolet: its capacity to be a cabriolet – a convertible. The roof buttons up tightly – so there should be no issues in car washes – and retracts in two stages, the first of which I liked. That stage opens the entire roof like a big sunroof (not that there's much roof on a car with a wheelbase about as long as a wheelbarrow's) and it was great. The second stage retracts it right down to the "trunk", leaving you with a big, folded roof perched over the car's bum in much the same way that horrid Volkswagen New Beetle's roof does – which means you lose most of your vision rearward, though it does give you a nice view of the folded roof.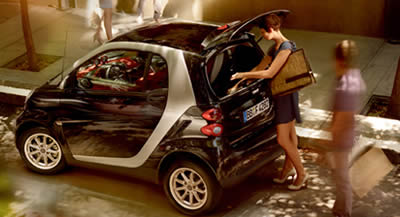 Oh, yeah. There's also a "BRABUS" coupe and cabriolet version for those who haven't already spent enough of their hard-earned money on what is probably the closest most of us will ever get to driving a Segway.
"smarts" were originally diesel powered, but this second generation features a little gas engine. It's a one liter, three cylinder "power plant" that oozes 70 horsepower onto the road – eventually. And for those of you who plan to smile smugly about your "smart": it burns PREMIUM gas.
Okay, it doesn't burn a lot of it; in my five days with the "smart" I went through about $15 worth of gas, so that part was okay. There's more to life than gas mileage, though.
Driving the car is an ordeal. Oh, the seats are comfortable enough and the driving position's good, but if you try accelerating at anything other than a snail's pace the "newly developed" five speed automatic transmission with manual shift mode (which "now provides for even faster gear shifting, virtually free of any delays") winds up right past the red line and stays there until you shift it manually, at which time it stops shrieking like the undead and jerks into the next gear.
Perhaps "jerks" isn't the right word for how the it shifts. Ease onto the gas gradually and oh-so-environmentally-friendly-like and the car oozes forward with the same eagerness my kids used to display when we asked them to help around the house.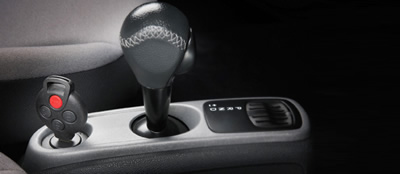 Then it shifts, shuddering and shrugging and nearly tossing you into the windshield. Thank goodness for seatbelts! It reminded me of when I tried to teach a non-driver to handle a manual transmission many years ago, though without the grinding and the cussing. Well, the grinding.
The tranny also comes with paddle shifters which, in a real car, add a bit of sportiness. There's nothing sporty about this car – not that it pretends there is – but the paddles do let you second guess that awful automatic mode.  
Perching in the "smart" reminded me of riding the Tilt-A-Whirl at the fair, though I remember the latter as being more enjoyable. The seats are comfortable, though, and the instrumentation straightforward – and the clock and tach (which are mounted centrally on the dashboard and stick up on pods like the eyes of the aliens in Monty Python's Life of Brian) add a cute touch to the interior as long as your forehead doesn't hit them when the car shifts gears.
The brakes feel as if you're stepping on a wooden block, with little pedal feel – though the stops themselves are fine.
The miniature cabin also features a horrendous blind spot to the right rear, between the passenger window and where the trunk should be. This won't bother you when you're driving, but it's awful when you're backing out of a parking space and want to see oncoming vehicles.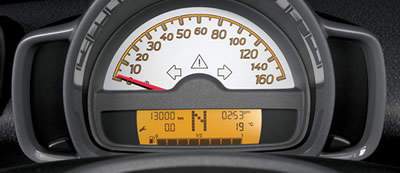 Speaking of truncated trunks, we managed to get three plastic bags of groceries and a small box into the car before it was filled to capacity. This means that if you want to use this commuter car for such mundane purposes such as – gee, I don't know, buying sustenance? – it may take you more than one trip. On the upside, you can fold down the passenger seat if you need to carry something a little longer – like a yardstick. This means only one of you can go shopping, though.
Okay, speaking as a guy who hates shopping, this is a net benefit.
The stiff suspension and very short wheelbase mean you'll want to visit the biffy before heading out in the "smart" or every time you go over a frost heave or speed bump your bladder will definitely not be gladder. And thanks to its short overall length, half the water and cleaning stuff was wasted in an automatic car wash as the robot worked under the assumption that a car would extend farther back.
The car's black exterior was of multiple shades, though I don't think it was intended that way, and the air bag sticker on the dashboard had wrinkles in it. Great fit and finish.
When you're driving alone at night, the "passenger airbag" warning light above the windshield casts enough illumination that you can practically read by it. That's an exaggeration, of course, but not much.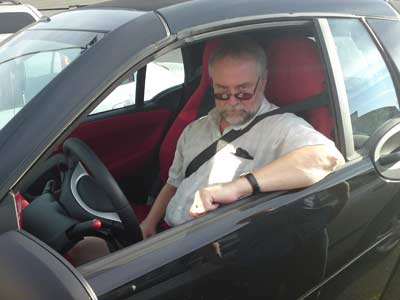 Regardless of how many airbags the car has or its supposedly good crash test performance, I felt very exposed in its cockpit and if I were a betting person I'd bet against the "smart" in a collision between it and a larger vehicle – which is just about anything other than go karts. And when following a dump truck on our local freeway, the "smart" was buffeted and blown around so much that it took extra attention to keep it straight. This is not a highway car, though I see them there all the time.
I had to laugh when I drove by a house that had with a big "For Sale" sign in the window. Perhaps its owner had "smart"ened up.
Bottom line? The smart fortwo looks like the offspring of a Volkswagen Thing and a dumpster – and undoubtedly drives worse than either. And, while it didn't use a lot of gas I'd rather use more gas and have a real, usable car.
One example: the Hyundai Accent starts at $9970 U.S. ($13,599 Canadian) according to the company's websites. The smart fortwo starts at $11,990 U.S. ($14,990 Canadian), while the smart passion cabriolet starts at $16,990 U.S. ($21,250 Canadian) according to their respective websites at the time of writing. That difference in price between such cars will buy a lot of gas, give you two extra seats and real storage space.
But it won't make you feel as good, if that's what you're looking for in a car.
Perhaps to ensure some truth in advertising, the "smart" should be renamed the "pretentious".
Copyright 2009 Jim Bray
TechnoFile.com