Scion xB, tC – One Box, One Sport
By Jim Bray
January 11, 2011
There's thinking outside the box, and there's thinking about being inside the box. And whether you're looking to be boxed up or want something a little more fun, Scion thinks it has your number in one of its little numbers.  
The Scion xB is, indeed, quite boxy, but that isn't necessarily a bad thing. In fact, while it inspired me to imagine what it must be like to drive a chest freezer on wheels, when all is said and done the xB is a pretty nice car, well built, efficient and even pretty decent to drive.
That's the box. The sport is the Scion tC, a more interesting coupe that reminded me of my old 1981 Toyota Celica – a car that served me very well and which was enjoyable to own and drive, if not particularly exciting. Like that Celica, the tC is a reasonably cute and sporty two-door that's pretty fun to drive, even saddled as my test car was with the automatic transmission.
Let's start with the xB. Part of the reasonable driving enjoyment you get with this mobile parallelogram  comes from its 2.4 liter four cylinder engine, which features 16 valves, variable valve timing with intelligence ( VVT-i), and is rated at 158 horsepower @ 6,000 rpm and 162 lb.-ft. of torque @ 4,000 rpm. This is enough for what the car claims to be, and gets it up to decent speeds with reasonable dispatch.
The weather was pretty miserable during my week with the xB, so I never really had a chance to push its limited boy racer envelope anyway, though I did get a chance to drive an xB briefly at the Canadian Car of the Year TestFest, on urban and rural roads and freeways and on a track set up for the occasion. It performed well.
Helping aid the xB driving experience is a front suspension that features L-Arm Type Macpherson Struts with a stabilizer bar, and a Torsion Beam buttock. There is also defeatable Vehicle Stability Control, Traction Control (TRAC), four wheel disc brakes with ABS, Brake Assist and Electronic Brake Force Distribution.
Steering is power-assisted rack and pinion, with good feel.
My test xB came with a four speed automatic transmission, which is so 1990's and works against any fun in this age of auto-trannies offering ever-increasing forward speeds. If you enjoy driving, you might want to think about the five speed manual transmission that's available.
Handling is balanced nicely and the suspension treads the line between sloppy and jarring well. My test xB also wore a good set of winter tires which came in handy when about half a foot of snow dumped onto our streets instantaneously – a challenge for any vehicle. The well-rubbered xB handled it beautifully, though.
The interior is pretty comfortable and efficient with, not surprisingly, an excellent greenhouse. Visibility in all directions is top notch and that not only makes you more comfortable while driving it, it also makes the xB easier to park.
Instrumentation is minimal, but you get the basics, the seats are comfortable and there's plenty of room. The driving position is good as well.
The xB isn't really my cup of tea, but the only real complaints I have about it is that the instrument panel is mounted in the middle of the dashboard and the audio system, well, sucks out loud.
I must comment on the quality of the battery the Scion folk have installed. In a clueless moment, I left the dome light on one bitterly cold night –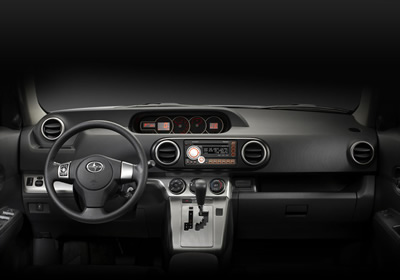 but the xB started the next morning with no fuss at all. Since it was about 4:30 a.m. and I was on a tight schedule to get to an early morning gig, I was very grateful.
Bottom line for the xB "Urban Utility Vehicle"? It's a nice, if not particularly exciting or attractive, vehicle that's comfortable and roomy and will undoubtedly serve its owners well.
talking Cars…
The tC definitely has more sporting pretensions, though pretensions are really all you get. At  heart it's still a little economy car – kind of like the old Toyota Paseo that was really a Tercel with two doors. But this is more than an xB with two doors – it has more power, a better transmission and a more fun driving feel.
The tC gets a fuel injected 2.5 liter four cylinder engine with an aluminum alloy block, double overhead cams, 16 valves and dual variable valve timing with intelligence (so beware Wikileaks if you own one!). Horsepower is rated at a decent 180 @ 6000 rpm, while the torque is 173 lb.-ft. @ 4100 rpm.
You can choose from either a six speed manual or a six speed automatic with manual mode – a transmission they should offer on the other models as well, but don't. It isn't much of a manual mode, not adding a lot of extra sportiness to the driving experience, but it came in handy during the snowy conditions that managed to stick around right through the tC review.
Up front, the suspension features Macpherson gas struts and a stabilizer bar, while the tC's tush gets a double wishbone-type suspension with a stabilizer bar. The ride is definitely more sporty than the xB's and, unlike with some true sports cars,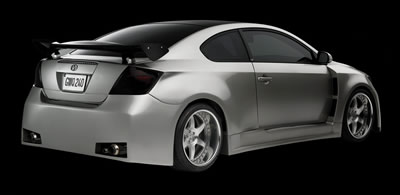 you won't need to empty your bladder before sallying forth on your driving adventure.
The front wheel drive tC also features Vehicle Stability Control (VSC) with a cut off switch for when you're feeling frisky, and traction control (TRAC). You get disc brakes all around, with ABS, brake assist and electronic brake force distribution. Steering is electric power-assisted rack & pinion and it feels good.
The instrumentation, in this case, is where it should be – right in front of the driver – and it's clear enough, though I had trouble reading the speedometer with my sunglasses on.
The front seats adjust manually and are comfortable. Getting into and out of the rear seat, which is reasonably comfortable for two, is the ordeal you might expect from a small two door, but such is the nature of the beast. The seat also splits and folds 60/40, extending the hatchback's reasonable storage space.
Since I can't complain about centrally-mounted instrumentation with the tC, it's time to discuss the audio system, the standard head unit of which appears to be the same in all of the Scion models. I hated it.
Oh, sure, you get AM/FM/CD/MP3/WMA capability, an auxiliary jack, USB input, Bluetooth capability (for phone and streaming, though good luck figuring out how to pair it without cracking the manual), is satellite radio-ready and has steering wheel controls.
What you don't get is sound quality. There are no tone controls, just three presets: neutral, "hear" and "feel". Neutral is bland, "hear" sounds like you've pressed a "loudness" button to boost the bass a bit, and "feel" sounds like you've kicked in a subwoofer. A crummy subwoofer.
The sound is muddy and the "tone presets" don't help clean it up. The control buttons are too small and have labels that are very small and hard to read. There's even a separate power button instead of just being able to press the volume control like you can on just about every other vehicle in the world.
There's also a multifunction button that blends some controls into one horrid knob-like thing that's about as easy to understand as a badly translated owner's manual. And if you think that's bad, trying operating the damn thing with gloves on!
Perhaps in an admission that their amps suck, Scion includes an RCA jack with which you can hook in an external amp or subwoofer, so you can have your passenger sit it on his or her lap when you're tooling around listening to your tunes.
An optional Alpine stereo is available that, with luck, is better.
So how do I really feel?
Well, other than the lousy audio, I rather liked both the xB and tC (and even the xC I reviewed earlier). They're nice little vehicles that do the job for which they aspire quite well. And there's nothing wrong with that.
Unless you're the least bit of an audiophile.
The Scion xB starts at $16,7620 U.S./$ 18,270 Canadian. The tC starts at $18,995/$20,850 Canadian. Up to date scion iq ps vita, and pricing for it and the tC, xB etc. are available on Scion's website.
Copyright 2011 Jim Bray
TechnoFile.com