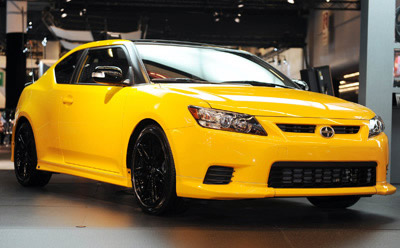 "High Voltage" Scion Adds a bit of Sportiness to Package
By Jim Bray
January 14, 2012
Scion's sportiest model receives a somewhat sportier upgrade for 2012. It's called the Scion tC "High Voltage" RS 7.0, as in "release series" 7.0, which makes it sound like a software upgrade but which is actually some tweaking to the hardware on the little coupe.
It isn't the kind of upgrade that's going to turn this unassuming little two door into a little screamer, but it certainly does make it stand out from the garden variety tC. Tweaks include TRD (Toyota Racing Design) badges, including the TRD logo on the dash-mounted start/stop push button and on the aero bits adorning the RS 7.0's flanks.
Silly me, I thought something with Toyota Racing (Scion is a Toyota brand) on it would carry some kind of performance tweaks, like more horsepower, a stiffer suspension, maybe even ceramic brakes – though I certainly don't expect the latter to crop up at this end of the market. And no matter how you slice it, the tC is a lower end "sporty" car thing. To me, its spirit hearkens back to the old Toyota Celica of the 1970's, and that was a pretty nifty little car.
You won't blend into the crowd with the "High Voltage" paint scheme of this tC. It's a bright yellow that glows almost as if it needs to be plugged in at night to recharge the hue. It doesn't of course. There's also a cool honeycomb grille, nice 18 inch Gloss Black Alloy Wheels and a numbered badge tucked away in front of the gear "shift," giving you bragging rights at the uniqueness of your tC.
The tC's innards are pretty good. The beastie sports front wheel drive and a 2.5 liter, four cylinder engine rated at 180 hp @ 6,000 rpm and 173 lb.-ft. of torque @ 4,100 rpm. My RS 7.0 had a six speed automatic transmission, just what you look forward to with a "sporty" car. Not even paddles are offered! There is a manual mode and it shifts well. In fact, the transmission does its job well, but I'd have liked trying the standard six speed manual.
It's actually a pretty nice car to drive, though, if not overly sporty in its demeanor. The suspension is good: Macpherson struts up front with a double wishbone-type bum, and stabilizer bars at both ends. It's tuned on the soft side, but not excessively so. The rack and pinion electric power steering offers good feel.
tC's comes with ventilated disc/solid disc (front /rear ) brakes, with ABS, Electronic Brake Force Distribution and Brake Assist. Vehicle Stability Control (VSC) and Traction Control (TRAC) are standard.
The interior reflects the High Voltage theme, and it's nice to see the tC still uses a conventional instrument panel (other Scions have the gauges in the center of the dashboard). It's attractive and laid out well, too, and it isn't flashy, fortunately. The leather-wrapped, three spoke "RS 7.0" steering wheel (which tilts and telescopes and includes audio and cruise controls) is thick and comfortable in the hands. The front bucket seats are pretty good, and they sport a neat RS 7.0 yellow motif. The rear bench is surprisingly roomy, not that I need a lot of space for my legs. Getting in and out of the rear is made easier by a pull handle on the outside shoulder of the front seat, though I wish the seat would return to its previous position when you were finished, instead of forcing you to reset it manually every time. The tC isn't alone in this department, however.
The greenhouse is a tad claustrophic compared to a sedan, but that's unexpected in a coupe like this. There's also a double sunroof, with sliding shades for each section. As is normal with these panoramic roofs, the rear section doesn't open.
The tC RS 7.0 , with its push button start/stop function, also has proximity keyless entry, which is where you can walk up to the car and it unlocks when it senses the great disturbance in the Force generated by the key fob in your pocket or purse.  Locking it again is a bit more hassle; you swipe your hand over a spot on the door handle – repeatedly, as it usually turned out with me – until you hear the telltale "thunk."
I may be a voice in the wilderness, but I didn't think much of the Pioneer audio system. Not only does it sound lousy, it gives you only three choices of equalization,  a default setting, "hear," and "feel."  The titles are pretty descriptive of the function, but none are anything to write home about. Not only that, the buttons are small and I can't read the labels without my reading glasses, which I don't wear when I drive. I got used enough to most of them during my week with the tC that it probably wouldn't take long to know them by their location on the head unit, though.

The system has Bluetooth interfacing for phone and streaming (there are USB/Aux jacks, too) and it's an easy pairing process once you look it up in the owner's manual. The robot voice with which you try to interact is very cheap sounding, but the system works – although the first time I phoned someone from the tC it dialed the wrong number.
Also, when I streamed music to the tC via Bluetooth from my Android smart phone, the tC's audio controls (volume, transport, etc.) don't work with it. I had to control all that from the phone, which kind of takes away the "hands free" advantage.
I liked the "High Voltage" Release Series 7.0 of the tC better than I thought I would. Sure, it's pretty much a pretender when it comes to "Toyota Racing Design" stuff other than the aero add-ons, logos, fancy automatic transmission shift knob and the like, but it definitely strikes a more aggressive stance than the garden variety tC – which is good – and it's decent to drive.
With such great basics as these, if Toyota would offer a turbocharger or something, this could be quite a compelling car, in the vein of the Mazdaspeed3. At least it looks cool.
Copyright 2012 Jim Bray
TechnoFile.com