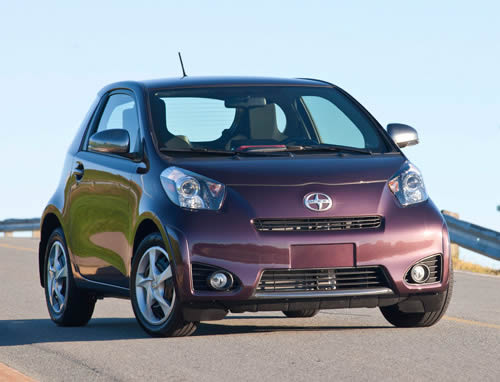 Scion iQ: outsmarting the Smart?
By Jim Bray
April 12, 2012
Scion's shoebox-sized commuter car appears to be trying to shoehorn itself into the Smart car's "eco niche."  But is it really a smarter Smart?
How could it not be?
There are many great little cars available at the lower end of the market, but – at least in its first generation – the Smart Fortwo wasn't one of them. It was impractical, overpriced, and horrible to drive, with a jerky transmission that made you want to walk rather than get tossed around inside its tiny cabin.  
The current generation is supposed to be better (I spoke with a gentleman recently, for example, who absolutely loves his and thinks it's the greatest thing since sliced bread), but since the original bar was so low it shouldn't have been difficult making its successor better.
Still, the car sells, and that undoubtedly helped convince Scion's parent company, Toyota, that there's a buck to be made in this niche. Hence the "ick," er, iQ.
The front drive iQ is motivated by a 1.3 liter inline four cylinder engine from which 94 horsepower and 89 lb.-ft. are allowed to ooze gently. Sure, it's a light car, but that doesn't make up for its minimal moxie. No, that engine and the enjoyment-sapping continuously variable transmission with which it's saddled ensure that you have time to eat a sandwich and pick your teeth before you reach highway speed (which could run you afoul of distracted driving laws). This probably won't be an issue to iQ customers, however, who undoubtedly have other things on their minds than leaving long strips of rubber behind them on the asphalt.
How small is the iQ? Well, its wheelbase is so short that when you go over a speed bump it's like a mechanical bull is trying to throw you – and that's even if you slow down to a virtual crawl. That said, the suspension is okay – it features Macpherson gas struts up front and a torsion beam bum – and the brakes (discs up front with drums on the rear wheels) work fine. Naturally, there's ABS with brake assist and electronic brake force distribution to enhance stopping power.
The car feels very tall when you're inside it – not enough that you think it's going to roll over at every corner, fortunately, but that apparent height coupled with the tiny footprint definitely imparts a weird feeling. And it almost seems as if you could drive the iQ through the automatic doors of a grocery store and up and down the aisles, grabbing stuff from the shelves and tossing it into the back as you go. This certainly beats pushing a shopping cart, though it would work better if the iQ were a convertible...
The iQ handles a lot better than the average shopping cart, fortunately, thanks to front wheels that actually work together. It also has a nice and tight turning circle, which shouldn't really come as a surprise.
One big advantage the little iQ has over the Smart Fortwo is its rear seat – and it's a surprisingly usable and accessible seat to boot. I took a short trip back there (no, I wasn't driving, though if I were taller I might have been able to!) and didn't tear out my hair. A long trip perched on that little bench would be a true ordeal, but since the iQ is meant more as a commuter car than a cruiser, anyway, most trips will undoubtedly be short enough so as not to be cause cussing from commuters in steerage class.
Fold that seat down, which you might as well do if you don't need it for passengers' posteriors, and the storage space goes from being an absolute joke to something reasonably good considering the iQ's tiny footprint. We brought a big toaster oven home in it and there was still room for a couple of bags of groceries. The dog had to run alongside, though…
The iQ's interior is very Scion-like, which means it's pretty Spartan and straightforward, but mostly functional. You also get a typical Scion audio system, apparently the same crummy one that was in other Scions I've reviewed. The sound is weak, there's no equalization to speak of – merely two different presets ("Hear" and "Feel") and a default position – and its buttons and their labels are small and hard to read.
At least there isn't a lot of interior volume for the anemic amplifier to fill…
It took us a couple of tries to find the glove compartment, which consists of a slide out box under the passenger seat. Putting it there undoubtedly leaves more room in the dashboard for airbags.
Obviously, the iQ isn't aimed at me, as distasteful as that might be. But I was curious to drive it and am glad I did. Alas, the "uberSmart" preconceptions I took into the review were confirmed during my week behind the wheel of Toyota Canada's test car. I didn't hate it as much as I hated the Smart (which would be difficult!), but the Scion folks sure didn't have to pry it from my warm, live hands at the end of the review.
On the other hand, the iQ does appear to appeal to the type of person who buys a Smart, so Scion may have hit the bullseye at which it was aiming. How do I know? I was pulling out of a shopping center in the iQ and some grey haired hippie guy with a ponytail pulled into the lot in front of me, driving his Smart Fortwo smugly. He smiled and waved happily as he passed, nodding his approval to what he assumed was a fellow traveler.
Perhaps Scion should equip the iQ with tinted glass, or paper bags for the occupants to wear, so no one can see who's inside…
The sample Scion didn't have any options, yet still managed to tip the financial scale at $16,760 Canadian ($15,995 U.S.). That's a lot of money for an enclosed, upholstered roller skate, especially when you can get into the same company's Yaris for less (trim levels and options notwithstanding) – and get more power, very good economy and a real back seat and hatch, or maybe even a trunk – unlike this "truncated" minicar.
Speaking of truncated, that lack of a rear end confused the robot in a touchless car wash; it would go along its preprogrammed route, hosing down the front, top and sides nicely, then spray a bunch of water and whatever other stuff it was spewing uselessly over the car wash bay where it expected to find a trunk, a truck bed or whatever.
How environmentally responsible!  
Copyright 2012 Jim Bray
TechnoFile.com