Toyota kind of sort of makes two great entry level cars
By Jim Bray
March 10, 2016
One's a Scion that's really a Toyota and one's a Toyota that's really a Mazda - and both are very nice entry level cars that can offer a lot to buyers on a budget.
The new for 2016 Scion iM is a little wagon reminiscent of Toyota's now defunct Matrix, and since Toyota has announced that it's shuttering its Scion wing it could even show up as a new Matrix in the future. That's purely speculation on my part, however. In the meantime, if you're looking for a little wagon like this - and Pontiac Vibe owners needing a replacement might want to pay attention as well - the iM could be a nice choice.
Click on the image to open a slideshow.
On the other hand, if you're looking more for a conventional little sedan, the new Toyota Yaris should be on your list of cars to check out. It's a lovely little critter that, underneath the Toyota logos, is actually a Mazda2, with all the fun to drive goodness that being a Mazda at heart can bring.
A Toyota with "Zoom-Zoom"? Indeed. Well, some Zoom-Zoom; there's only so much zoom you can get from 106 horsepower, yet even with the automatic transmission with which Toyota Canada's review sample was saddled, the car turned out to be a lot more fun to drive than such a cheap little econobox had any right to be.
I first drove both of these vehicles at the Canadian Car of the Year TestFest last October and was impressed by both of them. Alas, they competed head to head in a very tight category that was won eventually by the new Honda Civic, which also went on to score the overall Canadian Car of the Year title. I like the new Civic well enough, but thought that both the Yaris and the iM were nicer cars (if not actually better), thanks mostly to their better user interfaces. Goes to show how much influence I have…
Sayonara, Scion era…
With its five door hatchback (a.k.a. "little wagon") configuration and roomy interior, the soon-to-be-Toyota iM (or whatever it'll be called eventually) looks like the spiritual successor to the Matrix. It also comes basically loaded right out of the box - the only option on Toyota, er, Scion Canada's sample was the CVT transmission - which adds just over $800 to the car's reasonable $21,165 base price.
iM's get their motivation from a 1.8 litre inline four cylinder engine the manufacturer, however it self identifies, rates at 137 horses - not enough to set the world on fire but plenty for this little car. You can choose either a six speed manual or the CVT, the latter of which is pretty well as obnoxiously loud as most examples of the species but which at least pretends to be a real automatic, with its "seven stepped" shifting that mimics (reasonably successfully) a true automatic. It even has a manual mode, though no paddles.
The manual transmission probably adds a lot of fun and connection to the driving experience, for those who prefer their car to come through in the, well, clutch.
All the parts come together to create a reasonably sporty drive, CVT and entry level mien of the iM notwithstanding, and it's enhanced by the car's tight and nimble structure and nicely tuned independent suspension. I was surprised at just how well the iM drives; it was much more interesting than I expected.
iM's are front wheel drive - maybe they'll introduce an all-wheel drive version down the road, but I haven't seen any such announcement - and the car is appointed with such stuff as 17 inch alloy wheels, automatic headlights (something every car sold today should have), LED daytime running lights and taillights, and an intermittent rear window wiper/washer. The interior gets stuff like a 60/40 split/fold rear seat, air conditioning, all season floor mats, a backup camera (another feature I think should be on every vehicle sold today), cruise control, illuminated vanity mirrors, power windows and door locks, remote keyless entry, sport bucket seats and a tilt/telescoping steering wheel with redundant audio controls.
The iM also features a seven inch touch screen, Bluetooth (something else I think every car should have these days), a USB Port with iPod Connectivity, six speaker Pioneer audio (a reasonable system for this end of the marketplace), Aha Radio, voice recognition, integrated Gracenote database and an auxiliary audio jack.
Most of this stuff is readily available on other cars in this class, of course, but not necessarily as standard equipment. The Yaris I'll opine about below, for example, didn't have a backup camera, though one's available.
iM's also come with eight airbags as standard equipment, including one for the driver's knee.
You even get a feature that helps prevent the iM rolling back when you start on a hill. 
It isn't the perfect car, of course. I'd have liked to see, well feel, seat  heaters, and tuning the knobless radio turned out to be an ordeal, but overall, the Scion iM is a darn nice little wagon.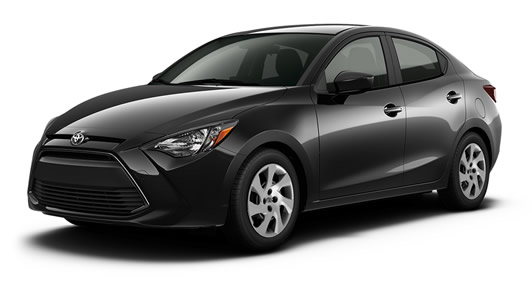 A Yaris with "Zoom-Zoom"
If your bent bends more toward a small sedan, the new Yaris2, er, Yaris is worth a look. I've always liked the Yaris, for what it is (an inexpensive entry level car), but now that Toyota has climbed into bed with Mazda it's even nicer. Think of it as a Mazda2 with Toyota logos and you'll be close to the mark.
And that's great! Mazda vehicles are the most fun to drive of the Japanese manufacturers, so couple that with what I expect would be the legendary Toyota reliability and Robert becomes your father's brother.
Click on the image to open a slideshow.
The version I drove was really low end, virtually completely entry level, and so it didn't have a lot as far as toys and tools are concerned, but that said I still had a blast tooling around in the little Yaris for a week - even with its measly 106 horses
The new Yaris sedan is available in two models, the base one starting at $16,995 Canadian. For that, you get a six speed manual transmission; Toyota's sample wore that trim, but it came with the optional six speed automatic transmission - and it's a real automatic as opposed to a CVT! The "slushbox" raises the price to $18,200, but that's still pretty cheap these days.
If I were shopping for a Yaris, I'd take the manual and add the Premium Package to it. That raises the price to an even 20 grand, but it also makes the car a lot nicer to live with. I drove that version (though with the automatic transmission) at TestFest last fall, and I really liked it.
The Premiium package adds a seven inch touch screen (there's also a controller knob for it on the centre console), six speaker audio (a reasonable one, too, though you have to crank it before it really wakes up and sings), a pair of USB ports, heated front seats, aluminum alloy wheels, fog lamps and - a feature that really should be standard - back up camera.
Even the base model gets such stuff as cruise control, power windows and door locks, and Bluetooth. 
Ah, but it appears that there's Bluetooth and Bluetooth – either that or Toyota Canada's sample Yaris really didn't like my phone. I've driven cars that won't pair to my Android phone without much cussing (are you reading this, Honda?), but that wasn't the problem with the Yaris. Rather, once it was paired (and it was a rather onerous process) it might as well not have been paired at all, such was its lack of performance.
Sometimes the phone would connect right away, as it's supposed to, but most of the time it would either not connect at all or take so long that my trip was virtually finished by the time the damn phone (or my tunes) would stream. It was the worst performing Bluetooth interface I've seen in several years.
The keyless entry/push button start/stop system - and this isn't just a Yaris thing - was annoying because it didn't include proximity sensing door locks. The result of this oversight is that you have to take the key fob out of your pocket, press the unlock button, then put the fob back in your pocket, climb in and activate the start/stop button. And when you shut off the car you have to take out the key fob to lock the doors again. That's just silly.
Despite any shortcomings, however, the Yaris sedan turns into a joyful experience when you put your bum in the driver's seat and head out onto the asphalt. Despite the minimal oomph from the litre and a half's worth of four banger, and even with the automatic tranny, the car moves well, handles great and is in fact a lot more fun than it has any right to be at this end of the marketplace.
Yari also feature Toyota's usual active and passive safety systems, including a bevy of belts and bags, and despite the car's small size it has a generous trunk - which led to my joking to my wife that if she needed to haul something she could "stick it up Yaris." For some reason she didn't find that funny.
Both the iM and the Yaris sedan are terrific little small cars, fun to drive and undoubtedly easy to live with - as long as, at least in the case of the Yaris, you don't want to stream your phone to the car.
Copyright 2016 Jim Bray
TechnoFile.com