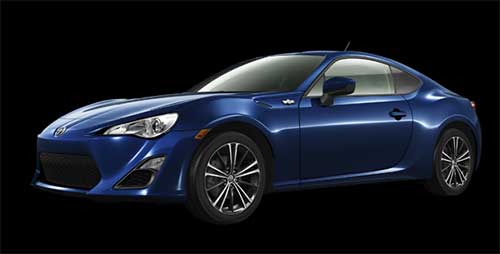 Scion FR-S: the poor person's Porsche?
By Jim Bray
September 13, 2012
Lusting for a Cayman or a 911 but can't afford the sticker price? Join the club! But now, thanks to Toyota and Subaru, there's a car that can give you an excellent percentage of the Porsche's fun, but for less than half the price.
Magic? Hype? Surprisingly not. Well, it may be magic, because the brand new Scion FR-S is everything you've heard it is: an affordable, rear wheel drive two door sports coupe that'll put a smile on your face so broad your significant other might think you've been up to no good.
Toyota has certainly been up to some good! Working with Subaru (which markets what is supposedly the nearly identical car as the BRZ), they've created the most smiles per gallon, and smiles per dollar, since Mazda revitalized the sporty roadster market with their fantastic Miata.
Yes, it's that good. Heck, I haven't jabbered with such delight since my first test drive of a Porsche. And the best part is that the FR-S (and, I assume, the BRZ, though I haven't driven it yet) looks and drives like a hundred thousand dollar car, yet fully optioned it tips the price scales at under thirty grand. And it undoubtedly comes with Toyota's legendary reliability.
How the heck did they do it?
The FR-S is surprisingly small on the outside, yet it isn't cramped on the inside except for its 2+2-type rear seat, which is about as useful as the Porsche 911's – suitable perhaps for small kids but more useful as a storage bench. A darn fine one, too, as we discovered when we went on an overnight trip into the mountains, with overnight kit stuffed on that "seat."
The car fit me like a glove, one of those rare vehicles that feels as if the designers took my measurements and built me a car.
That's how my 1983 Toyota Supra felt, so Toyota isn't a stranger to this; they just seemed to have forgotten how to do it for a couple of decades. Other than a couple of Lexi (IS-F and LF-A, for example), and the two seat MR-2 Spyder, their sportiest entries in recent years have been front wheel drive compromises such as the Camry Solara, the Paseo (basically a two door Tercel) or, more recently, the Scion tC, which was the sportiest Scion until the FR-S burst onto the scene, but which isn't really fit to shine the FR-S' brake shoes.
And yet, the FR-S' specs don't make it seem so wonderful: a mere 200 horses, 151 pound feet – not bad for a naturally aspirated four cylinder engine, but hardly earth shattering. And tires from a Prius!
Ah, but you know the old saying about the whole exceeding the sum of the parts? Here's a poster child for that.
The little car's four cylinder engine displaces two liters, and it's a Subaru Boxer engine, which means the pistons aren't arranged in a line or a "V", but fire opposite to each other kind of like the way boxers punch each other. Subaru and Porsche are the only companies I know of that used this configuration until now – gee, there's that Porsche analogy again – for whatever reasons. But the configuration allows for a low center of gravity and that translates into potentially better handling.
Can't argue about the handling. The car's an absolute blast to drive. I wish it came with better rubber than the low resistance stuff installed at the factory, but even with those balloon tires I had a wonderful time carving up mountain road curves. Heck, it's even a joy in city driving.
Onto the basic Subaru engine is strapped a Toyota fuel injection system they claim incorporates both port injection and direct injection for enhanced torque at low engine speeds, increased maximum output and reduced fuel consumption. Since the car doesn't exhibit a lot of low end torque as it sits (but wind it up to 5000 rpm and it sings with delight as it shoots you forward), this is a good thing.
Oh, it burns premium fuel, which may rub some the wrong way.
FR-S, which Scion says stands for "Front engine, Rear wheel drive, Sports," is a real lightweight and in the automotive world that's a good thing. Weight is kept down by an aluminum hood and a solid roof (alas, no sunroof is available, though I don't know where they'd put it anyway) and by using a trunk instead of making it a hatchback.
The Scion's suspension is "dynamically tuned" and consists of MacPherson struts up front with a double wishbone butt. Light 17 inch alloy wheels and ventilated disc brakes, with the usual nannies, occupy all four corners.
Power delivery to the rear wheels is enhanced via a limited slip differential, and my sample came with a lovely six speed manual transmission that's a real treat. You can also opt for a six speed automatic with paddles; Scion says its downshifts are rev-matched, too, so it may be a pretty good example of the species. 
The cockpit is very nearly perfect. The driving position is great, the pedals are just where they should be, the seats hold you in deliciously – and even though there are no steering wheel-mounted audio controls the head unit is close enough at hand on the center stack that it's no big deal.
There's a cheap-looking slab on the passenger side of the dashboard that looks like a plastic attempt at a carbon fiber look, but that's nearly inconsequential in the grand scheme of this wonderful car. And it's my only complaint, other than my usual whine about Scion audio systems.
My sample FR-S from Toyota Canada had the upgraded audio system and it has a much better interface than the base systems I've tried before. Instead of tiny buttons with unreadable text, you have a real touch screen-type interface that's a lot easier to use. The only problem is that the virtual buttons are quite close together and if you're trying to skip a track you're likely to hit something else.
This is especially true if the pavement is less than absolutely flat and smooth, since the car's deliciously sporty suspension doesn't lend itself to fine hand motions other than on the steering wheel. The result was that I found myself missing steering wheel-mounted controls because I kept missing the touch buttons on the head unit.
The audio system itself was the premium 200 watt Pioneer System, which adds a 5.8 inch touch screen with "precision graphics and album art display." It also has Bluetooth for streaming audio from your smart phone. The downside is that it still doesn't sound very good in the grand panoply of car audio systems.
The trunk isn't huge, but the rear seats fold down for extra space. I might just leave them that way if I owned an FR-S, only raising them up if some unlucky soul has to sit back there for a while.
My test FR-S came in "Ultramarine" (a fantastic, rich-looking dark blue metallic color) and according to Scion's website sells for just shy of $27,000 Canadian, which to me is a real bargain. There aren't a lot of options available, but one you might want to consider is the Bongiovi Acoustics DPS for $439.00. It probably won't make up for the lack of real oomph, but it may make the system sound better for less cost than pulling the thing out and replacing it with a real audio system.
As you probably figured out by now, I loved the FR-S and hope Toyota and Subaru sell a zillion of 'em so more car makers will be encouraged to follow suit. If you can't afford a Porsche or its ilk, you owe it to yourself to check out this wonderful little car.  
Well done, Toyota. It looks like you're taking driving enjoyment seriously again. Welcome back! Don't be a stranger.
Copyright 2012 Jim Bray
TechnoFile.com