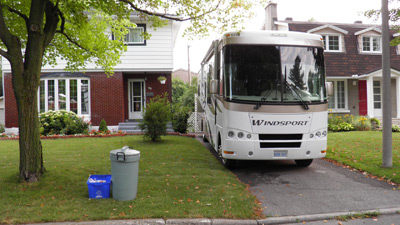 Going RV: How I Spent my Summer Vacation
By Jim Bray
September 3, 2010
As it turns out, you really can take it with you. On the road, if not to the afterlife.
It, in this case, is called RVing, an activity popular with people who like taking the comforts of home with them when they travel. And thanks to the good folks at GoRVing Canada, who worked overtime to help facilitate this piece, I got to experience the phenomenon on a trip to a family reunion in southern Ontario recently.
I'd never really thought about trying an RV until I took an Alaska cruise last year. I was taken by the way you unpack your bags once and your hotel room travels with you whevever you go.
Then I got to wondering if a large RV, which to me before then was just a big eyesore road hog I always had to find ways of getting around, could be the land-based equivalent of this "home away from home" concept.
The idea of using an RV was also spurred by the fact that I needed a place for us to sleep when we visited my father, who would already have a houseful when we got there for the reunion. We wanted to stay close by and there were no hotels within staggering distance.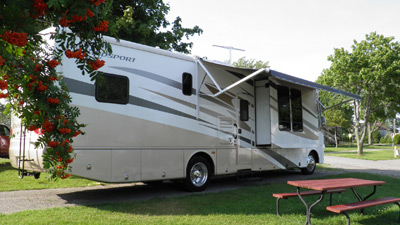 That's when I talked to GoRVing Canada – how much closer by could we stay than in my Dad's driveway? – and they were really helpful at answering my questions, explaining concepts and, eventually, booking the unit in question.
And what a unit! Full of bravado, I naturally wanted to try the biggest, baddest motor home I could find, and GoRVing Canada really came through – with a 2008, 38 foot Four Winds WindSport monster that offered all the comforts of home. It was kind of like a small cruise ship, except that rather than having a crew to do the driving and the feeding and cleaning and stuff, it was all up to us. And of course I didn't have to pay attention to the Law of the Sea, just the Rules of the Road.
A vehicle such as this obviously needs a name. I wanted to call it "Harvey the RV" and I think at times the wife and kids wanted to call it "quits", but we settled affectionately on "The Lummox", after the hefty royal critter from Robert A. Heinlein's "The Star Beast." As it turned out, it was perfect.
Driving the massive beast didn't intimidate me a whit; I drove buses up and down the mountains of British Columbia many years ago so that was okay. And by the time I'd spent about an hour behind the wheel it was déjà vu all over again – right down to remembering vividly why I'd quit driving bus in the first place: there isn't a lot of "fun to drive" in a vehicle like that.
We picked up the unit at a Motor Home Travel Canada outlet in Bolton, Ontario, north of Toronto, where all was ready to go once we signed away our lives, fortune and sacred honor.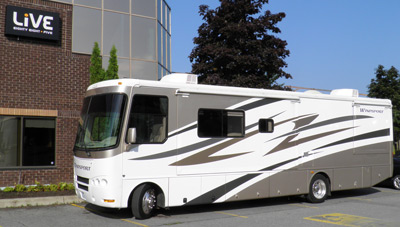 We were on a rather tight schedule, so headed straight for the superhighways that took us to Ottawa which, as it turned out, was a mistake. Driving it on freeways was an ordeal: since it the Windsport was about as aerodynamic as an office building, it would wander alarmingly when buffeted by crosswinds or turbulence from big trucks and, worse, big buses, and highway 401 through Southern Ontario is a pressure cooker of a drive anyway, teeming with 18 wheelers whose drivers often don't display the slightest professionalism or courtesy.
The highway's also in appalling shape (clearly, it's time Ontario taxpayers revolted!), with frost heaves and other bumps seemingly every few yards – and they combined to cause the Windsport to shudder alarmingly, while the dishes and cutlery in the kitchen set up a cacophony like you wouldn't believe.
Next time, I'm going to figure out how to stop all that rattling from the galley!
In all, the trip to Ottawa was a fast – for the vehicle – white-knuckled nearly six hours of high pressure driving on a road I hate, but we pulled into Canada's Capital in good time and shape and once on the city's more sedate streets, the Windsport took on an entirely new personality, kind of like a tame hippopotamus – large and lumbering but unthreatening and, actually, quite pleasant. It didn't sweat blood, though.
Upon arrival at my Dad's, the next challenge was parking the behemoth in his driveway. It would've been pretty straightforward to this ex-bus driver except that the narrow driveway was on a narrow street that made turning problematic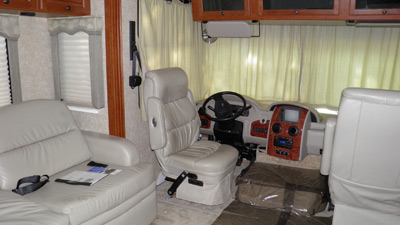 – and there was a big streetlight pole right next to the driveway that would've wreaked havoc on the Windsport if I'd hit it.
Here's where a great feature of the Windsport came in: it has a rear-mounted TV camera and microphone whose output is displayed via a black and white TV on the center console. Not only that, but its big side mirrors, with large convex sections at the bottom, were Godsends. With those aids, and my son standing in camera and microphone range barking out directions, I managed to park the beast satisfactorily on my first try.
I then got out, feeling smug.
That feeling passed the next morning. I do a radio appearance on an Ottawa station and had agreed to show up the next morning in the motorhome. So bright and early (well, early), my Dad and I sallied forth in the Windsport to the other end of the city to the radio station.
Which meant I had to park the RV in the driveway again when we got back. I got it done, and without damage or excessive hassle, but definitely not on my first try this time. Chalk it up to Murphy's Law.
And there she sat for the next several days, a gargantuan home away from home that actually worked out really well for giving the four of us some privacy and comfort while keeping us mere steps away from the bosom of my family.
There was a queen sized bed in the motor home's bedroom, which was separated from the rest of the unit by a wall and a door.
It held my wife and I in relative comfort and privacy, though if it were my motor home I'd up the mattress ante to something that didn't cause my back to ache every morning.
The bedroom had one of the three slideouts the unit offered, turning the room from ridiculously tight to pretty roomy under the circumstances. It also featured three windows, plenty of storage space, and a CRT television that looked old but which brought in digital TV signals just fine.
The living room and kitchen also featured Slide Outs, the kitchen section and the big couch in the living room extending from one side and the fireplace (the last thing we needed in the suffocating heat and humidity!) and "dining room" table moving out from the other. I was amazed at just how roomy that made the living area: between the two slideouts there was probably an extra four feet of width – I was wishing I'd brought along our cats because there was definitely room to swing them!
The couch, which was seatbelt-equipped for traveling, also converted to a hide-a-bed that would cradle my son and his wife in perhaps as much comfort as the bed in the rear – reasonable but nothing to write home about. Again, if I were buying an RV, I'd look for changes here – but what can you do with a rental?
My poor, beleaguered son and daughter-in-law found that couch uncomfortable while we were driving, mostly because it sat them at a weird angle and kept them perpendicular to the driver/shotgun seats up front: they thought it should swing around to sit behind the driver/shotgun seats, more like you'd get in a car or truck. I don't know how that would be pulled off, but it seems like a neat idea.
The kitchen featured a more than adequate gas-powered fridge, freezer and stove. The bathroom was more than adequate as well: the toilet compartment is quite cramped (but, fortunately, ventilated!),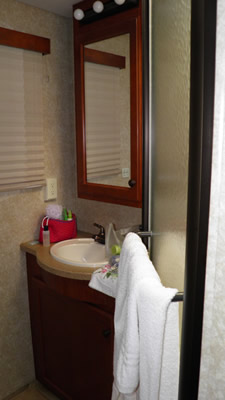 though no worse than the one in my Alaska cruise stateroom, and the shower and sink were small but all you need.
The TV up front was a high definition LCD, with a DVD player and what appeared to be a surround sound system, though I hadn't thought to bring along any discs to check it out. You can configure RV's to have satellite TV but ours just had a big antenna that extended from the roof, bringing in off-air channels.
If I'd had my druthers, I would've opted for satellite, but this was my first opportunity to try off-air HDTV and I was very impressed with the picture quality; there's wasn't anything worth watching in Ottawa, but we spent our last night in the RV in a KOA Kampground near Brighton, Ontario, and there was a cornucopia of HD crap (the shows looked great, but HD doesn't help with the writing!) wafting across Lake Ontario from New York State.  
The RV has its own self contained water supply, but once we were parked – both at my Dad's and in the KOA campground – we could tap into their electrical and water supplies, and the setup works very well. An adapter let us hook the electrical cable right into a conventional wall socket and, other than making the embarrassing discovery that you can't run the air conditioner and the microwave at the same time (which caused us to go hat in hand to the campground powers that be and beg to be bailed out), it worked great!
Likewise for the water supply. You just hook the unit's umbilical hose into a conventional tap and flip a valve and you go from using up the RV's limited supply to having as much water as you could need. This was great for dish washing, showers and various toilet needs.
The RV's steps fold out and stow away automatically when you open the door, which is nice. And you can lock them in place when you're parked, which is even nicer. We had a bit of a scare at a service center when the steps refused to stow themselves when it was time to go, but a quick reboot of the control switch fixed it, much to our relief.
We decided to take it a lot easier on our trip back to Toronto, spreading it over two days instead of rushing headlong through the traffic like on the journey to Ottawa. This was wise and it gave me a whole new appreciation for the RV. While I had hated driving it on the freeway, the vehicle was fine on secondary roads, content to cruise along at less than breakneck speeds and happy to take whatever curves and hills were thrown at it.
It was an interesting realization for me because one of the reasons I'd stuck to multi-lane highways is that I hate driving behind big, lumbering motor homes and didn't want to inflict that on anyone else. Yet the big motor home was much more suited to just lumbering along, sticking to the speed limit – a much more pleasant experience.
I balanced it by pulling over to let traffic by whenever I could – only to discover that most of the people following were completely clueless and stayed behind anyway, probably cussing me out for being on their roads. But they had their chance to pass!
Speaking of cruise ships, the Lummox rocks like a miniature version of a ship on the open sea the every time someone moves inside it when you're parked. I didn't mind it; it was quite restful as long as no one was dancing. Lummie might not have done this if we'd used its self leveling feature, but we were advised that it could fail and we didn't want to get stranded.
Memo to RV owners: make sure the leveling works! My Dad's driveway was sloped very gently, but it was enough to be annoying when trying to sleep. The KOA campground was nice and level, though, and this was not only more comfortable, it allowed the shower to drain properly.
And speaking of being big enough to be a cruise ship, going to gas stations (which you will do very, very often, thanks to the big Ford V10 that moved the Lummox!) is a real treat. I had to send someone outside to stand by the pump and signal me when to stop because the gas filler's about three quarters of the way down the Lummox' flank and I found it impossible to guesstimate. Maybe I'd get used to it over time, though.
The big outside mirrors with their convex sections made it easy to keep the RV between the painted lines on the roads.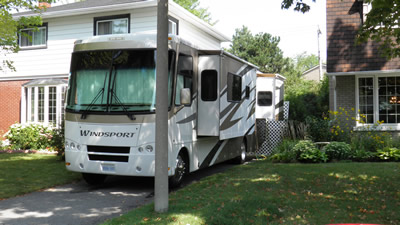 If I were building an RV, I'd give it steering wheel-mounted audio controls – the Lummox' audio system, which you can't hear over the background noise anyway when you're travelling, is low on the centre stack and you have to either learn it by feel or take your eyes off the road to mess with it – not a good idea.
I also hated the gas pedal's positioning and never got comfortable with it. A pedal hinged at the floor, like that on a bus, would have been really welcome.
The air conditioning wasn't much use when we were driving, basically just the regular vents in the dashboard like in any car or truck. A  generator might have let us use the main system while driving, but ours didn't work. That said, the main system worked great when we were parked and plugged in, though, and made things much more tolerable. It was so good we had to turn it off at night, despite outside heat like that on the surface of the sun.
Our kitchen sink wouldn't drain properly – water would go down one side and up the other (kind of like my wife does with me!) and only empty after a prolonged delay.
A man at the KOA Kampground helped us get set up and saw to it that the yucchy sewer line was connected properly. He told me he lives in Florida and keeps a 38 foot fifth wheel at the kampground year round in exchange for his helping out around the place. It seemed like a neat lifestyle.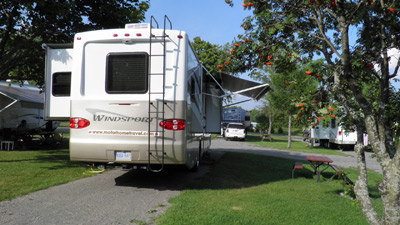 Though our RV was a rental, it's owned by a private citizen who works with Motor Home Travel Canada to generate some income when he or she isn't using it. Sounds like a pretty neat way to pay for your RV if you don't intend to use it full time.
On the other hand, it looked and acted like a rental. Oh, it was reasonably clean and everything other than the generator was in order, but you could tell it had been used by people without a vested interest. There was some gross old pizza residue between the cushions of the couch, for example, that the cleaners had missed.
On the other other hand, it worked as advertised, did what we asked it to do, and I, if no one else, enjoyed it and would do it again. But I'd do it differently next time, forgetting about any practical travel aspects and just going off for a cruise somewhere. I suspect this is what most owners and renters do anyway and the night in the campground, in the Lummox' natural element, was great and left me wanting more.
Go RVing Canada released a cost-comparison study that says typical RV vacations cost up to 75 per cent less per day than any other type of family trip, "regardless of trip duration, distance, or location". I find that hard to believe, if only because of the gasoline that V10 sucked back: it cost us about $450 Canadian dollars to keep Lummie satisfied for a week.
That, of course, didn't include the cost of the week's rental for the huge beast, which worked out to about $2800 Canadian in total, not counting food and drink.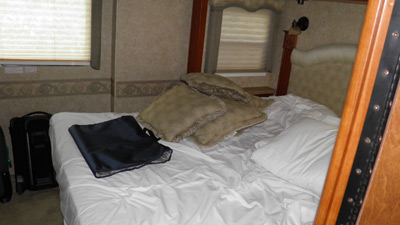 On the other hand, that covers travel and hotel costs for four adults.
I can see why people buy or rent vehicles like this. While I'd probably opt for a slightly smaller RV if I were to do it again, I love the idea of only having to unpack once, of having a place to call home wherever you are, and of being able to go just about anywhere I want in comfort and with most of the amenities I like.
I'd want a vehicle to drag behind, though. I can't imagine unbuttoning the Lummox, lumbering around traffic like a bull in a china shop, and then buttoning up again after your sightseeing or shopping session, though I imagine many people do it.
Some people live in their RV's all year, and I can also see the attraction of that. I had even fantasized about it. Now I think, well, maybe a year, tops – or better still, have a permanent base near my current home where I can return when the road wears thin.
And I'm not sure I could live without my home theater.
Copyright 2010 Jim Bray
TechnoFile.com