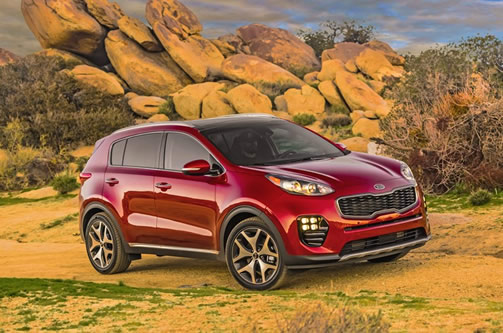 Canadians want reliability in their cars - so how does 2017's crop stack up?
By Jim Bray
March 9, 2017
Forget fine Corinthian leather, ultimate connectivity and high horsepower. It appears that Canadians are more interested in buying a vehicle that doesn't leave them stranded on the side of the road than they are in creature comforts or high technology.
That's according to a survey of Canadian men and women (or, to be inclusive "memen"), as reported by a GfK survey of over 22,000 Internet users in 17 countries, though only 1,002 of them were from the Once Great White North. It appears to be a "yuge" majority, too: more than eight in 10 women (83 per cent) and 77 per cent of men named reliability as the number one feature they seek out when they put down their hard-earned after-tax cash for a new set of wheels.
That's a pretty hefty margin! On the other hand, only 23 per cent of guys and 17 per cent of gals seek out the latest technology in a vehicle they purchase. I can see that to a certain extent: some of the current safety nannies, like lane departure warnings, can be very obtrusive and annoying, and the first time one experiences them can be a bit of a freak-out.
"Safety in an accident" was the second priority of Canuck respondents and once again the distaff side of the humanity ledger cited it as more important than the dudes did: 80 per cent versus 65 per cent. This should surprise no one these days, especially considering the emphasis on stuff like "Top Safety Pick" and "millions of air bags" and "we have the best safety features" that finds its way into automotive advertising.
Me, I'd rather have a light and nimble vehicle that can avoid collisions rather than just bail you out after one happens. After all, while you only use your expensive and complicated airbag systems once, you use things like competent handling capabilities, enough power to propel you out of dangerous situations efficiently, good mirrors that don't block the view of pedestrians, Bluetooth, automatic headlights and top notch brakes every day.
As usual I seem to be a voice barking in the wilderness. Oh, well. So be it.
As for the drive for ever-better fuel economy, only five per cent of Canuck women who answered the survey considered good mileage very important - number three on their list of priorities. This, not surprisingly, is the opposite to what men think: 65 per cent of the guys said sipping fuel is just as important as safety.
I guess guys just don't like stopping once they're behind the wheel!
Men also put a higher priority on power than the powder puff people: 26 per cent of men compared to 19 per cent of women, though the power issue didn't even make the top five of people's priorities.
Neither did the environmental friendliness of a car: Women (40 per cent) think it's important while only 35 per cent of men did. Take that, boring eco-wheels!
The other two factors rounding out the top five list of priorities were quality of workmanship and low costs of ownership, both of which kind of echo the number one priority of reliability.
Given the quest for dependability, it could be interesting to apply that knowledge to data about which vehicles are in fact the most reliable - and this is where J.D. Power and its surveys come in.
J. D. Power has been doing a variety of such surveys for decades and for 2017 the list contains what I thought were a few surprises - not just for most reliable vehicles but also for the least reliable as well as the best in initial quality - the latter of which tracks vehicles for 90 days from when they're driven off the lot.
One might think that higher end brands such as Lexus and Mercedes-Benz would have an advantage here, and they often do - but the 2017 initial quality survey named South Korea's Kia as the best brand to drive off the lot.
How significant is this for Kia? According to Power's press prattle, it's "the first time in 27 years that a non-premium brand has topped the rankings. It is also the second consecutive year that Kia, which ranked second in 2015, has led all non-premium makes in initial quality."
This may gobsmack many people, but I've been singing the praises of Kia and sister Hyundai for years - more because they're very nice cars than for their initial quality or reliability. I only get test vehicles for about a week, so unless something blows up during my test (which has happened, even in a recent Kia review) it's difficult to judge those factors.
Thankfully, there are warranties on new vehicles and, hopefully, dealers will actually pay attention to them. I have little experience with new car warranties since my last brand new car was in 1983, so can't really comment on that.
J. D. Power says the results show the most improvement over all (for all brands in the study) in seven years, which is good news for those in the market for a new set of wheels.
Moving down the initial quality list, my favourite brand of all time - Porsche - came in second, followed by Hyundai, Toyota and BMW. Chrysler and Jeep, which belong to the same company, were named most improved.
Lexus, surprisingly, came in eighth, behind two GM brands (Chevrolet and Buick), while Lincoln and Nissan rounded out the top 10.
That's initial quality. How do the brands stack up over longer periods?   
The Vehicle Dependability Study, which J. D. Power says is now in its 28th year, "examines problems experienced during the past 12 months by original owners of 2014 model-year vehicles. Overall dependability is determined by the number of problems experienced per 100 vehicles (PP100), with a lower score reflecting higher quality. The study covers 177 specific problems grouped into eight major vehicle categories."
The downside here is that individual new models introduced after 2014 can't be included, though of course they're likely to show up in the initial quality survey. So check 'em both out if you're checking out either parameter individually.
A lot of the same names appear atop the dependability survey: Porsche and Lexus (with a score of 110 PP100 each) tied for top bragging rights, with Toyota (123 PP100) moving up one rank from 2016 to score third place. Next came Buick (126 PP100) and Mercedes-Benz (131 PP100).
Hyundai (133 PP100) is named in the survey as the most improved nameplate, moving the brand into sixth position, up from 19th - its best-ever ranking in the VDS. BMW, Chevrolet, Hyundai and Jaguar rounded out the top 10. Jaguar! That's wonderful to see, especially given the old stereotype of British cars being, well, a tad less reliable than politicians' promises.
On the other hand, corporate stablemate Land Rover was eighth least reliable…
The rest of the "deplorables" are "led" by Fiat, and by a big margin (298 PP100) over second worst (and corporate stablemate) Jeep (209 PP100). Infiniti, Dodge, Ram, Ford and Mitsubishi all scored more than 180 PP100 with two Japanese makes (Nissan and Acura) rounding out the bottom 10.
Studies like this can go a long way toward helping consumers choose vehicles that are least likely to pitch a fit away from home, though of course like any survey they're merely snapshots of a larger picture.
And, as always, your mileage may vary. And don't forget about "caveat emptor" and "Murphy's Law" with any vehicle you may choose.
Copyright 2017 Jim Bray
TechnoFile.com