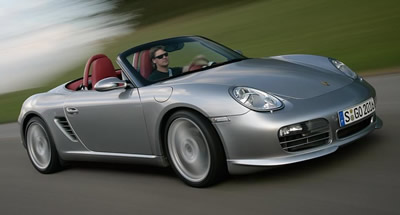 Porsche Boxster RS 60 – no "Bore Us" with this Spyder
How do you make a terrific sports car even more terrific?
Well, if you're Porsche and you want to offer an enhanced, limited edition version of your popular entry level Boxster, you grab a renowned name from your racing heritage and use that as the hook for snagging potential purchasers looking for a Boxster that's not quite so "ordinary", as if any Porsche can be called ordinary.
In this case the moniker is RS 60 Spyder. According to Porsche,  "With eight overall wins in the American Le Mans Series (ALMS) in 2007, the RS Spyder has proved itself as the racing car with the most international overall victories to have been designed and built in Germany."
I don't know why it would matter that a driver wore overalls, though….
The car also hearkens back to Porsche's legendary racing triumphs of days gone by. According to a company press release "The RS 60 Spyder is a vivid reminder of the Porsche racing era of the 'sixties in color, shape, fittings and philosophy" and the new car's "role model" is said to have been the mid-engine Porsche 718 RS 60 Spyder, which made its first appearance in 1960 and won the 12 Hours of Sebring that year.
This Boxster S is limited in production to 1960 units (my sample was number 197 - displayed on a silver-colored plaque on the glove compartment lid) and is more powerful than the garden variety Boxster S, sending 303 horses to the rear wheels from its mid-mounted engine. The company says the power tweak (the "garden variety 2008 Boxster S puts out 295 horses) is due to its dual tailpipe sports exhaust system.
Other tweaks include Porsche Active Suspension Management (PASM) as standard equipment, and gorgeous 19 inch Porsche SportDesign wheels on spacers.  My sample didn't come with a lot of the luxury options you can get on the other models, stuff like a multi-function steering wheel, Porsche Communications Management system and even Bluetooth and iPod connection. That annoyed me a tad until I'd driven the car for about a minute and a half and realized this model ain't about coddling; it's about driving.
I want both, but if something has to give I'd eschew a navigation system and power seats anytime for a chance to drive a Porsche.
And the RS 60 drives beautifully. Even with the sports tweaks turned off it's a blast – a beautifully civilized daily driver. Put it into Sport mode via the switch on the center stack (which also switches on the PASM) and you get that glorious metamorphosis from a growling but domesticated sports car into a snarling monster. It's wonderful.
In other words, if you think the regular Boxster S is a blast, you'll love the RS 60 Spyder.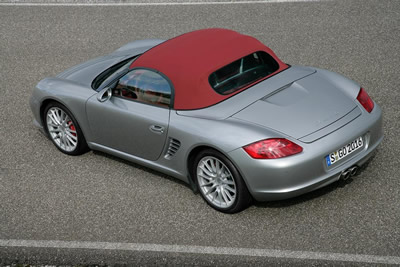 Of course if you're going to buy a limited edition version of a popular classic, you want it to look like it's a limited edition. Porsche has helped stroke the egos of RS 60 Spyder owners via a front end the company says is taken from Porsche's SportDesign Package (if nothing else, it includes little spoiler-like things up front that look like "pedestrians' shin slicers")
The car also features exclusive "GT silver metallic paintwork" accentuated by a Carrera Red Natural Leather interior and matching red convertible top. You can also choose Dark Grey Natural Leather with a black roof, but I thought the red looked fabulous and made this outstanding car stand out from other Boxsters.
My wife disagreed with the silver/red scheme, but she doesn't like sports cars anyway.
Interior tweaks include stainless steel door entry guards, a race-inspired gearshift lever that feels great in the hand, special surface texture in the center of the sports seats and center door linings (and on the steering wheel rim and handbrake lever, too).
Despite the lack of power seat cushion adjustment (the seat back tilts via power), it's child's play finding the perfect driving position, one that's comfortable for buttocks, left and right feet and which offers perfect sightlines to the instrument cluster and the world around you.
Since it's a Boxster, everything is close at hand. And since it's a Porsche, the interior is a remarkable use of space, including a decently-sized glove compartment on the passenger side, with handy little storage compartments in the door armrests and the center console.
To appreciate how Porsche does it, just try the cup holders in a Boxster, Cayman or 911. They're a beautifully imaginative design and fold away invisibly behind a piece of trim on the passenger side of the dash when not in use, but which zip out to the perfect location for your water bottle when you need them.
But that's regular Porsche stuff. The RS 60 Spyder keeps upping the ante with an instrument cluster whose cover has been removed (to give the impression of a race car), displaying the GT Silver Metallic instruments which are set wider apart than in the more "sober" Boxsters.
Other special features include a black windscreen frame, red taillight lenses, a GT Silver Metallic center console, and roll bars that blend with the silver-finished seat belts.
None of that stuff makes the car go any faster, but they are cool.
Besides, the RS 60 Spyder is plenty fast. And it's a dream to drive, with handling that feels as if there's a psychic in the car reading your thoughts before you even think them. The six speed manual transmission features short and direct shifts and the steering wheel feels as if it were designed for you and you alone.
The roof retracts and extends via power, with the press of one button on the center console and the release/locking of a single point in the middle of the windshield. It was too cold during my week with the Spyder to put the roof down for more than a couple of seconds ('cause I just had to put it down!), which meant I kept noticing instead that the car's just a tad closed in when closed up: I like the small side/rear windows of the Cayman and Carrera better for those times when you have to rubberneck around you in parking lots and some onramps to ensure some oaf isn't bearing down on you from a blind spot.
Put the top down and the transformation from closed in (yet wonderful) sports car to open topped highway screamer is remarkable.
If you can still find one, the 2008 Boxster S RS 60 Spyder starts at $64,900 U.S./$81,800 Canadian. You can option it up from there somewhat, including such stuff as a Bi-Xenon headlamp package, self dimming mirrors, heated front seats and automatic climate control, all of which should be standard equipment in car such as this.
Every time I drive a Boxster (heck, any Porsche), I like them more. If you're looking for a Boxster that's a little more special, a little rarer, the RS 60 Spyder might be your cup of adrenaline.
Copyright 2009 Jim Bray
TechnoFile.com