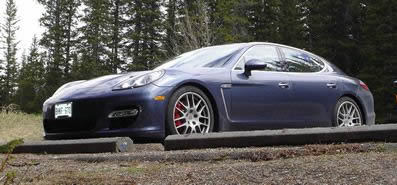 Phenomenal Panamera a "Practical" Porsche
By Jim Bray
July 11, 2010
(photos by Angela Bray and Porsche)
Creating Porsche's first four door sports car was a gutsy move that risked alienating customers, millions of development dollars, and the company's reputation.
It isn't the first time Porsche has done this, of course. The Cayenne SUV may have sparked even more spittle when the company first announced it – and it's now a respected vehicle that sells well – and with good reason.
Trust Porsche, then, to have made the Panamera yet another fabulous vehicle.
Pictures don't do the stately Panamera justice; they tend to make its posterior look more bulbous than it actually is while not really giving an indication of just how large the thing is. This is no sports car in the 911 or Cayman mold; rather it's a substantial grand tourer built to carry four people and their stuff – at least some of it – in comfort and luxury – all, in the case of the Turbo, while going from zero to 60 in four seconds or less.
The Turbo was the first of two Panameras I got to sample within a couple of weeks of each other, the other being a Panamera S. I loved them both (I've yet to find a Porsche I didn't want to run away with) even though they were tricked out in decidedly different trim levels. The Turbo was set up to emphasize performance (not that it was a slouch in the creature comfort department), while the S tipped the balance more toward luxury (not that it was a slouch in the performance department).
Therefore, the S was equipped with options like Espresso Natural Leather and an Alcantara Roof liner, which added several grand to the base price. And it was lovely stuff, really classing up an already-lovely cockpit and helping make the car feel even more like a high value cruiser than it does already.
The Turbo, on the other hand, featured such niceties as the Sport Chrono Package Plus, which kicks things off with an analog and digital stopwatch, and "Sport Plus" option for more high performance engine and suspension settings. It also included "launch control," which seemingly equips the car with solid rocket boosters that, when coupled to the Turbo's 500 horsepower and maximum torque of 567 lb.-ft., feels like the Panamera could launch into low earth orbit if you gave it a chance.  
Both Panameras came with Porsche's 4.8 liter direct fuel injection V8 engine, a power plant that features an aluminum alloy block and cylinder heads, resonance induction intake manifold, four valves per cylinder and Variocam variable inlet valve timing.
The naturally aspirated S "only" puts out 400 horses and 369 torque-like entities and you might think that would turn the space shuttle-like responses of the Turbo into something a tad more pedestrian. And you'd be right, to a certain extent – but I found during my week with the S that I didn't really miss the Turbo's extra power and torque – and its zero to 60 time of (according to Porsche) 5.2 seconds is still face stretching for a big car, even though it's not quite a brag-worthy as the Turbo's unbelievable four seconds or less (when it's equipped with the Sport Chrono Turbo Package).
You read that correctly. Porsche also says the tricked out Turbo can reach a top speed of 188 mph, instead of the measly 175 mph of the Panamera S. Pretty darn spectacular for a car that weighs 5,500 lbs or more.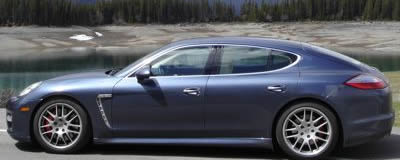 I didn't test these specifications all the way, having far too many speeding tickets (and being far too chicken), but the way these cars feel when you unleash their inner Porsche makes me a believer.
The power goes to the rear wheels of the Panamera S and to all four wheels of the Turbo, getting there via Porsche's fantastic PDK (Porsche Doppelkupplung) seven speed automated manual transmission. It's 90 per cent as much fun as a stick, but without Porsche's heavy clutch pedal (two magic clutches are inside the transmission itself, ready to shift gears with lightning speed).
The transmission zips up to seventh gear if you don't drive aggressively, to save gas, but if you tromp the accelerator it downshifts nearly instantaneously and whoever it was you needed to pass is probably wondering why his or her vehicle stopped so suddenly in the middle of the road.  
Another gas-saving feature is "auto Start-Stop", which shuts down the engine at red lights (etc.), firing it up again when you take your foot off the brake. This feature defaults to off and is accessed via one of the center console buttons.
Call me crazy, but I can't imagine anyone buying a Panamera V8 to save gas. There's a V6 for that.
Both of my Panameras rode on 20 inch wheels; 18's are standard on the S; 19's on the Turbo.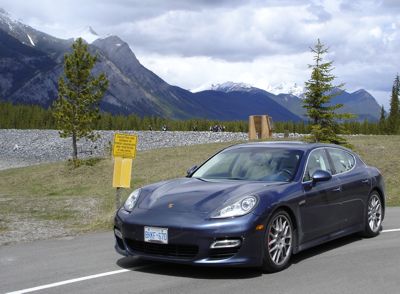 Panameras also feature a powered tailgate and "my" Turbo also would not only close itself but could lock the car afterward as well.
The Panamera's posterior is considered controversial  – I've seen the car referred to as the "Buttster" a couple of times – but while it's a tad bulbous it's a nice compromise between the sweeping fastback of a 911 or Cayman (with their lack of storage space) and the utility of a Cayenne.
It definitely looks better with the adaptive rear spoiler up – which it does automatically when you reach speed, retracting it again as you come back to earth. You can deploy it yourself via a button as well and impress your neighbors.
The S's spoiler is a straightforward up and down unit, but the Turbo's raises and then unfolds itself like origami. It's very cool.
Handling is Porsche-like, as you'd expect. The car feels a tad large at slow, urban speeds, but out in its element on an open road it's as if Jenny Craig has worked on the big sedan. Reactions are quick and composed and the car is a joy to drive.
Its adaptive air suspension uses aluminum double-wishbones up front and an aluminum multilink rear. You also get Porsche's Active Suspension Management (PASM) electronically controlled damper system that lets you choose from Comfort, Sport and Sport Plus modes. I found "comfort" to be a little soft (not that the Panameras ever came close to wallowing!) while Sport Plus felt the best, tightening up the car's responses nicely.
Porsche's Stability Management (PSM) is also on board, with ABS, engine drag torque control (MSR), and brake assist. The brakes are big discs all around and the car stops nearly as quickly as it goes. I thought the pedal a tad grabby, but not as much as in some other cars.
Panamera interiors are familiar Porsche, except for the center console, and that's a good thing. The instrument panel is dominated by a big analog tachometer with its digital speedometer below and the center stack features Porsche's Communication Management system with its touch screen LCD – and you can order it with a hard-drive based navigation module with 3D navigation map.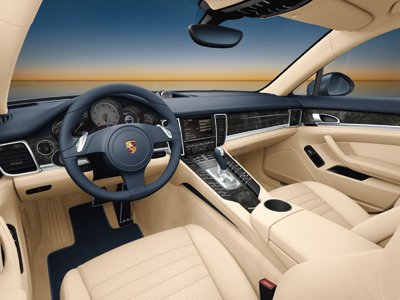 My test units featured the upgraded Bose surround sound system, and it does a wonderful job. It plays DVD-Audio discs, too, though it adds a momentary pause between tracks and that's annoying when a record has continuous cuts. My test units also featured Bluetooth and a universal audio adapter, both of which are optional extras but shouldn't be. Heck, Bluetooth and integrated MP3 player control should be considered vital safety features, not add-ons.
All four seats are extremely comfortable – you get essentially a bucket seat for each position. The rears also fold down for added storage. They hold you in snugly for the inevitable cornering, but I would have liked to try some of the upgraded seats because I found the driver's seat thigh position too high for my tiny little legs.
The front seats are separated by a big center console/armrest with an integrated storage compartment and, depending on how you configure the car, about a thousand buttons to control everything from the PASM to the automatic air conditioning, seat heating (and cooling), etc. It can be a tad intimidating at first, especially if you're used to the simple elegance of Porsche's sports cars, but it's all very logical and easy to live with.
The rear seats are separated by the same console, extended, and it contains a power outlet and cup holder in that section. You can also fold down an armrest from between the seat backs.
Up front you get power outlets and cup holders in the console, and Porsche's signature foldout cup holders that hide behind a passenger side trim strip when not in use.
The two speed windshield wipers include a sensor-controlled intermittent setting, with heated washer nozzles.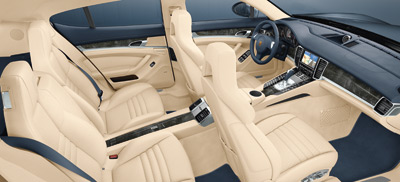 My Turbo sample had a backup camera that included a nifty top view of the car that, depending on which way you turn, moves from side to side on the screen, as if it's getting out of the way of your turn.
The Panameras' trunk managed to hold two medium sized suitcases and one smaller one, as well as a soft bag. It wasn't enough to satisfy some of my family who think a vacation means you pack as if you're moving permanently but it's better than I had expected.
And of course you get all sorts of safety belts, airbags and the like, as well as the car's native ability to avoid crashes through superb handling.
Porsche has definitely leaped into this four door tourer market segment with both feet, and as far as I'm concerned they've really nailed it. The Panamera is an awesome car, a big and luxurious cruiser whose sports car DNA is obvious.
It's a heckuva balancing act, and Porsche deserves credit for pulling it off so well on its first try.
The Porsche Panamera S starts at $89,800 U.S./$115,100 Canadian. The Turbo starts at  $132,600 U.S./$155,000 Canadian.
Copyright 2010 Jim Bray
TechnoFile.com