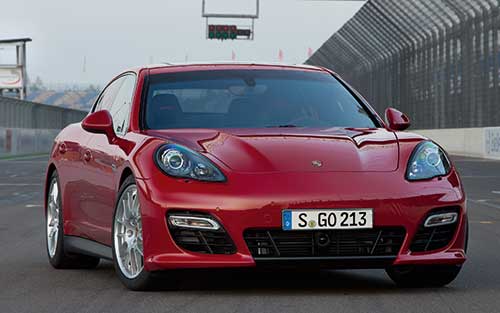 Panamera GTS – another entertaining iteration of Porsche's GT car
By Jim Bray
January 23, 2013
Porsche's Panamera has been controversial since its initial announcement, mostly because of its rear end styling and the fact that – like the Cayenne – it isn't a sports car, and for Porsche to make other than a sports car is heresy to some people.
I can see that point of view, but on the other hand have yet to find a Porsche that isn't an outstanding driving experience – though I've only driven their mainstream inventory of the past few years. The sports cars are sublime, but the Cayenne SUV is still a blast – as well as being quite practical if you need a premium SUV thing in your life (and who doesn't?).
The Cayenne has become very successful for Porsche, and I'm starting to see more and more Panameras cropping up on the streets around here, so it appears to be a success as well. And why not? It isn't a sports car, but it's Porsche-sporty to drive and appointed very luxuriously, more of a Grand Tourer than a pure sports car. And it looks and feels like a Porsche, from its front end design to its cabin, which takes classic Porsche straightforwardness and adds a new panache I'm still trying to decide if I like.
Someone at Porsche likes it, because that buttony center console is reproducing nearly as quickly as Tribbles, now appearing on the company's new generation sports cars as well. And the more seat time I get with it the more I get used to it and the more I realize that it's still simple and straightforward; they've just added stuff and moved some things even closer to hand, without resorting to one of those cursor control thingies!
Kudos to Porsche for keeping the bells and whistles – despite the fact that these are state-of-the-art cars – from overwhelming the interior. There's less incentive for a driver's eyes to be swayed from the view outside. That means you can concentrate on the driving, and as usual the Panamera – this time in GTS livery – is worth concentrating upon.
It's an absolute blast to drive as it strokes your ego and your buttocks (okay, there was no massage setting, but all four of these seats are extremely comfortable), and it makes one of the best sounds of any vehicle I've driven. If Pavarotti were a GT car he'd sound no better than the Panamera GTS. Except that Pavarotti is a tenor, and that doesn't really describe the tenor of the Porsche's melliflous tones; perhaps Gerald Finley's baritone would be a more apt comparison.
Whatever. It sounds fantastic. And you won't go unnoticed.
The reason for that, other than it being a Porsche, is the "neighbour impresser/annoyer" setting on the aforementioned center console that adjusts the mighty Panamera's exhaust note. This might seem like a particularly superficial, ego-stroking feature, like the ability to deploy the spoiler manually for its cool quotient (and who hasn't done that?), and perhaps it is.
So, anyway, I had it on most of the time. Heck, I was tempted to mount a microphone back there and pipe the sound back into the car's lovely (and optional) Bose surround sound system, which performs mellifluously in its own right, to fully revel in the Porsche's music.
Actually, it appears that you don't need to pipe the engine's music back in because Porsche already does it for you! Something called "Sound Symposer" directs the intake sounds into the car's interior by using an acoustic channel they say picks up the intake vibrations between the throttle valve and the air filter, then transmits the vibrations into the A-pillar. So that's where the rattle was coming from! Just kidding, Porsche; the car was tight as a very large drum.
I guess the Sound Symposer, which is activated by the "sport" button, is meant to indicate that you're driving aggressively; an interesting touch, meaning you no longer have to rely on such mundane factors as the scenery whizzing by to give you sensory information about the situation at hand.
Porsche should offer a headphone jack so you can listen to the Panamera Symphony without all those other nasty distractions, like road noise, traffic, spouses, sirens…
The Panamera GTS is based on the 4S model, but has more power, better brakes, has been lowered by 10 millimeters and comes with air suspension and Porsche's Active Suspension Management (PASM). That's all stuff you'd want anyway. The car kind of splits the power plant difference across the line, with a 4.8 liter aluminum alloy V8 that puts out 430 hp @ 6,700 rpm, and 384 lb.-ft. of torque @ 3400 revs. Compare that to 300/295 horses/torque for the base, V6 Panamera and 500/516 for the V8 turbo.
My test Panamera, courtesy of Porsche Canada, came with a beautiful Carmine Red paint job that added $3590 to the $126,700 base price of the GTS. It's very nice, but when I passed the Panamera on to the next driver I parked it next to a new, red Toyota Corolla and it took a keen eye to see $3600 worth of difference.  
Driving the GTS is a lovely experience. Sure, the car's big – and feels big – but it still drives like a Porsche, so it goes where you want it to while putting a smile on your face. It isn't as raw as a 911 or Cayman, being more of a cruiser than a carver, but that's okay – and it'll carve apices when you want it to.
The car comes with Porsche's PDK double clutch auto/manual transmission, which is about as good as they come. Shifts are nearly instantaneous, but manual mode (aided by paddles) is really manual and lets you put the power through the active all wheel drive system in whatever manner suits your fancy.
The suspension is nice and tight even in "comfort" mode (there's no "wallow" mode on a Porsche!), and if you fire up the PASM active suspension it almost seems as if the car shrinks by several inches and loses hundreds of pounds – and if I could figure out how they do that and apply it to my own life I could stop riding that darn exercise bicycle!
My sample Panamera GTS came with a Sport Design steering wheel with paddles for the PDK. It had no redundant audio controls, but would display "Sport" or "Sport Plus" driving modes in case you just have to glance down at the steering wheel at speed.  It also had really nice adaptive sport seats with memory and stuff like a power tilt/telescope steering column, Bluetooth, a universal audio interface, power moonroof and hatch (er, "deck lid"), and pretty well everything else you can imagine for a car of this class.
Except for the inevitable Porsche options, of course, and as usual they can really add up. In this case, the Carmine GTS Interior Package (which of course is lovely) added $3940 to the tab, while stuff like Park Assist ($690), the upgraded Bose ($1650), special 20 inch wheels ($3860) and more (don't forget the paint!) pushed the total to $148,175. And, yes, if I had this kind of disposable income I'd pay it happily.
Since I had the Panamera in the dead of winter – Porsches are fun in the snow! – I  had a strange occurrence with the GTS' spoiler. The GTS uses the Turbo's really neat spoiler, which doesn't just extend at a preset speed, it also unfolds as if it were ripped from a Transformer. Well, the car was washed before I got it and Person Nature decided to give us an immediate taste of what absolute zero must be like – and that meant the spoiler froze! It would try to rise from its slumber, groan a bit, then throw up its little German-engineered hands in frustration and cause an error message to appear on the display.
I didn't want to pass it along to the next writer in that condition (nor did I want to break a Porsche!), so I took it to the dealer, where it was fixed in jig time (well, I think it was a jig they were dancing out in the shop among all those expensive German cars). All went well, except I had to hang out in a showroom full of Porsches without making a complete gibbering fool of myself. I'm not sure it was mission accomplished; there was a 911 on display there that had my name on it. And the name of my wife's divorce lawyer…
Anyway, I got the Panamera back before there was too deep a pool of drool on the showroom floor and it behaved itself perfectly from then on. And despite the "spoiler spoiler," which was an act of God, the GTS may have just wriggled its way into my "favorites" list, as my favorite Panamera so far. Of course, it's only January and Porsche keeps 'em coming…
The Panamera GTS is a really nice blend of luxury and performance, wonderful to drive, and with decent storage and carrying space as long as you don't go nuts.
For what more could anyone with the cash want?
Copyright 2013 Jim Bray
TechnoFile.com