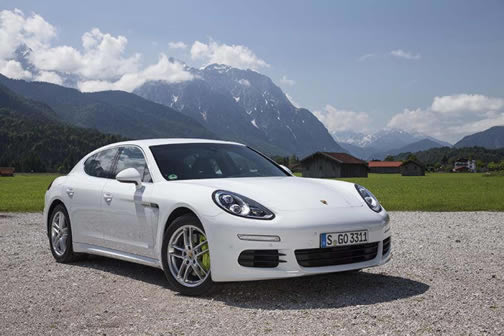 Porsche Panamera e-hybrid offers amazing frugality for a big sports sedan
By Jim Bray
October 16, 2014
The words "Porsche" and "fuel efficiency" may not be the closest of kissing cousins in many peoples' minds, especially when you're talking about a big, four door sports sedan. You may be surprised, however, to find that you can get better gas mileage with the Panamera e-hybrid than with many smaller, supposedly more efficient gas-only cars.
click here to open a slideshow
How good? My dear wife and I took the mighty Panamera into the Rocky mountains, heading west from Calgary to Lake Louise, and we managed not only to travel about 20 miles on electrical power alone, but once the juice ran out and the car switched back to the gas-powered engine a quick press of the "e-charge" button on the center console charged it back up again about as quickly as I depleted it, which let us switch back to e-power and run the battery down again.
The trip was long enough that I went through this process about three times during the nearly 200 kilometre (one way) trip. And when coming home again, the performance was even more astounding (it's more downhill than it is heading into the mountains), and between the gas and electric sessions the big sedan achieved 6.7 litres per 100 kilometres! That's better than 42 imperial miles per gallon, or over 56 mpg U.S.. From a Porsche Panamera whose gross vehicle weight is just shy of 5700 pounds! Of course, I was trying deliberately to maximize my mileage; if I'd been driving my normal style I doubt I'd have gotten close to that even with the hybrid power.
As for how good that is, it's better than Toyota's website's estimate for a Corolla - a car that weighs about a ton less than the Panamera! The best part about this? You get to do that mileage in a Panamera!
I've said many times you don't buy a Porsche for its gas mileage and I certainly stand by that. If I were looking for a Panamera, I'd be more prone to choose the GTS version with its V8 engine, then sell the kids to help pay for the gas. Or maybe keep the kids and get the diesel. But the Panamera S e-hybrid proves you really can have it all, if you want.
Nearly, anyway, because as much as this Panamera behaves like a Porsche, you aren't going to achieve that gas mileage if you do stuff like access its launch control feature or just stomp on the gas pedal with abandon. But if you want to commute in the Panamera S e-hybrid, which would be a very nice way to do it, Bob will definitely be your parent's brother when it comes to driving on e-power.
Let me tell you, it's darn weird to be tooling down the road at speed and look down at the tachometer, only to see it reading zero rpm! Even weirder, if you start out on e-power and check out your average gas mileage total while still on e-power, the readout says zero as well. When was the last time you saw that - in a Porsche? It's also darn disconcerting to be driving down the road at speed in a big Porsche and have it virtually silent, other than road noise. It's still quiet when the gas engine kicks in, and the changeover is so very nearly seamless the only way to tell for sure is when the tachometer jumps into action.
That said, I did miss the Porsche sound!
Being a plug in hybrid, the Panamera S e-hybrid comes with a big charging cord/unit you can use to top up the electrons overnight, then head out on e-power only. Porsche says you can charge the car in less than three hours using the included 240 volt charger, which unfortunately takes up quite a bit of trunk space.
Porsche Canada's sample Panamera S e-hybrid  
the company has definitely hit on a way to keep the greenies happy with its new Panamera S e-hybrid, a plug in car that lets you drive on electric power only, and then recharge the batteries on the fly once they've run down.
It's really quite amazing. After all, this is a car whose supercharged three liter V6 gas engine puts out 333 horsepower (325 is the torque figure) which, when combined with the electrical stuff, is actually rated at 416/435 horses/torque. Porsche says the e-hybrid Panamera will do zero to 60 mph in 5.2 seconds, which is only about a half second slower than the gas-only Panamera S with Sport Chrono option. And it's about a half second faster than the base Panamera V6! And Porsche claims at top speed of 167 mph for the e-hybrid. Most impressive!
The company also says the Panamera S e-hybrid can zip along at up to 83 mph (approx. 134 km/h) in pure electric mode. That was my experience, too.
Porsche says that, compared to the last Panamera S hybrid, the new version uses a more advanced "parallel full hybrid system" that includes "a more powerful electric motor, a higher performance battery that supplies more energy and the ability to charge the battery externally from the electrical grid" (the previous one was a more conventional hybrid with no external charging port). The electric motor produces more than double the power of the previous model's and the car now uses lithium-ion batteries, which in my time with Porsche Canada's sample never caught fire once!
Alas, the sample appeared to have been a bit thrashed, at least as far as its nearly treadless tires were concerned. This led me to not take it on my favorite handling route and also contributed to a very un-Porsche-like tendency to wander when crossing over road irregularities. It certainly wasn't enough to freak us out, but it was unusual. And this with only 8000 km on the car!
The Panamera also featured typical Porsche touches such as sport and sport plus mode, the Sport Chrono option, Porsche's air suspension and Active Suspension Management system. It also had Bi-Xenon headlights, eight way power seats with memory (up front) and a heated, multifunction steering wheel. It also came with automatic, rain sensing windshield wipers and a very welcome rear wiper on the power-operated tailgate/hatch.
Options on Porsche's sample (which took the as-tested price from the base $113,300 to just over $125,000 Canadian) included LED headlights with Porsche's dynamic lighting system, front seat ventilation and 19 inch "Panamera design II" wheels. There was also a premium package and an upgraded Bose audio system that was very good indeed.
I did miss Porsche's terrific PDK transmission. The e-hybrid, which is rear wheel drive, comes with an eight speed Tiptronic and it's fine, but it's no PDK. I also missed paddle shifters; the multifunction steering wheel has redundant and symmetrical shift controls on the left and right and I've defended these in the past, but I've changed my mind in favor of the "real" paddles. Unfortunately, I also like the multifunction wheel except for the shifters; I wish you could get the best of both worlds, a multifunction wheel with real paddles, but I may be a voice in the wilderness.
To proclaim to passersby that the Panamera e-hybrid is a green vehicle, it comes with Acid Green highlights via the brake calipers, "e-hybrid" logos on the front doors, and the "Panamera S" badge on its prodigious posterior. The instrument cluster's needles and Sport Chrono clock are also in Acid Green. Don't sneeze inside the car or they may disappear!
And to make it easier for you to charge the Panamera, it comes with a quick and conventional charging plugs, as well as a charging dock that can be installed on a wall.
While I wouldn't personally buy this version of Porsche's fine "family car," I certainly must tip my hat to the company for pulling off a technological coup that points the way to the company's new hybrid supercar, the 918, a car that's really pushing the envelope (for about $800,000!). It's almost enough to make me a fan of hybrids.
Almost. And if nothing else, it's another indicator that not all hybrids are boring.
Copyright 2014 Jim Bray
TechnoFile.com