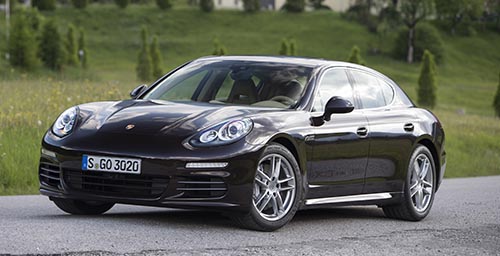 Mighty Panamera 4S a nice way to get around
By Jim Bray
April 10, 2014
It may have a downsized engine this year, but the 2014 Porsche Panamera 4S (click here or on the image to open a slideshow in a new window) is still one heckuva car, a GT cruiser par excellence.
And of course Porsche has included new tweaks into this year's version of its popular "sedan" (it's more a hatchback than a sedan), none of which change the classy character of this great vehicle. There's no substantial change to the rear end, either, so folks who've dubbed the big Porsche the "buttster" will still be able to laugh and feel superior when a Panamera pulls into view.
The rear end may be the car's weakest point, but I don't think it ruins it nearly as much as some others do, and it's hard to see how Porsche could have done it differently, anyway, considering that they wanted to give plenty of rear seat room - including headroom - as well as offering more storage space than they could get in any other Porsche other than the Cayenne SUV. And now, perhaps, the Macan…
Porsche displayed a kind of wagon version of the Panamera a while back at an auto show and from the pictures it looked fantastic. It removed any "buttster" vestiges and replaced them with a great looking rear end that would offer even more storage space than the regular Panamera. As a fan of wagons, this one really turned my crank. Alas, I have no idea if Porsche is going to make the car, but I sure wish they would.
Even as it sits, however, it's a stately and classy vehicle and it looks every bit like a Porsche, which is always good news. Look at the Panamera right and you might think of it as a much larger 911  - or at least inspired by the look of that classic icon - that has a real, usable rear seat.
But back to the 2014 Panamera 4S. Porsche has made a few minor cosmetic changes to the Panamera, but they're very subtle tweaks to things like the front fascia, which has bigger nostrils and blends into the headlights differently than before. The power-operated hatch has also been tweaked and the rear window is wider - though it's still barely large enough when  you view it via the also-small inside rear view mirror. The mollifying factor here is that any traffic will probably be so far behind you that you don't to see it.
The 4S' spoiler is the simpler version of two offered: the GTS and Turbo Panameras have a really cool one that raises and then folds out like some possessed German metallic origami creation, whereas this one just goes up. But you can barely see either wing from the driver's seat anyway, so its aesthetic "gee-whizziness" is mostly lost on the car owner - though its show can be entertaining enough for outsiders, assuming they can keep up. Well, you can raise it manually, too, for those times when you want to - er - wash the car.
The last time I drove a Panamera it sported a 4.8 liter V8 that put out 400 horses. This year, however, that power plant has been, well, supplanted by a three liter twin turbo V6 that actually ups the oomph ante to 420 horses, with 384 lb.-ft. of torque (up 15 from before). Porsche says this engine allows for better gas mileage than before, which should surprise no one.
I wish I'd had a chance to drive both engines back to back because, while I have no real issues with the V6-powered Panamera (as compared to the base non-turbo 3.6 liter V6 model I drove a couple of years ago that was adequate but which begged for a turbo), it did seem just a tad less eager than the V8. Turbo lag? Perhaps, though there isn't a lot of that. It doesn't sound quite as neat as the V8, either, but the "pretentiousness" button on the center console lets you tweak the exhaust note to a more lust-inducing one. I kept it on most of the time.
That mighty turbo six features what Porsche describes as a "redesigned" auto start/stop feature that, perhaps a little less jarringly now, turns off the engine when you coast to a stop or, more common, at a traffic light. It fires up quickly, but this feature feels just plain weird - not just on the Porsche, but everywhere it appears so far.
Panameras come with Porsche's remarkable PDK dual clutch seven speed automatic/manual transmission, and Porsche Canada's sample 4S had paddle shifters. When this transmission first appeared a few years back, it made me a believer in automatics - well, in what automatics can be like, if only everyone would do it like this. Shifts are so quick and come at just the right time - it's almost as if the car knows what you want. If you're just cruising along, it zips up through the gears to seventh so quickly (as a gas saving move) that you might think you're in your father's Oldsmobile. For about a tenth of a second anyway.
Stomp on the gas pedal and she shifts from seventh to second - or whatever gear the PDK deems prudent - so quickly you'll be hanging onto the steering wheel for dear life before you can even think "quicker'n Jack Robinson." And of course the car will go exactly where you point it, almost as if it knows what you're planning. Why? Because it's a Porsche.
The PDK can also decouple itself from the engine (in what's called coasting mode), which is kind of like shifting into neutral and results in what Porsche claims is "nearly resistance-free gliding." Think the cop running radar will buy that you were just partaking in some resistance-free gliding?
Inside, the Panamera is a wonderfully classy place to be, for all four people. Porsche's sample wasn't the new "executive" version that stretches the already long car to make it more limo-like for the people in the back, but it didn't matter. My best friend, who's well over six feet tall (I can never remember if he's Mutt and I'm Jeff or the other way around), had plenty of room back there and he was snug as a really big bug in the lovely bucket back there. When I tried it, I could have worn a ten gallon (er, 45 liter) hat and still had head room. I could nearly stand back there! Well, nearly.
Naturally, leg room is fine as well, even in this "short" version of the Panamera.
Front seat occupants won't see anything other than a big version of the classic Porsche interior, and that's just fine with me. Porsche, in my never humble opinion, is the best at doing interiors - though I must admit they're getting a bit button happy lately. But everything's laid out well and it all works.
I found the driver's seat - which were the adaptive sport seats with memory feature - a tad hard for my already padded butt and my thighs had to sit a bit higher than I like. I've driven enough Panameras to know that it's just this particular seat option that doesn't really turn my crank, however, and there are plenty of other choices including a base seat version that's just fine.
Strangely, the Panamera kept kicking out my cellphone, disconnecting it from being able to do phone and/or music streaming. It wasn't the first Porsche to do this - and maybe it's my older smart phone - but most cars with which I've paired (as opposed to bonded) don't have this problem. I'll have to try a different phone with my next review Porsche which, of course, won't come nearly soon enough.
The Panamera 4S starts at $112,500 Canadian and for that you're getting a lot of car. As is Porsche's wont, of course, you'll probably want a bit more car than that, and the company is more than happy to help.
The sample, for example, included $630 worth of heated rear seats (which came in handy during my time with the mighty Panamera!), $2,280 for the adaptive air suspension, $1,720 for park assist with a nifty surround view, $3,670 for the seats I didn't like, and $7,750 for the sport package and air suspension that you really should have if you plan to drive the Panamera in a manner to which it should be accustomed.
That and a couple of other options brought the sample Panamera 4S to a grand total of $134,785, sans all the various kilos of flesh everyone seems to carve out of you. A lot of money, indeed, but this is indeed a lot of car. And you can spend a lot more than that on a Porsche, let alone a Bentley, Aston Martin, or whatever.
Copyright 2014 Jim Bray
TechnoFile.com