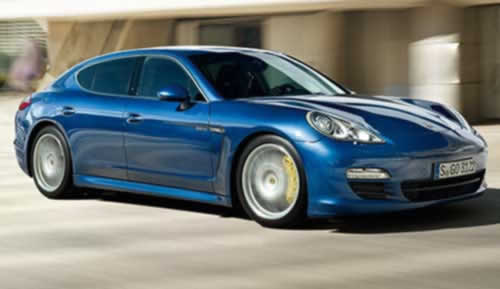 Porsche Panamera S Hybrid: electrifying grand tourer
By Jim Bray
August 24, 2012
Take a luxurious and fast grand tourer, add a healthy dose of political correctness, and you may end up with the Porsche Panamera S hybrid, a fine motor vehicle in which the political pandering doesn't ruin the drive.
I haven't driven every hybrid, but of the ones I have – except for a few exceptions such as the Honda CR-Z, Infiniti M and Porsche's own Cayenne hybrid – they mostly seem to eschew driving enjoyment in favor of passing gas, er gas pumps. The fact that such vehicles also have a premium tacked onto their sticker prices, making it problematic whether the gas savings will ever pay for themselves, makes me even more confused as to why anyone would want to buy one.
Okay, there's also reduced emissions, I suppose, but today's engines are so darn clean anyway that these save the earth types are using a specious argument as a way to control well-meaning but ultimately gullible citizens while simultaneously getting richer off their backs. After all, why would Al Gore build a mansion on the coast if the oceans are going to wash it away when they rise?
Porsche actually treads a pretty neat line with their hybrids so far, however. The Cayenne and the Panamera hybrid take the V6 versions of each vehicle, which I found to be a tad underpowered when I drove them (though still a blast!), and adds the electrical stuff to not only save the world, but to up the performance ante as well. So what you have is a V6 powered big Porsche that acts more like a V8 powered S model. It's pretty cool.
You still have to pay a premium for this, however. In the Panamera's case, the base S hybrid starts at $110,000 Canadian, which is about $5500 more than the base Panamera S. Will you save $5500 worth of (premium) gas over the lifetime of the car? I have no idea. I doubt I would, if only because of the lead foot with which I was born. I can't imagine why anyone would look to buying a Porsche for gas savings, either. I mean, come on. But to each his, her or its own.
To be fair, there's nothing wrong with saving money on gas, and the Panamera hybrid may do that for you. Enough to pay for the premium? I have no idea. Perhaps Porsche would leave one here for long term test – say, four or five years – so I can do my own scientific test.
Think they'll bite?
Finances aside, the Panamera hybrid is still a lovely vehicle. Well, perhaps "lovely" can be argued. I think it looks fine, a big, classy and capable four door four seater, though I can also see how some people could argue that this luxurious GT should have been called the "buttster" because of its love it or hate it rear end/hatch design. Get behind the wheel, however, and that rear end disappears and you're in the familiar world of Porsche, which means its interior is fantastic. And big as it is, this is still very much a driver's car.
Pretty good passenger car, too. I went on a highway day trip to the Bomber Command museum in Nanton, Alberta – about an hour south of my Calgary home – with three friends and they were effusive in their praise for the seats and the overall interior environment. It's luxurious, quite roomy and extremely comfortable. Well, my son has complained about the rear seats, but I think that's partially because he wasn't in the driver's seat where he thought he belonged.
It's interesting to see the hybrid stuff in action. The gas engine can actually shut down as you coast along, letting you cruise on electrical power only – at surprisingly high speeds. Step on the gas, however, and the supercharged V6 leaps to life like, well, like a Porsche.
There were a few times I thought the power came on a tad jerkily at low speeds, but it was nothing really untoward, just a bit unexpected. And if I were looking at putting a Panamera S hybrid in my garage, it would hardly be a deal breaker.
The hybrid ups the power ante over the base V6 Panamera very nicely, putting out a total of 380 horsepower compared to the base model's 300 (and the hybrid V6's 330 hp without the electric enhancement). It makes a noticeable difference and were it not for the price differential between the hybrid and the V8 powered Panamera S (which cranks out 400 horses) I could see it being a perfect compromise between the V6's slightly underpowered economy and the V8 S's delicious but thirstier oomph.
The Panamera hybrid is a "parallel full hybrid," offering driving modes including an all-electric one designed to give you emissions-free driving in the city (as long as you don't mind your Porsche accelerating with the élan of a Mitsubishi i-MiEV electric car), the "E-Boost" function in which the electric motor adds oomph to the gas engine, and the abovementioned coasting mode where the combustion engine switches off when not needed.
One thing I missed on the hybrid was Porsche's fantastic PDK dual clutch auto/manual transmission. Instead, the rear-wheel drive Panamera S Hybrid uses an eight speed Tiptronic S gearbox which is a mighty fine transmission, but which ain't no PDK. Porsche says the hybrid's seventh and eighth gears have a very long ratio which "helps to reduce fuel consumption, particularly on long motorway stretches."
In other words, downshift before pulling out to pass!
Porsche claims fuel consumption of 7.1 liters per 100 km, which translates into about 39 miles per Imperial gallon. That probably doesn't translate into real world performance unless you drive like a complete baby, but in my week with the Panamera I used just over half a tank of gas, and that included the highway trip with four adults aboard.
And that was while driving the car as if it were a Porsche, by which I mean the car was by no means babied. Oh, sure, I tried the electric-only operation, but only enough to convince myself that I didn't like driving it that way – but with other Panameras I've driven, I usually had to fill up long before my week was done so all in all I was amazed at the economy I got from the big sedan even though it probably didn't come close to 39 mpg.
If you don't think gas mileage is the be-all and end-all, you can wind out the Panamera S hybrid quite nicely, thank you. Porsche says it'll do 0 to 100 km/h in six seconds, with a top speed of 270 km/h, and that's no slouch for a large "eco-friendly" car such as this.
Standard equipment on the hybrid include Bi-Xenon headlights with dynamic range adjustment, 18 inch Panamera S wheels with Tire Pressure Monitoring (TPM), automatically dimming mirrors inside and out, a multifunction steering wheel and heated front seats. You also get Porsche's excellent adaptive air suspension, which includes Porsche's Active Suspension Management (PASM), power steering plus and a rear window wiper.
You can monitor the hybrid stuff via the LCD display on the center stack, if you want, or you can use the screen to display the map, radio station presets, etc..
As is typical with Porsche, you can option it up from its initial price. In fact, Porsche Canada's sample Panamera S hybrid came in at $127,395, thanks to a very classy leather interior, 20 inch "911 Turbo design" wheels, front and rear park assist (a really handy addition), the Sport Chrono Plus package, an excellent Bose surround sound system and a $3590 "Crystal green metallic" paint job that, if it were mine, would have me camping outside the car, doing my level best to keep birds away from it.
The Panamera has taken its share of heat for its exterior design and I have to admit it isn't wearing as well with me as I expected it would. Still, making a four seater with luggage capacity for all occupants entails some compromises and overall I think Porsche has done a very nice job of walking that tightrope.
And regardless of what you think about the exterior, it's all Porsche inside – and under the hood – and that is definitely a fine thing.
Copyright 2012 Jim Bray
TechnoFile.com