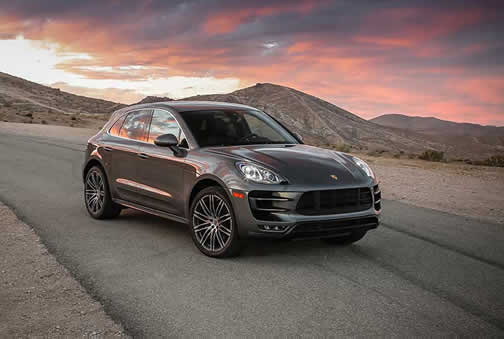 Porsche Macan Turbo: fast family hauler
By Jim Bray
April 9, 2015
Sport utility vehicles are a dime a dozen these days, but it seems as if utility is found more universally in the niche than is sportiness. Nothing wrong with that, of course; flexibility of use is one of the things that make SUV's and/or crossovers so great, and so popular.
(click here to open a slideshow)
But what if you want as much sport in your sport ute as you do ute? That narrows the list somewhat and may help lead to a perception that these "tall cars" are anything but sporty – and that they may even be prone to rolling if you try inflicting some enthusiastic driving on them. This is poppycock, of course, as evidenced by such fun SUV/Crossovers as the Mazda CX-5 2.5, the VW Tiguan, a couple of BMW's and Audis – and of course Porsche's own ground-breaking SUV the Cayenne. There are others, too, perhaps many others depending on your definition of "sport."
Now Porsche has invaded a new SUV/Crossover niche with the Macan, a downsized – nearly "cute ute" – sport utility vehicle that's very nearly as much a tall sports sedan as it is a small Cayenne. Which makes one ponder when Porsche will also introduce a mid-sized sports sedan to go head to head with stuff like, oh, BMW's 3 and/or 5 series. Hope springs eternal!
The Macan is available in two flavors, the S and the Turbo, both of which have turbos but only one of which is, apparently, admitted to publicly by the German carmaker. Why? Dunno. Heck, if they'd asked me what to call it I would've suggested they stick with the name they floated earlier, while the Macan was still under development: the Cajun (Cayenne Junior?). See how much clout I have?
Anyway, I got to audition the Caj-, er, Macan S over Christmas, 2014 (the review is here) and it was exactly what I'd hoped for. I love the Cayenne but it's a tad too big for my liking (and too tall for my stubby little legs) and when I heard they were going to do the Macan I hoped it would be just like a, well, Cayenne Junior. And it is!
The Turbo's main difference from the S, other than the number of chrome letters on its tailgate, is the engine. The S features a three litre twin turbo V6 putting out 340/339 horses/torque, while the Turbo's V6 is 3.6 litres in displacement and cranks out 400/406 horses/torque. That's a noticeable difference, not that the S is a slug by any means. In fact, though I didn't drive them back to back, I think if it were my money I'd opt for the S and save a couple of ten thousand dollar bills (that I could then put toward my Cayman!).
Not that the Turbo isn't delicious! And if price were no object it would be the obvious choice.
The Turbo, like the S, gets its power to a sophisticated all-wheel drive system via Porsche's great PDK seven speed dual clutch transmission. This is the tranny that forced me to make peace with automatics – well, some automatics – because, like Porsche's traditional steering feel, it seems hard wired into your brain, anticipating the right gear for you more quickly and efficiently than you (well, me, anyway) can yourself. And its manual mode lets you take virtually complete control, sans clutch pedal, using either big, solid paddles or the shift lever itself. It gives you the best of both transmission worlds, and I love it!
And you can't get it on the Cayenne. Don't know why, but it seems like an oversight.
The Macan Turbo, which starts at $82,200 Canadian sans options (and you'll want some options, believe me!), is probably the sportiest SUV/Crossover I've driven – though if you leave it in its most comfortable (read "least sporty") settings it's so smooth and serene you're tempted to think it wallows, except that a Porsche wallow is very different from that of the typical land barge: it's more like a leisurely, easy going demeanor that turns what, in its sport modes, is a snarling lion of an SUV and makes it a luxurious and pleasant daily driver. I made lots of use of Sport mode (Sport Plus can be a tad jarring on Calgary's decrepit streets), needless to say; it tows the line between comfort and "wow!" very nicely.
Further tightening up the Macan Turbo's responses is Porsche's active suspension (PASM), an electronic damping control system that adapts to your driving style and the current road conditions. It's optional on the S, but standard on the Turbo – and you'll want it if you want your Porsche to act most like a Porsche. Porsche Canada's sample also had Porsche's Torque Vectoring Plus system ($1,700; it applies moderate brake pressure to the inside rear wheel as needed in cornering) and air suspension ($1,590). Both are worth having as well.
A button on the center console lets you lower the Macan from its default height and I liked it best when lowered this way. There's also an "off road" button you can use to make the Macan what I imagine would be a more than capable vehicle in the boonies. I didn't try this, being of the opinion that it would be blasphemy, but if it works as well as everything else on this vehicle it'll be a peach.
The Macan's interior will be familiar to anyone who knows Porsche; it's basically the same as all the rest of them. That means it's laid out well and efficiently, but with enough buttons on the center console to choke a horse. It looks intimidating but it's actually quite simple to use and it beats the heck out of those cursor control-type thingies that make you scroll through a bunch of menus to get anything done.
The seats are great, the driving position is perfect and the steering wheel – which is apparently the same one used in the 918 Spyder supercar – offers both paddle shifters and multiple functions via buttons and scrolling knobs. It's the best of both worlds and I hope this wheel/paddle combo will trickle down through the rest of the company's line.
Porsche's sample Macan Turbo came with the base Bose audio system and while it isn't in the same league as their high end Burmester system it's a darn fine base unit. The sound is good, there's good connectivity – including Bluetooth – and though I managed to find the limits of its power output it's easily good enough for most applications. And it's standard equipment.
The sample also had enough options to take the price up by about 20 grand (to about $103,500 in all) and besides the abovementioned stuff included a lovely leather interior ($1,980), trailer coupling ($750), a great panoramic sunroof ($1,910), rear side window shades ($290), heated rear seats ($600), ventilated front seats ($760), backup camera and parking sensors ($1,670). It also had the Sport Chrono package ($1,480), an annoying lane change/lane keeping assist ($1,580 - they're all annoying, but this is one that wrestles you for the steering wheel) and more.
Porsche gets pilloried periodically for the preponderance of possible options you can pick, and I tend to agree with some of the barbs. That said, it isn't as if these vehicles are stripped down from the factory – and I'd rather have a broad selection of a la carte items from which to choose than be forced into bundled packages (Hey, it's just like cable TV!). Porsche does offer a both standalone options and packages; sometimes you're forced to choose more than one option to get others that you want, but this is a common thing with car companies.
Needless to say, I loved the Macan Turbo as much as I thought I would. It's a fantastic vehicle, one of the sportiest SUV's you can find yet still roomy enough to carry the family and its stuff practically anywhere you might want to take it. You can find SUV's with more storage space, or more seats, but in this niche, this – and its "S" sibling - is the best and the most compelling that I've driven.
Copyright 2015 Jim Bray