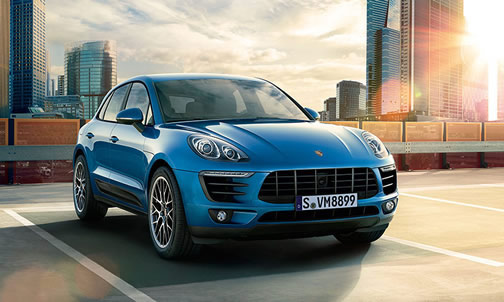 Porsche Macan and Boxster GTS – two new ways to love the marque
By Jim Bray
January 22, 2015
There's a new Porsche SUV and an upgraded version of the Boxster roadster in town, and both of them are about as great a value as one could hope for from the German maker of premium vehicles.
(click the image to open a slideshow)
Porsche's first SUV, the Cayenne, caused a wee bit of controversy when it was announced a decade and more ago. The train of thought at the time seemed to be "how could such a company pander to the lowest common denominator when their reputation was built on such fantastic cars as the legendary 911 Carrera?" Then the company actually introduced the Cayenne and, while some people were undoubtedly not mollified by the fact that, at heart, it was still most definitely a Porsche, it became a top seller for the company – bringing in profits they could put into continuing their sports cars' evolution – which they've done with excellent results.
Porsche has now filled another non-traditional market niche for it – the small SUV – with the new Macan and if you like the Cayenne but found it a tad big for your lifestyle you'll probably love the Macan. It's everything it should be: a small SUV that's all Porsche. Call it a Cayenne Junior if you like, or maybe abbreviate it to something like, well, "Cajun" which, not coincidentally, was the name Porsche floated while the world awaited the new vehicle. I thought it was a great name, but someone at Porsche didn't and now we're stuck with Macan. Maybe they're making it so when you take it to the dealer for service you'll be giving it over to a "Macan-ic"…
Anyway, as someone who's always loved the Cayenne but found it too large for my own particular lifestyle, I was dying to try the new Macan - and so it was that a couple of days before Christmas, 2014, I was given an early gift: the key to a beautiful, Mahogany Metallic Macan S, the base model of this great new vehicle. There's also the Macan Turbo, with extra horsepower and stuff, its name taken from the fact that its engine is turbocharged. Just like the Macan S's.
I don't really get that naming. S models have traditionally been a step above the base models (911 S, Cayman S, Boxster S, even Cayenne S), but at least Porsche's naming conventions haven't gotten as weird as BMW's, with its two door/four door/five door odd/even numbered series models. Just remember that, in this case, S means it's turbocharged, while Turbo means it's "Really!" turbocharged.
The base Macan gets Porsche's three liter, twin turbo V6 coupled to the company's fabulous PDK seven speed, dual clutch transmission – something yet to be available on the Cayenne, though it's about time it was. The S is rated at 340/339 horses/torque, whereas the Turbo's 3.6 liter V6 cranks out 400/406 horses/torque. That's undoubtedly a noticeable difference (I haven't driven the Turbo yet, so am guesstimating based on previous Porsche experience), though I found the S' horsepower to be more than adequate to move this sort of svelte SUV along at whatever brisk pace you may desire.
I didn't have a chance to try much in the way of brisk pace during my week with the Macan S, thanks to icy and snowy road conditions, but I did notice that the vehicle handled the conditions beautifully; we took it out on a highway jaunt on a particularly cold and crummy day and the roads might as well have been bare and dry; this, while other supposedly more robust four wheel drive vehicles were fishtailing on black ice. It was impressive!
At first glance, you might mistake the Macan for a Cayenne because they look very similar. Other than the size difference, however, you can tell a Macan by its larger hood, which actually lifts over the headlights rather than from above them, and it also has a more angular and sporty rear end with different tail lights. They're great looking tail lights, too, though they snow gets packed into them and you have to pay particular attention to cleaning them off before heading out. That said, I'd love to keep them clean if they'd let me keep the Macan!
The interior is exactly what you'd expect as well: a small Cayenne. Therefore, it comes with a modern interior that's driver-focused and laid out very well, , though the center console is a tad cluttered by buttons. It's luxurious, too. One difference you get with the Macan is its steering wheel, a heated, multifunction wheel with tilt/telescope and paddle shifters. It's about time: on the Cayenne, Boxster, 911 and Cayman, you can have a "sport" wheel with paddles or you can have a multifunction wheel with redundant shifting buttons on the front and back of the wheel (and they work fine, but paddles are better). The Macan's wheel gives you the best of both worlds.
Porsche Canada's sample Macan S carried a base price of $54,300 which is pretty darn good for a Porsche of any stripe. Naturally, there's also the "Porsche Premium" that usually adds thousands of dollars to the sticker price, due to an options list that's as long as the trip from Germany to Canada. In the sample Macan's case, the price went up by about $13,000 thanks to the paint job ($790), a great panoramic sunroof ($1910), 19 inch Macan Design Wheels ($1890), 14 way power front seats with memory ($1530) a $3420 Infotainment Package (Porsche's PCM – Communication Management – system with navigation, audio/video disk drive, satellite and HD radio capability and online services) and another $3380 for the Premium Package, which gives you stuff like front and rear park assist (including back up camera), Bi-Xenon lighting system, rear seat heating and automatically dimming mirrors. I've kidded and chided Porsche many times for their options policy (heck, Bluetooth used to cost extra!), but even at an as-tested price of about $67,000 the Macan still comes off as a relative bargain considering all you get. And how it drives, of course!
I could write about the Macan at length, but suffice it to say that if you like Porsches, and you like the Cayenne but want the same thing in a trimmer package, you'll probably gibber with delight upon the occasion of your first test drive in a Macan. It is, indeed, just what it should be and that means it should be another winning model from Porsche.
It's also the flashiest Porsche I've driven, though I don't think Porsche should be too pleased about that. You see, for no apparent reason, the parking lights would start flashing when the Macan was parked and I'd have to (once I actually noticed it!) play with the lock/unlock buttons on the key fob to shut it off. It was very weird and un-Porschelike. So I surfed some Porsche owners' boards and discovered this is a known problem and the workaround was to simply press the lock button on the fob twice when you're locking the vehicle. I tried that and the problem never returned. It was still weird, though, and shouldn't have happened; is there a recall in the Macan's future?
If so, thank goodness it's for something minor rather than a flaw that could cause deaths - like some other manufacturers have had to deal with. It certainly wouldn't cause me to walk away from buying a Macan were I in the market. But I'm a Porsche guy…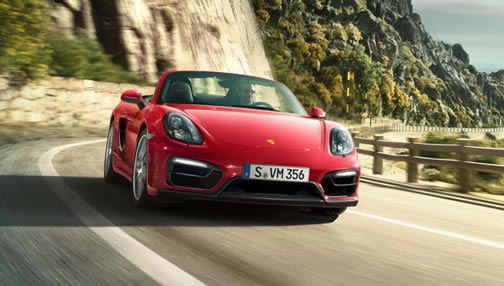 Upgraded Boxster…
The Boxster GTS, meanwhile, is more of a trim level than a whole new model of Boxster and that's okay because the garden variety Boxster is a heckuva car. So while the GTS package means you only get 15 more horses than you do with the S (330 instead of the S's 315), you get a whole bunch of stuff that would end up costing you more – Porsche's Packaging Penchant being what it is – if you were to add the stuff to a Boxster S.
(click the image to open a slideshow)
You also get cosmetic changes on the outside, such as a more aggressive front end, some black trim pieces, and other little GTS touches. They don't mean a lot to the car's performance, but they differentiate it from the more "mundane" Boxsters (ditto for Caymans).
Other stuff is more important, such as the Sport Chrono package that's standard on the GTS but costs a few grand on the others. You also get PASM, Porsche's Active Suspension Management and Porsche Torque Vectoring as standard. These are all great features and I'd probably tick the boxes for them anyway if I were building my own Boxster, but the bulk purchase saves you some money over doing it all separately (plus you still get the extra ponies and 20 inch wheels).
Porsche's sample started with a base price of $83,900, which is hardly chicken feed and of course there was nearly 20 grand of extras on it, including three grand worth of paint (Carmine Red), a GTS Communications Package, Park Assist, convenience package, infotainment system and specially painted wheels. The total came up just shy of $100,000 Canadian – but for that you have one of the world's great sports cars in one of its best configurations.
The base Boxster GTS is about $12,000 more than the base S, so all that sporty goodness the GTS adds is, well, if not practically free then still a decent investment if you're heading into this market niche anyway. Just think: you could have a nicely equipped Macan and a Boxster GTS for well under $200,000 Canadian. Heck, that's almost impulse shopping for the well-heeled!
The GTS is arguably the best way to get this car, which is unarguably one of the finest sports cars on the planet. Like every Porsche, it's a dream to drive, and it's easy to drive, too, with steering that feels hard wired into your brain, excellent acceleration - and braking that lets you pretty well stand the Boxster on its nose when you tromp on the stop pedal.  And it has two trunks in which to haul your stuff!  
Porsche's sample had the company's excellent six speed manual transmission and it's a wonderful thing to play with. It also seems as if they've made the clutch a tad lighter than in previous versions because I didn't have to use both feet on it this time. I'd have a tough time deciding whether to get the manual or spend the four grand or so for the PDK, though I have a feeling I'd opt for the PDK because it offers such a great driving experience and all you really lose is the clutch pedal, which is really handy in start-and-stop commuting.
The only thing I could really have done without is the red colored tachometer, but that's hardly a deal breaker! I loved this car, even though I drove it in the dead of winter and couldn't really exploit its virtues. Fortunately, I've driven a few (non-GTS) Boxsters when the weather was nice; it's a wonderful experience and I recommend it highly. And if, like me, you aren't really a drop top guy, you can opt for the Cayman GTS, which is even nicer.
Copyright 2015 Jim Bray
TechnoFile.com