Porsche Boxster and Cayman S PDK's – "Pretty Darn Kool"!
By Jim Bray
November 18, 2009
How can you have a real sports car without a manual transmission?
That's a question I've pondered much over the years, from my first three cars – MGB's all – through my Datsun 240Z and Toyota Supra, all of which were blessed with stick shifts. I've tended to look upon automatics as the ugly stepsisters of transmissions, sloppy and evil creatures that, while appropriate on minivans, SUV's and family sedans, didn't belong within 500 laps of a sporty car.
There's a revolution brewing, though, and it's been coming for a few years. It's personified by new generations of automatic transmissions that offer so much efficiency and, yes, driving enjoyment that you can almost forgive the fact that your left foot might atrophy from lack of use.
Prime among these transmissions is Porsche's Doppelkupplung (PDK), which gives you the benefits of both a manual gearshift and an automatic transmission and which the company says "enables smooth gear changes with no interruption in the flow of power," resulting in "significantly faster acceleration and lower fuel consumption without having to sacrifice the ease of automatic transmission."
And be danged if it hasn't won me over!
I first drove the PDK on a 911 last winter, during particularly beastly weather that gave me a good chance to check out its beastly weather performance (which was excellent) but not a chance to really wind it out. I came away convinced that, while it was a really good automatic, it still couldn't replace a good stick shift – such as Porsche's own great stick shifts.
Since then I've been lucky enough to get used to the PDK in good driving conditions, enough so that I'm thinking of getting a rubber suit to protect me when the inevitable bolt of lightning strikes. Yes, I really like the PDK and, all things considered, would probably order it on my Porsche were the lottery Gods to smile on me.
What changed? Nothing really, except that I've spent enough time living with the PDK – the latest experience being back-to-back weeks with the Boxster S and its brother Cayman S. They're nearly the same car, mid-engined with catlike reflexes and upgraded nicely from the base "non-S" models, and both were equipped with the PDK, as opposed to the S' standard six speed manual.
It would've been interesting to have one of them PDK-equipped and the other a manual, but I've driven enough of Porsche's six speed sticks to know I love them, their only drawback being a middlin' heavy clutch that can get a tad tiresome in stop and go traffic.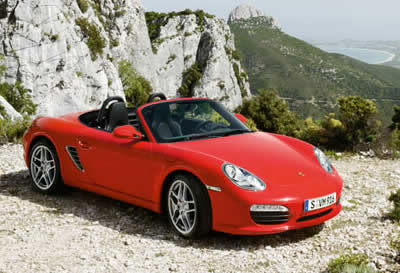 The PDK shifts blindingly fast, faster than you can do manually - and talk about smooth! Shifts can be nearly imperceptible and, if you aren't driving aggressively – for instance, when you're in that endless commute – the tranny shifts right up to seventh gear quickly, keeping the revs down and trying to get the best gas mileage possible out of the Cayman/Boxsters' direct injection flat six engines. But it acts nearly like a manual, even in automatic mode.
For example, take your foot off the brake and goose the gas and there's a slight pause while the car rolls loosely for an instant, nearly as if you're letting out a traditional clutch. And if you need to pass someone and want to do it as quickly as possible, a firm jab on the fun pedal is all it takes for the tranny to shift nearly instantaneously right down to second gear, at which point you're rocketed ahead with abandon – and with a big grin on your face as the Cayman S's 320 horses (The Boxster S "only" gets 310 for some reason) snap to attention.
It's quite remarkable, and a worthwhile option despite its multi-thousand dollar cost. And when you use it in manual mode it's wonderful.
The double clutch PDK, according to Porsche, is in essence two "half gearboxes", using one clutch to operate each half. The first controls the odd gears and reverse, while the second clutch handles the even gears – so even though there's no clutch pedal as such, the transmission still manages to come through in the, well, clutch.
Porsche says first through sixth gears have a "sports ratio" and that the cars' top speed is reached in sixth. Seventh has a longer ratio meant to reduce fuel consumption
With the PDK, the engine's power is only transmitted through one half gearbox (and one clutch) at a time, so when one side is busy, the other is getting the next gear ready in the other "half gearbox". Porsche says gear changes can take place "within milliseconds".

It is indeed lightning quick and buttery smooth as well.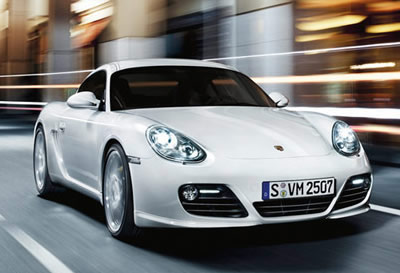 You can operate manual mode either via the stick on the console or via "paddle" thingies on the steering wheel. I've complained about Porsche's "PDK paddles" in the past because, instead of one side's paddles upshifting and the other side downshifting like they do in most of the competition, you upshift from the front of the steering wheel and downshift from the back (where conventional paddles would be).
This caused me some angst at first, as I'd downshift when I wanted to upshift (much, I'm sure, to the chagrin of the car!), but just as the PDK itself has won me over, so has Porsche's paddle placement. Once you're used to it, it's very logical and, since the left and right controls are identical, you never have to worry about remembering where your hands are when you're turning, which is something you do have to keep in mind with conventional paddles. And you can upshift the PDK merely by flexing your thumb a bit, while downshifts are done by squeezing the back of the wheel (like a conventional paddle). It's logical, elegant, and it works well. Consider me a convert; I'll never whine about the system again.
Of course the PDK is merely the latest reason to love the Boxster and Cayman, pure sports cars to die for. In their "S" incarnations, they're a little nicer and have a little more horsepower than the base models (255 vs. 310 for the Boxster/S and 265/320 for the Cayman/S), not that the "entry level" ones are slouches.
The Boxster and Cayman are basically the same car, except that the Cayman was spawned as a hard top version of the Boxster convertible. They're both fabulous. Both feature terrific independent suspensions: MacPherson struts with aluminum control arms, coil springs, stabilizer bar and negative steering-roll radius up front and MacPherson struts with aluminum control arms and stabilizer bar, toe-angle control in the rear. They also both feature four-piston monobloc, aluminum fixed caliper disc brakes front and rear, with ABS, traction control and the like. Want state-of-the-art handling, steering and braking? Here you are.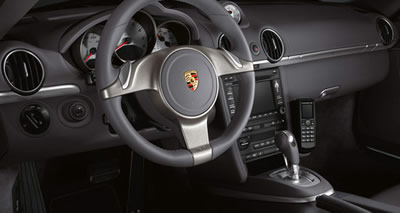 The cars' mid-engined configuration, which places the engine right behind the passenger compartment, makes for nearly perfect balance and helps contribute to cars whose handling seems hard wired into the driver's brain – a blast to drive!
My tastes lean more toward the Cayman because it isn't a convertible, but this is merely personal preference; both cars feel very similar to drive.
My test cars upped the option ante beyond the PDK with upgraded paint (Ruby Red Metallic on the Boxster S and Macadamia Metallic on the Cayman S, both of which looked fabulous), Porsche's PCM touch screen communications module with extended navigation and – at even more cost, which I find ludicrous – Bluetooth and a Universal Audio Interface that can control your iPod right from the car's touch screen. Really, though, for the price of these cars Porsche should throw stuff like that in. Unfortunately, they never asked me.
Another very worthwhile option is Bi-Xenon headlights with dynamic cornering lights, which do a great job of illuminating the situation at night.
Either of these cars would be a fabulous toy – and with the PDK they also make great daily drivers, as long as you don't need more than two seats. They're fun (and easy) to drive, powerful, beautiful to behold, fast and comfortable. Porsche even has a knack for using their cars' limited space well. For example, the arm rests have hidden storage compartments in them, and when not in use the cup holders hide behind a piece of trim on the passenger side, popping out perfectly when you need them.
The Porsche Boxster S starts at $56,700 U.S./$72,700 Canadian. The Cayman S starts at $60,200 U.S./$77,500 Canadian.
Copyright 2009 Jim Bray
TechnoFile.com