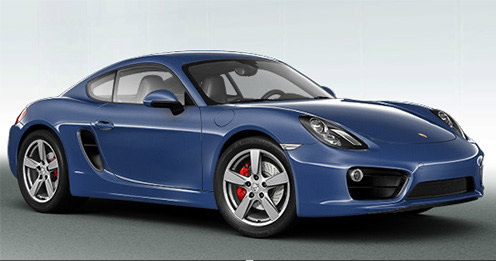 Porsche Cayman S and 911 C4S - S is for sublime
By Jim Bray
December 5, 2013
Porsche's 911 is definitely iconic, and a classic. And the new, 991 version of the 50 year old beauty is a wonderful car that's even more lust worthy than the previous generation. (click the image to open a slide show)
It's a car that has been refined over its half century of existence, from a tail happy death trap (well, that may be an overstatement) to a world class super coupe. I'd never driven a 911 before the last generation, so I missed all the supposed driving angst because Porsche seems to have worked out the bugs (pun intended; you could almost consider the rear engined 911 as the original VW Beetle taken to the extreme).
And as anyone who's read my stuff knows, I think the new 911 makes that gorgeous "old" one look nearly frumpy, "frumpy" being relative of course.  Any 911 I've spent seat time with has been sheer driving pleasure, powerful and comfortable and with responses that feel almost hard wired into the brain. I simply love the car.
But it may not be the ultimate driving Porsche. I've had occasion over the past years to hang out with several "old racers," guys who've actually put their butts on the line on the track and who've forgotten more about car control than I'll ever learn. When the topic of Porsche comes up, as it surely does, I often ask them whether they'd buy a 911 Carrera with their hard earned after-tax income. After all, it's the top of the line, offers the most power, and is a classic performer that's still winning races today.
But it appears that Porsche threw a monkey wrench into the mix a few years back. It introduced a mid-engine roadster called the Boxster, a car that has proved to be a game changer for the iconic German marque. The mid-engine configuration brings nearly perfect balance to the car's handling, taking away whatever "squirreliness" may remain in the 911 and replacing it with an even more sublime driving experience.
The Cayman sprang fully formed from the Boxster's loins, in that it's pretty well analogous to a hard topped version of the open top Boxster. But it's more than that; by way of its horsepower and its pricing, it actually falls right above the Boxster and below the 911 in Porsche's sports car line - a middle child that claims attention in its own way.
And it's the Cayman these racers - almost to a one - tell me they'd buy. They'd eschew the 911's horsepower and cachet for the balance and road holding of the mid-engine configuration. And while I have lusted after 911 since there was a 911, and figured everyone else must be like that, too, I must defer to their expertise.
And who can blame them for loving the Cayman? The car's fantastic, and you can get a brand new one fully tricked out for tens of thousands of dollars less than a 911 that's comparably equipped.
Even better, now there's an all new Cayman that builds on the all new Boxster's platform, but whose hard top adds rigid strength to the overall package. You can't get a sunroof, so there'll be no open top motoring in a Cayman, but that's the only potential fly I could find in this spectacular new ointment.
The new Cayman looks as close to the new Boxster as the old one did to the old Boxster, which means it's still extremely easy on the eyes, but with a more "modern" look as befits the new generation. It's gorgeous.
Porsche Canada sent what turned out to be my dream car (though you could still tempt me with a 911 Turbo S): an Aqua Blue Metallic Cayman S I could easily spend the rest of my life with, though my wife would undoubtedly decide she'd spent enough of her life with me if I were presumptuous enough to run out and purchase one.
Ah, but what a car! The redesign looks like a million dollars and, just as the new 911 makes the previous one look old, so this new Cayman makes the original look just a tad passé. The old bit of concaveness in the hatch is gone now, making for a more conventional and attractive sweep to the roofline, and there are larger scoops behind the doors that look more serious than the ones they replace. Cayman has also been to the gym, and so weighs less than the old one.
The car's also longer and wider than before, too, which translates into more butt space for the middle aged reviewer. Not that the old one was cramped; try one after getting out of a Mazda MX-5 and you'll think you're in a Mercedes-Benz S class. And the increased size doesn't mean they've moved stuff farther away from the driver, either. All switches, controls and the like are still within easy sweep of your arm.
Caymans still display the Porsche family interior, which now means a console tilted toward the front and buttons that used to be on the center stack now mounted on that console. It also means the Sport Chrono display that once sat atop the dash is now integrated into it very nicely.
Basically, from the driver or passenger seat it seems like a small 911 or an even smaller Panamera. And how bad can that be? Porsche makes the best interiors, bar none; they're straightforward, functional, attractive, and reasonably luxurious (and you can up the luxury ante a LOT, thanks to Porsche's very long list of options).
Alas, I didn't get a lot of time to drive the PDK-equipped blue Cayman S because Murphy's Law reared its ugly head, but I got a chance to try the six speed manual version for a quick ride at the Canadian Car of the Year TestFest, where it beat out the new Jaguar F-Type - though it was eventually defeated by the new Chevrolet Corvette Stingray, proving there's no justice.
Anyway, I'm happy to report that the new Cayman is fantastic to drive. This should surprise no one, but it's always nice to see a company not screw up a successful formula. The balance, the steering, the adjustable suspension, my goodness, this is a car that just begs you to drive it and drive it hard. And if you do drive it hard, that wonderful engine buzz from behind your head (which in the Cayman S come from a 325 horsepower 3.4 liter flat six) becomes a siren's song.
Porsche's sample upped the Cayman S's starting price of $72,900 Canadian to just shy of 94 grand and while there's usually a lot of stuff I could live without, if I were configuring my Cayman S I'd have to keep most of it - even the gorgeous $820 Aqua Blue Metallic paint.
There's the dual clutch, seven speed PDK transmission, which is simply incredible and, at $3660, seems a bit more "affordable" than before. Porsche Torque Vectoring ($1510), 20 inch Carrera wheels ($1790 - yeah, I know they're a luxury, but they're beautiful), Porsche Active Suspension Management (PASM, $2050 and should be on every), Sport Chrono package ($2710, steep, but worthwhile if you plan to really drive) and SportDesign steering wheel ($560 - gives you paddle shifters with which to tame the PDK!).
Maybe I'd shave off the 14 way power sport seats with memory ($2650, and they're really nice) and the $4560 infotainment package with Bose surround sound. If you plan to crank your tunes often (and I'm very guilty of that) it may be a good investment, but a "baser" system still sounds good - and let's face it, the best sound to be heard inside the Cayman is the Cayman itself.
Still, leaving this particular Cayman S the way it was configured still manages to get you into a fantastic Porsche for under a hundred grand. I'm not sure I can say that's really great value, but it's half the price of a 911 Turbo S and well more than half the fun.
In other words, another winner from Porsche. They just keep knocking 'em out of the park!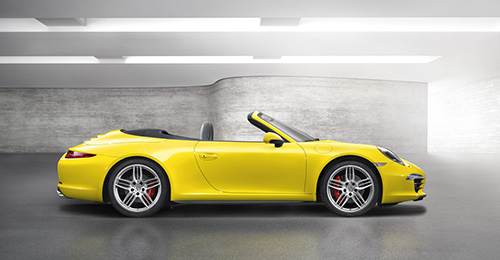 Fat bottomed girl…
I also got some nice seat time with the rear engine classic 2013 Carrera 4S Cabriolet, not my favorite iteration of the 911 because it's a ragtop, but a spectacular vehicle nonetheless. Besides chopping off the gorgeous coupe's roofline, this version also brings all wheel drive to the typical Carrera S. It also features wider rear fenders that make the 911's already expansive bum look even wider than normal. Fortunately, it's more of a good thing rather than just flab. More to love!
The all wheel drive works well and supposedly makes the car handle even better than the rear wheel drive models. I've never driven a 911 hard enough for the rear engine conundrum to become an issue, but if nothing else the all wheel drive can make the car handle even better on lousy roads, whether snow or ice or just plain wetness.  
The new soft top is the best yet when it comes to not ruining the 911's classic lines, but I think it makes the car look hunchbacked. If you like your 911 open to the sky, however, this is the tradeoff. The roof opens and closes quickly and buttons up the car very nicely - you shouldn't have to worry about going through car washes as long as you remember to put it up before you head in.
Wind noise isn't bad, especially if you activate the power-operated wind blocker that folds up over the rear seats, turning the car effectively into a two seater.
Porsche Canada's sample came with its "old fashioned" steering wheel that, instead of mounting paddles behind it, features redundant up and down shift controls on the front and back of the wheel (as well as some other "multifunction" controls. I always liked this wheel, but was surprised to discover that I now prefer the SportDesign wheel with its conventional paddles. I had defended the front/back shift button system before, preferring it to paddles, but I was obviously wrong.
The Carrera 4S starts at $134,100 Canadian, but wouldn't you know the sample had enough stuff to up the ante to just under $160,000. Options included $820 for the Antracite Brown Metallic paint, $4710 for the classy Umber Leather interior and $4600 for the PDK transmission - and why is it a grand more in the 911 than the Cayman?
The C4S, as it's known, also had a heated steering wheel ($310), front seat ventilation ($960), front and rear park assist ($440, and a nice way to keep the car's chin from getting dings in parking lots) and $2710 for the Sport Chrono package. The multi-function steering wheel costs $710, and the fourteen way, power-adjustable sport seats will set you back $2650. The biggest ticket option was the $5720 Burmester audio package, which is fantastic but hardly a performance or safety-related item.
Still, this is all nice stuff and I'd argue that some of it - for instance the park assist - should be standard. And maybe it will be one day; you used to pay extra for Bluetooth, so Porsche's making progress.
Ragtop version notwithstanding, if I had 160 grand burning a hole in my pocket to be spent on a toy, er, car, I'd be hard pressed to choose between the 911 S coupe and the Cayman S. But I think I'd end up deferring to my racer acquaintances and opting for the Cayman. It's not exactly as if you're roughing it, after all, and it really is a fantastic car.
My biggest complaint about the Cayman is that you can't get a sunroof and while I'd miss it, that wouldn't change my mind. And I'd save tens of thousands of dollars in the process, compared to the mighty 911.
Which I guess makes the Cayman S a comparative bargain.
Copyright 2013 Jim Bray
TechnoFile.com