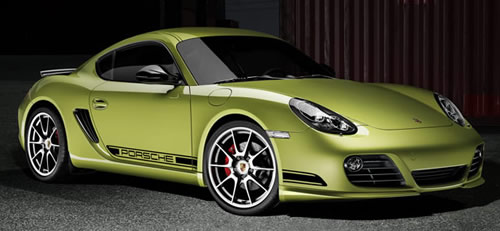 Porsche Cayman R – Grrrrrrreat fun!
By Jim Bray
March 23, 2012
Introducing the sports car whose name may have been inspired by Talk like a Pirate Day: the Porsche Cayman ARRRRRR!
It's a Cayman – which is a good place to start – but lightened and tweaked for performance on the race track, which is great if that's what you want to do with your Cayman.
You might ask "Who wouldn't want to do that?" – and it does seem like a no brainer. Porsches are all about performance, on the track and off, and this latest, hottest Cayman certainly hits all the high notes. It's fast, handles like a dream, and sports (pun intended) the wonderful balance a mid-engine car can offer. On the other hand, its upsized track pedigree could be a bit of a downside if you want your Porsche to be a daily driver – enough so that you should really, really need the track time (or the bragging rights from having bought such a capable car) if you plan to live with this fast and furious friend.
This extra trackward bent of the Porsche Canada-supplied Cayman R made it my wife's favorite Porsche to date: it's the first one where, after the test session, she wasn't faced with getting pools of drool out of my shirts. It wasn't that I didn't loved the Cayman R – heck, it's a Porsche and I'm nuts about Porsches – but a few of the compromises made for the RRRRRRacing realities, coupled with middle aged spread on my part, mean I'd have trouble living with it as a daily driver. And I would definitely want to drive my Porsche every day possible.
In fact, I want it pried out of my cold, dead hands, to rip off a phrase. As if owning a Porsche is on the horizon…
But I digress. The R is recognizable from other Caymans (Caymen? Caypeople?) by such things as the stripe and the Porsche lettering on its lovely flank, as well as the fixed spoiler on its bum. Inside, you can spot the wild Cayman by such things as the fabric straps that replace the door handles (supposedly a weight saving measure), the deep and fantastically supportive racing seats and the lack of a hood over the instrument panel.
There are important mechanical tweaks, too, including a horsepower boost to the delicious-sounding naturally aspirated flat six engine, which is rated at 333 @ 7400 rpm in the R.
Porsche's weight saving regimen is said to let the R tip the scales at more than 120 pounds fewer than the lovely Cayman S. Porsche says its version of putting the Cayman on a treadmill came thanks to using more aluminium, lighter seats and wheels, those straps on the doors, and by losing the mechanism that raises and lowers the garden variety Caymans' spoiler.
You can sweat off even more weight by eschewing air conditioning. If you refuse to eschew all the civilized touches, however, you can also get cup holders mounted in the crafty place Porsche usually puts them (tucked away magically behind a piece of trim above the glove compartment) and an audio system.
Between the maximized oomph and minimized gravity footprint, you get a car that takes the smile the Cayman normally puts on your face and widens it so much your lips very nearly meet at the back of your head. Maybe tinted glass would be handy, so you don't frighten other drivers too much…
The basic Cayman is balanced so well, the steering feel so right, and the power so "right now!", that it very nearly feels as if Porsche's people have built the car for you alone. Needless to say, driving the Cayman R is even more of a blast. A tad lower than its non-pirate-day-influenced stablemates, with improved aerodynamics to not only let it slip through the air better but to help it stay planted better on terra firma (always a handy thing!), it really does feel as if the Cayman R has been to the gym. And it's a ball taking it out for another workout.
Shaken and stirred…
Ah, but it's a rough rider compared to lesser Caymans, so you'll want to ensure your bladder is empty before you perform the peculiar pirouette that plants your posterior into the profoundly deep performance seats.
It's almost as if the car is always in Sport Plus mode, though it isn't – the suspension merely being firmer than the regular Cayman's. There's still a Sport Plus mode and if you combine that with the optional Sport Chrono Plus package and PDK seven speed dual clutch auto/manual transmission Porsche Canada's sample R had, the car almost seems to taunt you into driving aggressively, holding lower gears expectantly even if you're not pushing the car. It's the type of nagging a car nut can live with!
The standard transmission is Porsche's slickly shifting six speed manual, but this stickaholic was pleased the test sample had the PDK, with paddles mounted behind the steering wheel. I've been risking a lightning strike from God by actually preferring this configuration over the wonderful but heavy clutched manual. Porsche has apparently tweaked the PDK for the Cayman R, giving it more sporty programming. It seems to work.
The interior is classic Porsche, which means it's one of the best designed and executed you can find. My angst came mostly from the driver's seat which, once you're in it, envelops you like a pair of loving arms, holding you in beautifully for when the roads get interesting. The problem is that it's very challenging getting in and – especially – out, at least for a short and paunchy middle ager like me. I understand why the seat is as it is – and it's undoubtedly better for those track days – but planting and uprooting myself from the Cayman R was a real chore and contributed greatly to my conclusion that there are other Porsches I'd rather live with.
The hoodless instrument panel works against the R, too. It might save weight, but now the top of the instruments reflect in the windshield. Hardly a deal breaker, but it's there.
So while the Cayman R is indeed the hottest Cayman you buy off the rack, a blast to drive and undoubtedly the one you'd most want to take to the track, it may not be the best choice if you only plan to drive it, not race it.
On the other hand, if you're looking for bragging rights, the Cayman R – with its green "Peridot Metallic" paint and black striping – certainly can draw a crowd! I had neighbors who usually only show up when I have a big pickup truck to review come over to rubberneck at the R and look wistfully at me, clearly wanting to go for a run.
What a feeling of power!
The Porsche Cayman R starts at $75,600 Canadian or $66,300 U.S.. As is Porsche's wont, you can add many thousands worth of optional stuff as well. But for those bucks, you'll get plenty of bang!
Copyright 2012 Jim Bray
TechnoFile.com