2008 Porsche Cayenne S - Splendid SUV
By Jim Bray
November 5, 2007
(photos by the author and Porsche)
Updated January 23, 2008
Porsche stood the automotive world on its ear a few years ago when it announced it was branching out from sports cars and into the world of SUV's. Some thought it was a travesty for a sports car company to branch out like this, but the Cayenne has sold well.
I drove a Cayenne S for two weeks in the summer of 2006 and fell in love with it. It may be an all wheel drive SUV with awesome off-road capabilities, but it's all Porsche and that means it's a blast to drive while offering enough comfort and coddling to please the latent hedonist.
Then I had the opportunity to take the 2008 model for a week of tooling around a mixture of major and minor highways on Canada's Vancouver Island. It was a blast as well.
Putting the Sport in Sports Ute.
Many of the complaints about the Cayenne, other than basic outrage at Porsche building an evil SUV, seemed to stem from its looking a little bland compared with the Carrera, Cayman and Boxster - and what wouldn't look bland next to them? Porsche appears to have been listening, however; the 2008 Cayenne has received a bit of a face lift that makes it look more aggressive and a little more handsome than before.
I never had a problem with the old Cayenne, but the new one is better. Its new face features new headlights and fascia, with broader wheel arches and tail lights that break up the old, solid ones by putting the backup lights in the middle.  
It still looks like a Porsche, and like a Cayenne, only more so.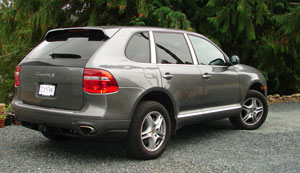 But a Porsche is about the stuff that's under the body, no matter how lithe, and the new Cayenne ups the oomph ante (and the gas mileage) over the previous model thanks to tweaks such as direct fuel injection. The base Cayenne, with its 3.6 liter V6, now puts out 290 horsepower and 283 lb-ft of torque, while my tester Cayenne S's 4.8 liter V8 is rated now at 385 horses and 369 lb-ft of torque (up from the 355/310 I had in the last unit). If you pine for even more, the Cayenne Turbo pumps out 500 horsepower and 516 lb-ft of torque to give you a big and heavy SUV that's capable of zero to 60 in under five seconds.
I look forward to peeling the skin from my face with the Turbo shortly, but in the meantime found the S to be more than adequate. It has power and torque a-plenty and when you tromp the gas pedal you're reminded instantly that this is, indeed, a Porsche.  
New for the '08 model year is the addition of Porsche's VarioCam Plus variable valve control technology, which is already found on its sports cars, and Porsche's Stability Management (PSM) system now has new tricks such as pre-loading the braking system (to ensure that when you press the brake it responds RIGHT NOW! - and it does!), new Trailer Stability Control and off-road ABS.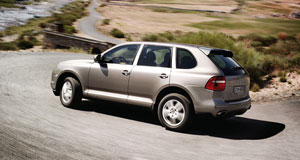 I didn't presume to take the Cayenne S off road, just a little bit "off pavement", but have no doubt you could ford (oops, sorry!) any stream that you'd want.
2008 Cayennes also come with a rollover sensor that triggers the belt latch tensioners and curtain airbags in an emergency, to help reduce the risk of injury in a rollover.
Which reminds me: one thing I missed from last year's S (it's available as an option, but this particular S didn't have it) was Porsche's air suspension and Active Suspension System (PASM), which you can use to lower the vehicle and tighten up its reflexes for serious driving. My S this time only had the "garden variety" PSM and when the cornering got tight I noticed the difference. It doesn't come close to wallowing, but PASM is one option well worth having.
S and Turbo Cayennes come standard with a six speed Tiptronic automatic transmission (the base Cayenne starts life with a six speed manual) that shifts just when you think it should. The manual mode is controlled by rocker switches on the steering wheel and I found them a long stretch for my little fingers; paddle shifters behind the steering wheel may correct this and add even more fun to the drive. It's too bad they aren't offered.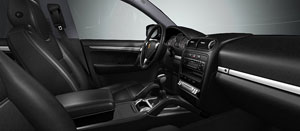 Unfortunately-placed shift buttons notwithstanding, the Cayenne S is a blast to drive. Not only are its mechanical parts up to the task, but its interior is comfortable and classy without beating you over the head with technology. In other words, it's a Porsche.
Oh, there are niggling little things, like window controls that are a tad too far back on the driver's arm rest and back seats that I could only fold down flat once I'd read the owner's manual and wrestled with them (while turning the air blue). But such nits are more than offset by thoughtful things like a steering wheel that feels nigh on perfect, dual sun visors that can block rays from front and side simultaneously, a power tailgate and folding side mirrors that came in really handy on a ferry where it was a tight fit between vehicles.
My tester also featured an upgraded Bose stereo and Porsche's Communication Management system with its 16x9 color screen, GPS navigation system, electronic logbook, phone and more. The nav system did a great job of getting us around strange environs, even finding us a shorter route to one destination than our hosts recommended. It can get as confused as most when you head for the hinterland, but this is a nav system thing and not a Porsche-specific thing.
Other options to which I was treated included a Moonroof and front seat bun warmers.
I was really impressed with the Cayenne's rain sensing windshield wipers, which do an excellent job of clearing the glass even if you're tooling along at speeds where lesser systems tend to lose contact with the windshield.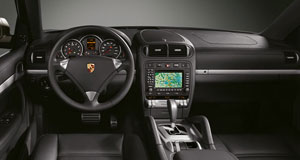 After two kicks at the Cayenne, I'm convinced that were the lotto gods to smile on me, and were I in the market for an SUV, the Cayenne S would be my "enviro-rapist" of choice.  Most of the reason is its excellent "fun to drive" quotient for a large vehicle such as this.
But the other side of my brain likes to be stroked, too, via reasonable luxury spread through a well-thought-out interior. This is why I'd probably buy a Lexus before a BMW, even though a BMW is more fun to drive in general. The Cayenne oozes class, is supremely comfortable and coddles you nicely - and if the base trim isn't enough you can up the luxury ante substantially. Better still, like all Porsches I've driven, the Cayenne's interior is so well thought out and well laid out that everything is simple to find and to use, despite its high level of technology. This isn't the case with some vehicles in this market segment.
Update, Jan. 23/08: I had a chance to spend a few more days in the same Cayenne S last week, when the weather was bitterly cold and we got about three inches of snow. The streets were in poor shape (they don't do much plowing where I live, not that it saves us tax dollars), so it was an excellent opportunity to see how the Porsche handles winter driving.
In short, it was great. The vehicle's fine balance put it in good stead right off the bat, and the built in nannies did their job beautifully - though they were also very unobtrusive. The result was a stable and confidence-inspiring winter ride.
Possibly the nicest touch was the heated steering wheel. I hate driving with gloves on, but after only a minute or two the Cayenne S warmed its wheel so I could drive it bare-handed, the way God (or at least the Porsche folk) intended. I loved it!
The Porsche Cayenne S starts at $57,900 U.S. ($72,200 Canadian). You can choose options from that point that can subtract much more moolah from your bank account.