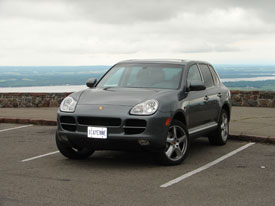 Porsche Puts Some Spice Into "the Center of the Universe"
By Jim Bray
Southern Ontario. The economic, political and cultural heart of the Canadian economy, and the bane of many from outside Ontario.
As a westerner, southern Ontario has the appeal of a root canal, but as a transplanted easterner, there are deep family roots that draw us back to Canada's spleen, er, heart, repeatedly – proving that everything is, indeed, relative.
A trip there generally entails flying into Ottawa, scene of the crime that was my birth, and then heading to the Leamington/Kingsville area, where my wife's home fires are kept burning.
This year we were accompanied by our eldest son and his lady, which meant we'd need to find just the right vehicle to tool around in – something with room for at least four people and luggage or assorted picnic/touristy accoutrements. Big car? Minivan? SUV?
Then the folks at Porsche offered the use of a Titanium Metallic Cayenne S.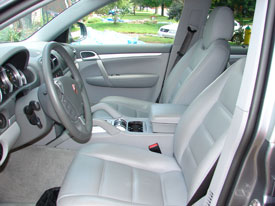 Not Your Average Porsche…..
There were howls from some quarters when Porsche announced an evil SUV. Could humanity survive? It has so far!
The front of the Cayenne is all Porsche, looking kind of like a 911 jacked up a couple of feet. And while the rear end's kind of bland, the driving compartment looks like it could have been pulled from a Porsche sports car, then stretched.
Suits me; I love Porsche interiors. We were off to a good start.
The Cayenne features permanent four-wheel drive, four-wheel independent suspension, stability and traction control and the ability to tow 7,716 pounds. The Titanium Metallic Cayenne S of my test is the "second lowest" model of the Cayenne, which is kind of like saying a Mercedes S class is a stripped down Maybach.
But the S ups the ante over the base V6 Cayenne, most noticeably by the inclusion of a 4.5 liter V8, a power plant that puts out 340 horses @ 6000 rpm and 310 lb-ft (available from 2,500-5,500 rpm). Porsche says the Cayenne S will do zero-60 in 6.8 seconds and top out at 150 mph (242 km/h). Wheeeeee!
The engine features a dual overhead cam aluminum alloy block, four valves per cylinder with variable valve timing and Motronic ME 7.1.1 engine management system with electronic throttle. And more.
If that isn't enough for you, there's also a Cayenne Turbo and Turbo S (450 and 520 horses, respectively!) that will probably peel the skin off your face when you tromp on the gas pedal – though I can imagine what they'd be like at the gas pump, too. My two week sojourn in the Cayenne S used about $400 Cdn. of premium fuel spread over about 3000 kilometers of motoring excitement, with gas prices ranging from about 91 to 96 cents per liter.
The S comes with a 6-speed Tiptronic auto/manual transmission whose manual mode can be activated "permanently" by sliding the gear lever to the side (activating the steering wheel-mounted toggle switches), or "temporarily" by merely flicking the toggles. The automatic mode shifts fine (and very smoothly) and I only needed the manual mode during periods of spirited driving on a regrettably few interesting bits of curvy road, which made "temporary" toggle shifting perfectly satisfactory.
The nice thing about that temporary mode is that it goes back "to sleep," reverting to automatic when the Cayenne senses things have quieted down.
Capital Ideas….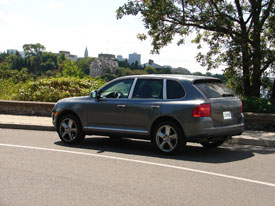 Ottawa is a beautiful city surrounded by beautiful countryside. The best time to experience the area is after the leaves become a symphony of red, yellow and gold in the fall – about a month after we were there and doesn't that just figure?
There's plenty to see besides monuments to politics and we generally eschewed the hottest tourist spots in favor of lesser traveled roads and places, such as a little-known magnetic hill along the Gatineau parkway.
I parked the Cayenne S at the "bottom" of the magnetic hill, shifted into neutral and took my foot off the brake. Amazed and delighted, our guests witnessed the big SUV rolling backwards up the hill, gaining speed as it went in complete defiance of the laws of physics.
It lent a certain gravity to the situation….
This trip to the Quebec side of the Ottawa river was our first time with five in the Cayenne S, and I expected cries of "Are we there yet?" But the back seat was actually pretty good for three, despite the person in the middle having to straddle the shallow transmission tunnel. The seats were comfortable, the belts easily accessible and, if it hadn't been cold and rainy, the passengers could have kept cooler via retractable sunshades in the side windows.
Gatineau Parkway is a lovely paved road that meanders to the top of an ancient mountain range. The Cayenne was a lot of fun to drive there, except the low speed limit left me drooling in anticipation of the next day's highway trip along faster roads.
But the jaunt let me try the Cayenne's optional air suspension with PASM (Porsche Active Suspension Management), which brings three suspension settings to the game: Comfort, Normal and Sport. Comfort was a little too comfortable for those well-paved roads – kind of floaty – so I used "normal" most of the time. A few of the more interesting bits of Parkway cried out for the "sport" setting and the Cayenne responded admirably, hugging the corners and offering a really nice feel.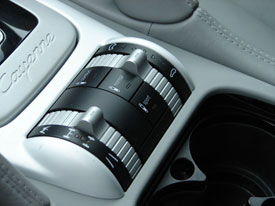 The air suspension also gives you six ride height settings (ranging from 6.18 to 10.75 inches of ground clearance), accessible by a toggle switch next to the PASM selector. I generally kept it in the "normal" or "low" (1.06 inches below Normal height) settings, but found the "Loading" level (2.36 inches lower than Normal) handy for helping elderly people get in and out, as well as stowing our stuff.
There's also an "Off-road Level" an inch above Normal and a "Special Off-road Level" for extreme conditions at speeds lower than 19 mph. I can't imagine taking the beautiful Cayenne off road (what a travesty!) so never used those settings.
We also took the Ottawa River Parkway past the Parliament buildings and through the famous Rockcliffe area to one of the last Dairy Queens I've found that still offers real, cold butterscotch topping for their sundaes (at Hemlock and St. Laurent Blvd.), a pilgrimage for the butterscotch fanatic. I had a large sundae with extra butterscotch, just because I could.
Then I moved the Cayenne's driver's seat back to account for the extra body mass. Fortunately, there's driver's seat memory so I could return it to default when the butterscotch wore off.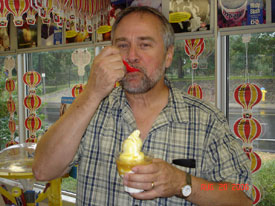 Speaking of driving position, the Cayenne S features a manually-tilting steering wheel and 12 way adjustable front seats, so it's easy to set up perfectly for your comfort and driving style.
The power-assisted rack and pinion steering is direct, with good feedback, and it's barely 2.5 turns from lock to lock – and the Cayenne has a surprisingly good turning circle: 39 feet, which came in handy in the boonies. This does not feel like a garden variety SUV.
The best driving experience was when we headed on a day trip to Canadian Forces Base Trenton, home of the Royal Canadian Air Force Memorial Museum.
We took Highway 7, with its ridiculous (and typical) 80 km/h speed limit to Perth and then grabbed the wonderful back road (Hwy 10) to the lovely town of Westport, on the Upper Rideau Lake – a boater and/or fisherman's dream.
Westport swells from a one horse town to, well, a two horse town in summer and offers the visitor a variety of shops flogging art, crafts, jewelry, etc. Numerous cottages, lodges, tent/trailer parks and campgrounds facilitate visitors though, since we were just passing through, we exploited it only as a place to recycle some fluids and take some pictures.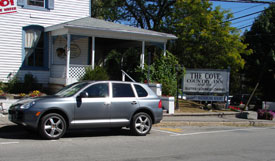 The drive from Westport to Kingston features great twisty bits and small hills, with some straight sections that let you stretch your vehicle's legs if you can get past the slowpokes who congregate in cottage country. The Cayenne S made short work of this leg, despite the odd shriek from the back seat as another plodding lummox fell victim to Porsche technology.
Then the ugliest reality of driving in southern Ontario hit home: 401.
Highway 401 stretches from the Quebec border (at which point it magically changes number) to just shy of the U.S. border at Windsor. It's at minimum a four lane freeway, but it's so vehicle-choked it seems like two lanes, with sections crying out to be repaved so it doesn't feel as if you're taking speed bumps at 100 km/h.
And someone needs to shoot about a third of the drivers….
It's a nightmare. Not only must you juggle space between speeding semis, you also have to fight off people whose driving skills appear to have been awarded by random draw. It's a highway tailor made for cruise control, except that it's too dangerous.
Alas, if you want to get anywhere reasonably quickly, 401's the only choice. That's why we took it to Trenton – to ensure we'd have enough time to visit the classic World War II Halifax bomber that's displayed there proudly. Trenton is the only place in North America where you can see a real Halifax, a plane that's mostly forgotten – overshadowed by the Lancaster of Dam Busters fame. This one crashed into a Norwegian lake in 1945 and was recovered and restored painstakingly by volunteers.
Since my dad flew the mighty Halifax, he was allowed to climb inside and visit his old office, and he talked them into letting me go with him, a moving experience!
Our goal reached and time no longer being of the essence, we returned via the more scenic and leisurely Highway 2, through Gananoque, home of the 1000 Islands – though we didn't count them. On the way we passed by the Shannonville Motorsports Park and I was tempted to stop and see if they'd let me put the S through a few hot laps. Alas, my passengers had different ideas, so we compromised and completed our return trip to Ottawa via back roads that were quiet and twisty enough to be interesting.
The next day we took the Cayenne S off the pavement, up a dirt road full of terrific curves and little hills that gave the Cayenne a chance to do a little mild four wheeling on our way to Wheeler's Pancake House near McDonald's Corners. On the way in I forgot to take the Cayenne off the "low" and "sport" settings, which made things a tad bumpy, but on the way back I slapped 'er into "comfort/normal" and that was perfect.
Wheeler's serves the biggest pancakes you can imagine, and we left stuffed. But despite stretching our belts, we headed for the Hershey's chocolate plant in Smith's Falls anyway, about a 45 minute drive.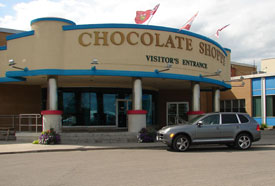 This gave us a chance to try the Porsche's (optional) navigation system under real world conditions: we couldn't find Hershey's! Alas, the Porsche refused to show us a route, too, so we fell back on the old fashioned method of asking a friendly local.
We should have heeded the Cayenne: Hershey's self guided "tour" is a waste of time. But there's a gift shop where you can pay retail!
The best thing about Hershey's is the Kiss-shaped lights in the parking lot.
Then on to Merrickville, a funky little village on the Rideau Canal about ten minutes from Smith's Falls. It's a pretty place featuring locks and a swinging bridge to let the boats pass through, as well as sundry handicraft vendors who exhibit a good sense of humor.
The Porsche made short work of the trip, offering enough driving fun for me to enjoy otherwise boring roads while cradling us in luxury. The V8 was flawless and the transmission kicked down beautifully when I needed to accelerate – such as when pulling out to pass. I wish Porsche would exchange the steering wheel-mounted toggles for rear-mounted paddle shifters, though; you have to move your hand a tad to get at the toggles properly. But this is picking nits.
The rear cargo area is plenty roomy for the inevitable collection of shopping bags created when women drag you to funky little crafty towns.
continued here