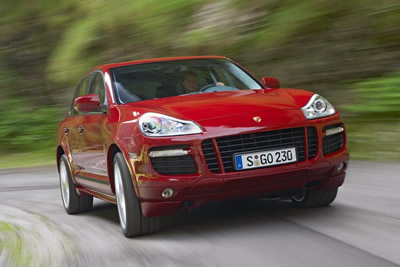 Porsche Ups the "Sport" Quotient in Sport Utes, Automatic Trannies
by Jim Bray
August 7, 2009
Porsche continues to tweak its lineup, making it sportier all the time. To illustrate this, they've added a GTS version to the Cayenne, and a new "automatic" transmission that's anything but shiftless.
The GTS version of Porsche's popular SUV does up the sportiness ante over the garden variety models, offering such upgrades as a little more power and torque than the Cayenne S from the same 4.8 liter V8. It also gets a revised intake manifold and engine management system, and the option of fitting the big sport ute with a six speed manual transmission.
Imagine my angst, then, when my outrageously bright Nordic Gold Metallic GTS test unit showed up with the optional six speed Tiptronic S automatic. Normally I'd jump at the chance to sample more options on a test vehicle, but I had never driven a manual Cayenne and was really looking forward to it.
Not that I don't like the Tiptronic S transmission, which before the new PDK (more about that later) double clutch automatic was about as much fun as you can have from a "slushbox". But I've driven quite a few Tiptronic Cayennes over the past few years and was dying to see how Porsche's wonderful six speed manuals would work with the Cayenne. Murphy's Law strikes again.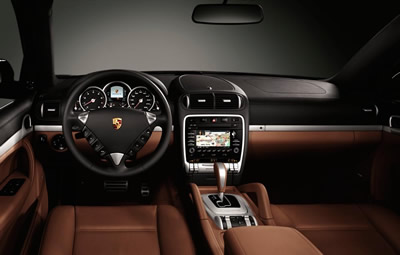 Another thing that separates the GTS from the base Cayenne, the S and the Turbo is its steel-sprung sports suspension which, combined with PASM (Porsche's Active Suspension Management) lowers the vehicle's ride height. This helps keep the GTS hunkered down for action and enhances high speed stability – not that any Cayenne I've driven has even come close to wallowing.
The GTS also gets beautiful 21 inch Cayenne Sport wheels that are nearly as tall as I am, and red-caliper brakes with internally vented discs.
Speaking of beautiful, that Nordic Gold Metallic paint – which adds a few grand to the sticker price – is outrageous. When I first laid eyes on it, under very bright sunlight, I needed sunglasses nearly as much for its glorious coppery glow as from old Sol. Heck, if it glowed like that at night you wouldn't need head or tail lights.
Interior tweaks include stainless steel door-sill guards with "Cayenne GTS" on them, a high-grip padded leather steering wheel and a standard leather interior in which the cowhide spreads from the seats and to the dashboard, center console, door panels and steering wheel. Besides hollering "LUXURY", all this cowhide enhances the "mooood".
The centers of the seats are finished in non-slip Alcantara, which your bum will appreciate when you hit some fine twisty bits of highway, and while the rear seats look almost like buckets, Porsche says they're actually designed for up to three adults.
But the heck with comforts. Cayenne GTS is supposed to be sporty – and it is. Its direct-injected V8 cranks out 405 horses at 6,500 rpm and 369 lb.-ft. of torque at 3500 rpm. This isn't a lot more than you get with the Cayenne S (385 hp at 6200, with identical torque), but extra oomph is always awesome.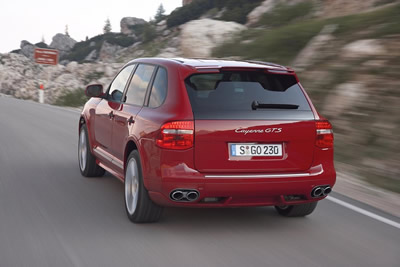 To be honest, without the manual transmission the GTS feels very similar to how I remember the last Cayenne S feeling. The added horsepower is nice, and the other tweaks combine to make this a very comfortable, luxurious, and sporty SUV, but the S is no slouch on its own. Still, there's nothing wrong with a bit more GTS gusto and if you love the S but want it just a tad "GT-er", the GTS may be your cup of tea.
I'd be happy with either vehicle – happier, I daresay, than with the V6-powered base Cayenne (though it's no slouch, either) or with the outrageously-powered Cayenne Turbo S with its 550 stallions, which is just nutty. I sure wish I could've tried the manual tranny, though; that might have tipped my choice more toward the GTS. But 'twas not to be this time.
PDK Comes Through in the Clutch
Speaking of transmissions, I finally had a chance to put the Porsche Doppelkupplungsgetriebe, and thank the Lord and Bill Gates for Windows' "Copy and Paste" feature so I didn't have to actually type that! This is Porsche's new seven speed double clutch transmission, which came wrapped in the new Carrera 4 Cabriolet. It was actually my second hit at the high tech wonder, but my first week was during the dead of winter and I had no opportunity to wind the thing out.
This time it wound out nicely. Porsche says the PDK automatic is actually faster to 60 mph than the standard 6 speed manual (4.8 versus 5.0 seconds), which is quite something. It also apparently gives better gas mileage than a manual, which is also quite something. And it undoubtedly doesn't hurt that the PDK is more than 20 pounds lighter than the Tiptronic S it replaces.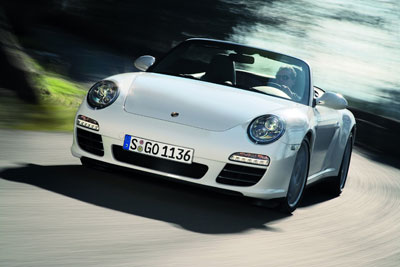 You can shift manually either from the stick itself, or from a new "paddle-compatible" type of button thingy on the steering wheel. Unlike most paddle shifts I've tried, which are mounted behind the steering wheel and upshift on the right, with downshifting via the left paddle, upshifts happen when you push front-mounted blades on either side of the wheel. Downshifts are accomplished from either side as well, but from more conventional "paddles" behind the wheel.
This is better than the up/down rocker switches of the Tiptronic S tranny the PDK replaces, but the upshifters are still a long reach for my stubby little tentacles. Worse, since both sides of the "conventional" paddles shift down, I found myself downshifting a couple of times when I wanted to upshift. This was embarrassing and annoying – and I'm pretty sure the 911 wasn't thrilled with it, either.
That said, I'd probably get used to this arrangement fairly quickly if Porsche would do what common decency demands and simply give me a 911 to keep, but I never did warm up to it during my all-too-brief week with the Carrera 4 Cabrio.
But, and this is a big but (and speaking of big butts, I also think the Cabriolet version of the 911 has a funny looking rear end, kind of hunchbacked look caused by Porsche needing a place to put the retracted roof, but I digress), the shifts are lightning quick – though as with every other auto/manual I've tried there's just a smidgen of a delay from the time you shift and the time the car catches up. It's still quicker than stepping on the clutch, shifting, and letting out the clutch, though.
And a benefit besides speed is that you can leave the car in automatic mode, which is a great way to exploit the 911 as a daily commuter vehicle without putting undue wear and tear on your left foot.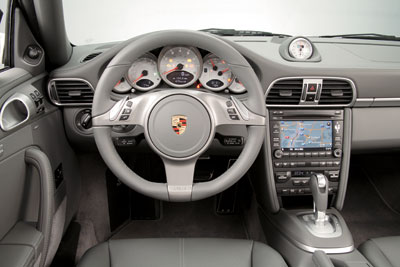 In automatic mode, the transmission upshifts very quickly if you don't goose it, undoubtedly to save fuel. The result is a 911 that feels a tad sedate under moderate driving – but tromp the gas and she'll jump from seventh gear right down to second in the blink of an eye, after which it's prudent to hang on for dear  life as the 345 horses rear up onto their hind legs and take off for all they're worth. It's very cool.
Also new for the 2009 model year is the elimination of the handle you used to need to unlatch the Cabriolet's roof before lowering it via the console-mounted switch. It's replaced by a largish and kind of ugly metal thing up on the headliner, but it also means you can stampede directly for the switch rather than raising your hand roofward, a gesture that could be misunderstood as flipping off the drivers who are following you – which, since this is a Porsche 911, is most of them.
Sweetening an already sweet car for '09 is the addition of the electronically-controlled Porsche Traction Management system found previously only on the Turbo. The brakes have also been enhanced, as has its night vision thanks to Bi-Xenon headlights and LED driving, brake  and tail lights.
Power is up, too, thanks to new direct fuel injection engines with new two-piece crankcases and revised intake and exhaust systems. The Carrera 4's 3.6-liter boxer six cylinder engine's output jumps from 325 to 345 hp, with torque rising from 273 to 288 lb.-ft. Not that the old cars were tortoises.
Inside, you can now get ventilated front seats. There are rear seats, of course, but they're better used as a storage compartment – and they become even less seat like if you set up the wind blocker that hides otherwise in the trunk. That wind blocker, by the way, does a wonderful job of making top down driving less harsh on the ears and hair. I drove with the top down a couple of times in the wee hours of the morning when the night chill was still in the air and was still quite comfortable thanks in no small part to that wind blocker.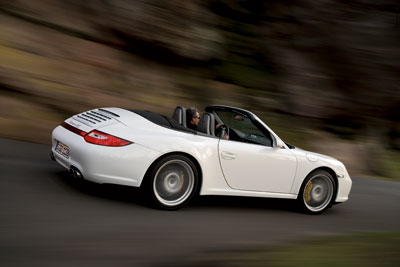 The new C4 also offers the redesigned Porsche Communication Module, which includes a larger, touch-operated screen, easier operation for the most part, and which can be configured with Bluetooth connectivity, playback of external devices, satellite radio, and DVD-Audio playback. The latter sticks an annoying, though slight, pause between continuous cuts of a disc, which I hate and which isn't unique to Porsche, but it isn't likely that most people will notice it since DVD-A discs are a niche item.
I still miss having more than six radio preset buttons from which to choose at a time, but the touch screen works well and each time I use the new PCM I like it better except for the lack of real buttons.
And, whether it was my phone or the Porsche deigning to work with it, I sometimes had to reboot my cell phone before the Cayenne would acknowledge it. It worked flawlessly after that, though, even accessing my phone book. And, to be fair, I've had this trouble with other vehicles as well, though it isn't common.
The 911 Carrera has been a great car for decades – probably the car I lust after the most – and though I wouldn't get the Cabriolet version 'cause I'm not really a convertible fan, the new model is even more compelling than before.
I think a long term test of a 911 S is in order.
Copyright 2009 Jim Bray
TechnoFile.com