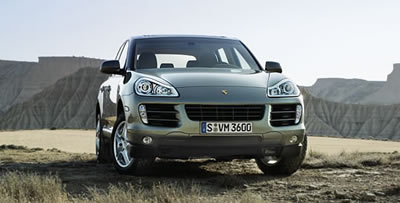 Entry Level Cayenne Still a Real Porsche
By Jim Bray
April 4, 2009
Can a lowly V6 propel a 4800 pound Porsche to the kind of blistering speeds for which the company's vehicles are known? Or is it more a way to save some bucks and gas while still getting the Porsche cachet?
Well, with a small caveat on the propulsion part, my answer to both questions would have to be "yes".
The base Cayenne is still a Cayenne, of course, featuring the well-known and aggressive face of the Porsche SUV, its muscular body and broad wheel arches. It also boasts all-wheel drive as standard equipment complemented by an abundance of traction and stability-enhancing technologies.
I spent a week with a Crystal Silver Metallic Cayenne recently that was pretty well the entry level version of Porsche's mighty SUV. I went in expecting the vehicle to be a gutless wonder compared to the V8 versions I've driven many times but by the time they pried the key from my warm, live fingers I had developed a grudging respect for it anyway.
Now, there's no getting around the laws of physics, so the 3.6 liter V6's 290 horses @ 6200 rpm and 273 lb.-ft. of torque @ 3000 rpm won't upset the balance of the universe. This is especially true if you stack those stats up against the Cayenne S V8's 385/369 horsepower/torque or the Turbo's outrageous "locomotive-like Potency" of 550/553 horses/torque. Those vehicles positively fly off the line in a way (an exhilarating way!) the normally aspirated V6 can't hope to.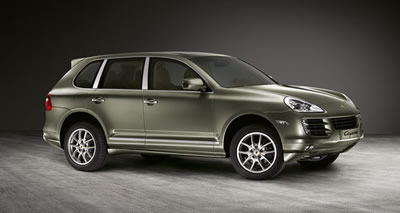 That said, I was surprised how well the V6 performed, especially when you press the Sport button on the center console. Do that, and the pent up Porscheness inside the vehicle comes springing to life, sprinting from zero – 60 in 7.5 seconds, according to Porsche – which ain't chopped liver.
And just 'cause it's a six doesn't mean it ain't sophisticated. Like its brothers, the base Cayenne features Direct Fuel Injection (DFI) and VarioCam Plus variable intake valve lift and timing system.  
The power gets to all four wheels via a six speed Tiptronic auto/manual transmission (a six speed manual is available as well) whose manual mode works very well, though once again I found myself wishing for real paddle shifters rather than front-of-the-wheel-mounted up/down rocker switches.
If you don't activate Sport mode, the vehicle is a tad sedate, but undoubtedly a tad less thirsty (not that I found this Cayenne to be particularly ravenous anyway, all things considered). Press that seductive little button, however, and you feel the difference instantly as the electronic throttle is remapped for quicker response and more dynamic performance. It's like slapping it upside the head and hollering "Hey! Wake up!".
Sport mode also changes the Tiptronic's shift points so upshifts come later and downshifts come earlier. It's still no V8, but it would be easy to live with for those who want to save a few grand going in or who don't care about blowing the doors off other vehicles every time the traffic light turns green.
And it does make a lovely sound, especially in Sport mode.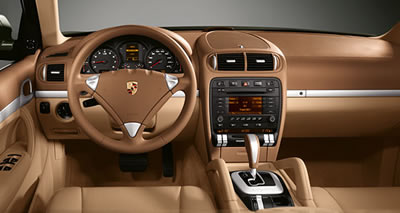 One thing I really missed was the optional PASM, Porsche's Active Suspension Management system, which tightens up and hunkers down the car appreciably and makes it feel more like a running back than a wide receiver. PASM results in a firmer ride (not jarringly so, though) with more positive turn-in and more direct feedback from the road. I recommend it highly.
Speaking of suspension, Cayennes all come with independent double wishbones up front and their buttocks are harnessed via independent multi-link. Steering is power-assisted rack and pinion and it feels nigh on perfect – like a Porsche.
Brakes are power-assisted ventilated discs on all four wheels, with six piston calipers up front and four pistons on the rear wheel.
Inside, the base Cayenne looks a tad Spartan compared to some of the more upmarket versions (you can opt for full leather interiors, for example, which are gorgeous), and I thought the standard seats just a tad tight for my tush compared with other Cayennes I've driven, though it could have also been the effects of a particularly festive Christmas season on the driver's part…
That said, the seats (which offer 12 way power adjustment) are still very comfortable and supportive. The rear bench splits and folds and is one of the more comfortable in the species.
My test unit wasn't entirely stripped down, featuring optional equipment such as 18 inch wheels, a moon roof, driver seat memory, trailer hitch  and Bi-Xenon headlights with washers. And even if the cabin's a tad "down market" (if you can say that about a Porsche), it's still a darn pleasant place to do the job of driving and/or hauling.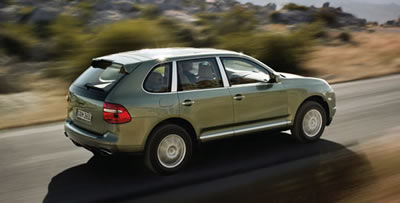 The audio system offers very good sound, as do all Porsches, and the new PCM (Porsche Communication Management) system is starting to win me over. It uses a touch screen instead of knobs and it works well, but while I applaud the move to touch screen technology I still miss the wide row of station presets the old system had.
Now you're limited to three "soft key" buttons on each side of the screen which would be plenty for the AM and FM choices in my neck of the woods but which, if you have the satellite radio option, limits the choices per screen severely, making you flip through multiple screens.
This, of course, proves that you just can't please some people.
One thing Porsche does that I don't care for is to charge for some features that are standard on lesser vehicles – such as Bluetooth, auxiliary audio inputs and satellite radio. One would think such things would be included in the price of such a premium vehicle.
I guess if you want a Porsche you'll need to be willing to pay the admission price…
Plenty of safety stuff is standard, though, including dual front advanced airbags that offer upper-body protection, a side-impact protection system featuring a thorax airbag in each front seat, side curtain-type airbags for both rows of seats, and the like.
There's also a rollover detection system that uses sensors to deploy the curtain airbags and trigger the seat-belt pretensioners if the vehicle decides it's about to go topsy-turvy.
The base Cayenne surprised me. I figured it would be rewarding to drive, and I was right. But I also thought it would be a quite sluggish, and I was wrong – though if I had my druthers I'd opt for the Cayenne S anyway, just because I could: even though the V6 moves the vehicle along quite smartly, I missed the V8's extra oomph, which helps to turn this lovely vehicle into a beast.
The 2009 Porsche Cayenne V6 starts at $45,000 U.S./$56,100 Canadian.
Copyright 2009 Jim Bray
TechnoFile.com