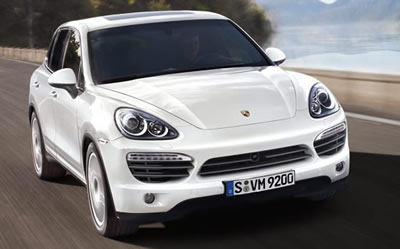 Cayenne Adds Flavor to the Hybrid Market
By Jim Bray
November 10, 2011
Has Porsche blinked? The maker of high quality sporting machines is introducing Hybrid versions of two of its vehicles, and is apparently taking orders for its 918 Spyder Hybrid supercar.
What's going on? Has Porsche gone politically correct?
It's a horrid thought to contemplate. At the risk of being struck by lightning, however, because I have traditionally not been a fan of most Hybrids, I have to say I really enjoyed driving the Porsche Cayenne S Hybrid. It feels like a Porsche, and that makes the vehicle pretty compelling regardless of its Al Gore-friendly credentials.
It won't get you the gas mileage of a Toyota Prius, of course, and if you want to wear your greenness on your sleeve for all to see you may not like the fact that it doesn't scream "HYBRID" other than via smallish badges on its flanks and bum – but it's a pretty neat ride however you slice it.
Okay, I like Cayennes anyway – heck, I love all Porsches – so I'm disposed to like this one from the get-go, though my hybrid-aversion did make me a tad suspicious going in. I was also a tad concerned because this Cayenne only sports a V6 (albeit supercharged) and the last V6 Cayenne I drove was nice, but needed an extra smidgen of oomph. Not only that, but Porsche has the nerve to call this Cayenne an "S," which hearkens usually to a V8-powered version that's a delightful drive.
Anyway, the Cayenne S Hybrid's power plant is a "Parallel Full Hybrid,Water-cooled, front-mounted V6, Auto Start Stop, Hybrid module with synchronous electric motor and decoupling clutch." Whew! The supercharged gas engine is three liters in displacement and puts out 333 horsepower from 5500 - 6500 rpm. Add the hybrid electric stuff to it and it's bumped up to 380 horses at 5500 rpm.
That still isn't as much as the 400 hp @ 6500 rpm the "regular" Cayenne S's 4.8 liter V8 puts out, but it's a lot more interesting than the 300 horses you get from the "base" Cayenne V6. You feel it quickly when you press the accelerator, too. This is Porsche performance.
Most Cayennes, including the hybrid, come with an eight speed Tiptronic S transmission (the base model offers a six speed stick), permanent all-wheel drive with a self-locking center differential and a 40/60 front/rear power split. Handling is Cayenne-like, which means it's very cool even as an SUV, and my sample had the optional self-leveling air suspension that makes it even better.
The Cayenne is merely Porsche's first Hybrid; there's a Panamera Hybrid as well, which presumably uses the same technology to up the big Grand Tourer's gas mileage and down the non-smug emissions. If it works as well there as it does in the Cayenne it should be a very nice drive.
Then there's that gorgeous 918 hybrid supercar, which will cost more than three quarters of a million simoleons when it goes into production next year. I'm going to hold my breath waiting for them to send that one for me to test drive…
Anyway, the Cayenne S Hybrid carries about a four thousand dollar premium over the V8 "S". Whether the increased efficiency will pay for itself over the years is something for historians to contemplate, but at least you don't have to suffer pedestrians blowing your doors off when the traffic light turns green like you do with some hybrids. That's probably a good thing, since a scenario like that probably wouldn't do Porsche's reputation any good…
Other than the exterior badging and the inevitable Hybrid display on the instrument panel, you'd never really know this is a politically correct Porsche. Sure, it has auto stop/start, which can shut down the engine when you're stopped (at a traffic light, for instance), but so do some of their gas-only vehicles. There's also an "e-power" function that expands the range in which the vehicle can run on electric power alone, controllable via a center console button.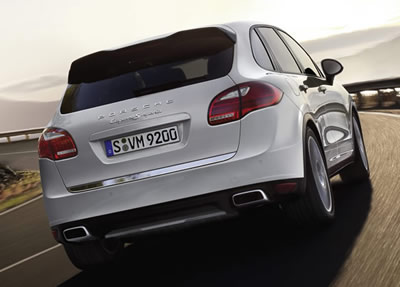 The Cayenne was reborn for the 2011 model year, with a sleek new exterior that's still recognizably Cayenne, and a new, roomier interior that's reminiscent of the grand Panamera. Porsche says the new generation has more cargo hauling space yet is some 400 pounds lighter than its predecessor. This may not apply to the Hybrid version, however, thanks to the extra stuff, such as batteries, that is required.  
The Hybrid system's nickel metal-hydride (NiMh) battery lies below the luggage compartment and, as with most hybrids, it uses regenerative braking (which stores electrical power gained when you step on the brakes – and at other times) to keep the batteries charged.
There's also "Sailing" mode, which basically sees the Cayenne coast at higher speeds. "When the Cayenne S Hybrid does not need drive power and the driver lifts off the accelerator at speeds up to 97 mph," their blurb says, "The gasoline engine can be completely switched off and disengaged from the drive train, enabling the vehicle to move along without combustion or electric power."
This sounds suspiciously as if the vehicle keeps moving thanks only to butterfly sneezes (to rip off the Moody Blues), but Porsche says it gives you a "Significant reduction of fuel consumption at steady highway speeds, with engine drag forces and their braking effect being eliminated to reduce driving resistance."  
All this hoo-hah in practice, including the seamless way everything works together, means your Cayenne Hybrid pretty much looks and feels like a Cayenne non-hybrid. Pull those damning badges off the side and the tailgate (and put duct tape over part of the instrument panel) and no one would ever know you succumbed to the global warming religion. They might wonder about the duct tape, though…
The Cayenne's all-wheel drive system was revamped with the new generation, and acts basically as a rear-wheel drive vehicle unless the little robot brain decides you need some torque up front. Porsche says the new system is lighter than the old one. The optional Porsche Torque Vectoring (PTV) Plus system ups the driving dynamics quotient while enhancing the big vehicle's stability in curves.
Porsche's Traction Management (PTM) system is also new, as is the eight-speed Tiptronic S transmission (replacing a six speed), which seems to know what gear you need before you tell it. If you do want to tell it, you can do so via controllers on the front and rear of the steering wheel. I had a bit of an epiphany with my sample's multi-function steering wheel; I used to prefer Porsche's "upshift front/downshift rear" manual shifting methodology to regular paddles because the redundant nature of the shifters lets you shift with either hand, but after having driven a few Porsches equipped with paddles I've changed my mind.
Hopefully, I got one that works this time…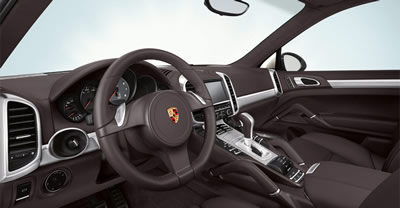 Porsche claims the Cayenne is also off-road capable but I'd hate to take those lovely wheels and low profile tires into the boonies.
My sample also had Porsche's Active Suspension Management (PASM) system, with its seductive Sport Mode that tightens it up appreciably. There are also Normal and Comfort modes, but I thought Comfort was too soft for a Porsche. It doesn't make the Cayenne wallow, but it's closer than a Porsche should come.
I also got to sample the optional air suspension, which can raise and lower the Cayenne for loading something into the hatch or just to mess with short peoples' heads by raising the big SUV up high so they need a ladder to help them get in.  
I'm still of two minds about the Panamera-inspired interior, with all the controls it puts onto the center console. There's nothing really wrong with it, and it's easy to learn and to operate, but I still am not sure if it's a step forward from the previous design, which more closely resembled Porsche's sports cars rather than its GT. I have a feeling I'd better get used to it, though, because it looks like the upcoming 911 generation is going that way, too.
And, really, it works fine and any complaint is just niggling. The rest of the interior, from the instantly legible instruments and easy to use LCD screen to the extremely comfortable seats and driving position, also work to make this a very easy vehicle to like.
So it turns out that Porsche's embracing hybrid technology isn't the end of the world as we know it. I'm so relieved!
The Porsche Cayenne S Hybrid starts at $69,000 U.S./$78,200 Canadian. It's equipped pretty well for that, with stuff like Bluetooth, a universal audio interface, one touch up/down for all four windows, power tailgate and a nice – albeit small – sunroof.
As with most things Porsche, however, you should be prepared to sink a few grand more into it if you want such niceties as the air suspension, leather, upgraded Bose audio system, etc.
All of which are nice to have.
Copyright 2011 Jim Bray
TechnoFile.com