Porsche Boxster PDK – Fun Even in a Blizzard
By Jim Bray
January 21, 2010
Sports cars are a blast during good weather, and it might surprise you to learn they can even be a hoot after Old Person Winter has come a-calling.
That fact was driven (no pun intended) home to me during a wintry week I spent recently with a Porsche Boxster, a pretty basic model of Porsche's entry level sports car on which the only real options of substance were Bi-xenon headlights (which should be standard) and the seven speed PDK double clutch auto/manual transmission I've grown to appreciate greatly.  
I picked up the Aqua Blue Metallic Boxster a couple of days after we received about a foot of snow and the temperature had dropped to well below zero on whatever temperature scale you use short of Kelvin. Not exactly top-down motoring weather, and indeed the Boxster's top stayed extended for the duration. Heck, not only didn't I want the roof open, I wanted the car to warm itself up, walk into my house and open its door so I could get in and out without going outside.
Such was not to be, of course.
The snow itself didn't bother me; I used to drive buses up and down wintry mountainsides, so a foot of urban snow wasn't too scary.  The low-slung nature of the Boxster, however, meant I needed to wait for the city to plow the streets around Chateau Bray, something that doesn't happen often in my neck of the woods. It isn't that the Boxster can't handle the depth of snow; if it had been nice, light and fluffy stuff there would have been no issue at all.
Unfortunately, drivers had created deep ruts in the snow, ruts that had crusted over with ice and were deep enough that the Boxster bottomed out when I brought it home, making it seem as if I was going to leave the entire exhaust system behind.
Since my town's snow removal strategy is, apparently, to wait for spring – which can be a real pain in the bucket seat – the rutty conditions of the side roads led to the beautiful Boxster biding its time in front of my house for most of my test period. Fortunately, a snow plow driver who must have gotten lost flattened the ruts while I still had a few days left with the Porsche and that gave me a chance to play with it a bit before handing it back.
So it was that I experienced the winter tire-clad Boxster in its unnatural element, snowy and icy roads on which lesser vehicles slip and slide – and crash. And it acquitted itself admirably, thanks mostly to the wonderful mid-engine configuration that results in nearly perfect balance.
Porsche's sophisticated traction control and other such driving aids didn't hurt either, though they're really just gravy and only came into play when I tried driving in a more spirited manner than conditions allowed – which is easy to do in a car such as this. I always consider it a rebuke on the part of a car when its technology overrides me, whether via traction control, ABS or whatever; there are times when it's certainly nice to have them as fail-safe's, but they aren't substitutes for good driving skills.
Managing the 255 horsepower of the Boxster's horizontally-opposed 2.9 liter V6 is absolutely crucial if you want to drive through snow without excessive fishtailing. This takes judicious use of the accelerator, gentle presses on the pedal coupled with quick upshifts of the PDK to keep the revs down and the wheels engaged. A manual transmission is ideal at such times, and despite it really being "an automatic", the PDK's manual mode worked very well here.
Likewise, while the Boxster's four wheel disc brakes are wonderful and work well when you aren't trying to stop on a skating rink, the last thing you want to do when it's slippery is just jam the brake pedal to the floor and hope for the best.  
Instead, stopping without sliding is more a matter of using the brakes as little as possible, requiring the same gentle touch on the brake pedal as you use on the accelerator. So, long before you get to that icy patch at the traffic light caused by more oafish drivers locking up their wheels, take your foot off the gas and apply the brakes sparingly, downshifting the PDK to keep the engine involved in the action. Do that, and there's no stopping you!
Wait, that didn't come out right.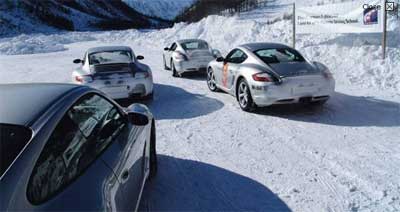 Easing on the gas and brakes helps facilitate efficient weight transfer, maintaining stability and maximum tire contact with the road. Leaving extra distance between your vehicle and the one in front of you helps prevent you from rear ending someone while also giving other drivers more room to maneuver. And looking where you want to go – keeping your eyes on the route you want to take around that exhaust system on the street in front of you rather than staring at the exhaust system itself – can help keep you avoid embarrassing winter driving gaffes.
Keep your eyes open for other hazards, too – such as the shady spot that could hide an icy patch, pedestrians ready to stumble oafishly out in front of you, etc. And if you live in an area where it's warranted, it's a good idea to invest in a quality set of winter tires.
Remembering and applying such tips as these means you can have a really good time with the Boxster – or any other car – in winter. The worst thing about such winter driving is that a car tends to get very, very dirty, so a good strategy might be to buy shares in a good car wash and use it after hours when there's no lineup.
Whether you're lucky enough to be behind the wheel of a Porsche Boxster or just driving the beater you keep for such seasonal use, winter driving skills are really just exaggerated versions of good summer driving skills. So fear not! Just because Jack Frost is wreaking havoc on thermometer and snow is drifting over your favorite thoroughfares it doesn't mean you have to worry about getting around.
Just get around smartly. By not over driving the conditions and by using uncommon sense, winter driving can be an icy blast.
As for the Boxster itself, the car handles so well – almost as if it's anticipating what you want it to do – that it's more fun than the best sled money can buy. More comfortable and warmer inside, too!
Copyright 2010 Jim Bray
TechnoFile.com