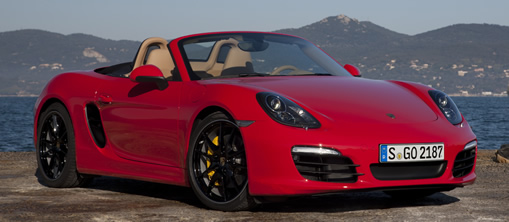 New Porsche Boxster an exquisite evolution
By Jim Bray
May 23, 2013
It may not have the cachet of the mighty 911, but Porsche's Boxster two seat ragtop is a definite joy to drive. And with its new set of clothes, new technology and features, it's an even more compelling vehicle than it was already.
And that's saying something!
The new Boxster looks recognizable to anyone who's seen an old Boxster, and is such a great upgrade that it won its Canadian Car of the Year TestFest category ("Sports Car over $50,000") last fall, beating out such worthy contenders as the Mercedes-Benz SLK 55 AMG, Ford Shelby Mustang and Chevrolet Camaro ZL1.
New inside and out for 2013, the Boxster features a taut new exterior that looks like Porsche sent the old Boxster (which was no slouch in the looks department) to the gym for a workout regimen. The voluptuous curves of the previous generation Boxsters (which, other than their interiors, looked pretty much the same as each other) have been replaced by a car that looks more like a marathon runner than an exotic dancer.
It works. The new Boxster looks fantastic.
Naturally, the new Boxster performs even better than before, too, even though its horsepower – while up from the previous versions' – is up only a smidgen.
Porsche has done this by really sending the Boxster to the gym, in that it now weighs appreciably less than the old Boxster (thanks to such things as the use of more aluminum than on previous generations). This is despite it having grown longer and wider during the rebirth process, which also means it now has a longer wheelbase than before and a wider track. Bigger wheels, too. Nineteen inchers are standard, but you can up the orb ante beyond that: Porsche Canada's sample Boxster S wore optional, 20 inch "Carrera S" wheels that added $1790 to the sticker price, but which also looked sensational.
Boxsters still sport the mid-engine, rear wheel drive configuration that gives them such great balance. To change that probably wouldn't be as earth shattering as dumping the 911's legendary rear-mounted engine configuration, but it would certainly change the car's performance and probably alienate an entire plethora of loyal Boxster fans. Why? The mid-engine configuration means most of the weight – including the engine and up to two passengers – is right inside the wheelbase, meaning it's balanced almost perfectly front to back.
The result is handling that is absolutely sublime, typically Porsche and feeling as if it's hard wired right into your brain.
And inside, the new Boxster follows Porsche's recent direction in that the center console slopes upward slightly toward the center stack and some of the buttons that once were on the stack now populate the console – just like the new 911 does, and the Panamera and the Cayenne.
Lazy designers? Maybe. Or perhaps it's just that they've come up with a concept that works well, that they don't want to mess around with it?
Bottom line is that the new interior is attractive, classy, driver-focused, and efficient. For what more could anyone ask (well, besides a 911 cabriolet?).
The car is supposedly a bit roomier than before, but it doesn't really feel much different. Porsche hasn't messed with the instrumentation and controls much, either, other than that aforementioned move of some stuff to the console, and this means the car is still incredibly user friendly, with everything in view clearly and in range of a sweep of the hand.
Dropping the top is fast (about nine seconds!) and easy (not even a latch to undo!), and you can do it at low speeds, which means you don't have to stop completely if it starts raining suddenly and you need to button the Boxster up again. It works, too. Porsche says you can operate the roof at speeds of up to 50 km/h, though this particular writer didn't have the temerity to try that! But it worked fine at about 10 km/h, when it started to rain – a really, really handy feature when you're in stop and go traffic and the light changes just when the roof is half up or half down.
Boxsters are still powered by six cylinder boxer engines with direct fuel injection Porsche says is enhanced by "electrical system recuperation, thermal management and auto start/stop function" – the latter of which can shut down the engine when you're stopped at traffic lights.  The base boxer puts 265 horsepower out from its 2.7 liters (down from 2.9 liters but up 10 horses), while the S gets a 3.4-litre boxer that emits a delightful 315 hp, up five from the old S.
Speaking of delightful, how does Porsche get its vehicles' engines to sound so fantastic? You're hooked from the moment you fire them up, and as you wind them up through the revs they sing even more sweetly. It's like a Sirens' song.
Yeah, you can get more from six cylinders these days, especially if you turbo charge them (Ford rates its 3.5 liter EcoBoost V6, as on the Ford Taurus SHO, at 365 horses, for example) but between the Boxster's light weight and the engine's overall performance you don't really suffer, especially with the Boxster S.  
You can opt for either a six speed manual stick or Porsche's sublime PDK seven speed dual clutch auto/manual. Porsche's test car had the stick, and it seems as if the company has lightened the clutch a bit from the old car. It's still a tad heavy, but nowhere near the "use both feet" demeanor of the old car. The extra four grand or so for the PDK is worth the money because it's so great, but the manual is a peach in its own right: shifts are short and sweet and there's something to be said for running up through the gears in a manual Porsche.
Oh, Porsche also claims the new Boxster is "up to 15 per cent more fuel-efficient" than the old one, offering (depending on which Boxster you buy and how you drive it) fuel consumption of less than eight liters of fuel per 100 kilometers.
As with most, if not all, Porsches, the base car's entry level price (in this case, $69,500 Canadian, which seems pretty reasonable considering the smiles per gallon the car achieves) can be inflated quickly. In the case of the Guards Red Boxster sample, Porsche added (besides the aforementioned "Carrera" wheels) a $4,410 Bose infotainment package, the Premium Package ($4290 – adds a wind deflector, dual zone Automatic Air Conditioning, seat heating, auto dimming mirrors, Bi-Xenon headlights, Porsche Torque Vectoring ($1510, but desirable), PASM (active suspension for $2050 – and you'll want this one for sure!) and a couple of other tweaks that combined to bring the as-tested price to just shy of $90,000, including destination charge.
Fortunately, there was also some good stuff on the test car that didn't cost extra – Bluetooth (for phone and audio streaming) and other common and welcome stuff such as disc brakes with ABS (etc.), traction control and the like.
Even the base price is a lot of cash in the grand scheme of things, of course, and you really can get more affordable fun from cars like Mazda's MX-5 or the Scion FR-S/Subaru BRZ twins – though the "Scionbarus" don't offer droptops, yet. But the Boxster really is a step up, with better performance and build, more interior room and an all around better driving experience. Besides, there's just something about driving a Porsche that makes it almost like an addiction.
Maybe when Porsche says "there is no substitute," it's really just truth in advertising.
Copyright 2013 Jim Bray
TechnoFile.com