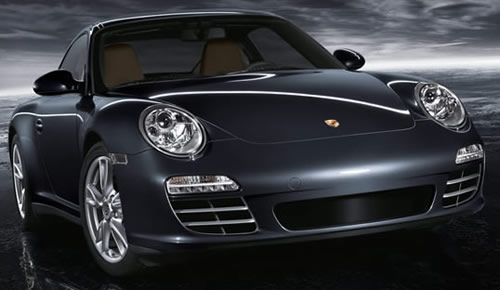 Porsche Carrera 4: saying goodbye to an old friend
By Jim Bray
March 8, 2012
It's been loved and lusted after but now it's like the wizened old guy on new year's eve, the old who's rung out to make way for the bouncing baby new year that's rung in.
Maybe that isn't the best analogy because, while the 2012 Porsche 911 Carrera 4 may be getting a bit long in the tooth in car years (like dog years but, at least in Porsche's case, far more expensive!), it's still a fantastic car – wonderful to drive and undoubtedly terrific to own. Now, however, the venerable 997 edition of Porsche's famous sports car is on its way to the auto museum, replaced by a supposedly all-new version – the 991 – that from early reviews seems to be an excellent upgrade. I can't wait to try it!
So while we have a chance, let's take a last loving look at the 997 911 (how's that for a confusing numbers racket?) – the  Carrera 4 in this instance, which is the all wheel drive version of the basic 911.  
Wouldn't you know it would show up in winter, when the roads here in the foothills of the Rocky Mountains are less than optimal? Not to worry, though, the sample Carrera 4 Porsche Canada supplied not only sported all wheel drive (hence the "4"), it also wore a good set of winter tires. That makes all the difference: many people have seen me drooling over the 911 parked outside my house and expressed their disappointment that it came during winter, but the car is balanced so well that, when combined with the winter rubber, it's a fantastic winter driver as well – as long as you remember that your stopping distances are increased mightily when the roads are slick.
So I parked my prodigious posterior joyfully into the comfortably designed and executed driver's seat and reveled in the 997's last hurrah.
It was wonderful, as driving a Porsche always is.
Sure, the Carrera 4 doesn't offer the 530 horses of my favorite 997 911, the Turbo S, but the 345 horses and 288 foot pounds that stampede from the car's normally aspirated flat "boxer" six cylinder engine are more than enough to put a wicked grin on your face – as well as to blow the doors off a great many vehicles of lesser pedigree. This is definitely a 911 in every way.
The Platinum Silver Metallic test car was equipped with Porsche's PDK dual clutch auto/manual transmission – a $4660 Canadian ($4080 U.S.) option. It's definitely not a "slushbox" and has actually become the transmission of choice for this self-proclaimed "stickaholic" because it offers lightning quick shifts and complete, paddle-or-stick-operated manual control if you want; all you lose is the clutch pedal and Porsche clutches are rather heavy so you'll also arrive home with a less tired left foot if you opt for the PDK.
If you're merely cruising around town you can leave the transmission in auto mode and it'll zip right up to seventh gear (to save gas) before you can say Porsche Doppelkupplung. Yet if you suddenly find yourself needing a healthy dose of acceleration (and, since this is a Porsche, you will), a quick tromp on the gas even in automatic mode sends the transmission off in search of the exact lower gear you need to push your back into the seat and stretch your lips into a wide grin. And then, if you're still in automatic mode and have finished your little bit of fun, it goes back into automatic mode er, automatically, waiting for the next time it's summoned to perform its magical tricks.
All wheel drive 911's are recognizable by their larger buttocks and rear tires (295/35 ZR18 inch summer rubber is standard) and by their titanium-colored front air intake grilles and slats. Despite the wider bum, however, the car doesn't look fat or gaudy; it looks glorious.
The "little" Carrera engine displaces 3.6 liters and Porsche says it gets the car from 0 to 100 km/h (62 mph) in a mere five seconds, with a top speed of 284 km/h (177 mph). That won't rival a Bugatti Veyron's acceleration the way a Turbo S will, but it's hardly slow. The engine features direct fuel injection and VarioCam plus variable valve timing with two-stage lift on the inlet side.
The Carrera 4 also comes with Porsche's Traction Management (PTM) intelligent all-wheel drive (non-AWD models are rear wheel drive). Porsche says the system is optimized to give outstanding driving dynamics, which it does (remembering that any 911 is a blast to drive) as well as adding security in the wet and snowy conditions on tap during my test session.
If that isn't enough, the sample Carrera 4 provided by Porsche Canada was fitted with Porsche's Active Suspension Management system (PASM), which regulates the damping force for each wheel continuously, according to the road conditions and driving style. "Normal" mode gives you the best balance between performance and comfort (which is probably the best when you're using the car as a daily driver), while "Sport" model stiffens up the car and hunkers it down for twisty bit action.
The test car also had the Sport Chrono Package Plus, whose "Sport Plus" mode the best for all out performance driving. Oh, but it's rough on the kidneys! My sample 911 also had the optional PDK three spoke Sports steering wheel, which displays Sport and Sport Plus modes on the left spoke.
The basic suspension uses McPherson struts up front with what Porsche describes as "a race-derived multi-link suspension, following the LSA concept (Lightweight, Stable, Agile) for exceptional driving dynamics." And of course the brakes (discs all around, naturally) are huge, power-assisted ones with ABS and all the other aids you might expect. They'll practically stand the car on its perky little nose when you stomp on them.
The power steering is sensitive but with excellent feel – almost seeming as if it's plugged into your brain. Delightful.
Inside is a beautiful sports car cabin, with two very comfortable and supportive seats (leather sports seats in this case – and you can get full power operation if you want) and a rear seat that, while practically useless for anyone over about three feet tall, makes an excellent storage area. Everything in the interior is well designed and laid out, and right at hand, and everything works well.
Take the instrument panel, for example. It features five round gauges, but other than the stuff for fuel level, temperatures and the like, all you really need most of the time is right in front of your eyes: an analog tachometer with a digital speedometer coupled with a customizable info display below. It's nigh on perfect.
The sample Carrera 4 had an excellent 13 speaker Bose surround system, touch screen operated, with a universal audio interface that lets you operate an iOS (iPod, iPhone, etc.) device right from the LCD screen. Naturally, there's also Bluetooth connectivity and you can get satellite radio integrated.
All in all, it's a fine office in which to accomplish the job of driving.
The 991's interior seems more influenced by the Panamera than the outgoing 911's, and that's a bit frightening since this interior is so great. Not that the Panamera's is a slouch, but it's quite different.
The 997 will be a tough act to follow – and will be missed. Or will it? Perhaps the 991 will erase everyone's memory of the "old" Carrera. Time will tell.
The Porsche Carrera 4 (997 version) starts at about $97,000 Canadian ($85,)00 U.S.).
Copyright 2012 Jim Bray
TechnoFile.com