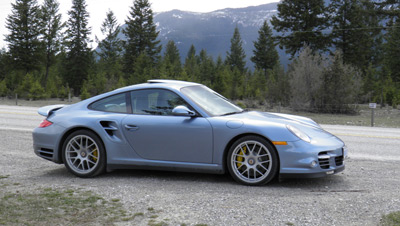 Porsche 911 Turbo S (Click on image for larger version)
Porsche 911 Turbo S – S-pectacular!
By Jim Bray
May 14, 2011
If you're coming out of a winter that lasted far too long and Porsche is silly enough to offer you a week in its fabulous 2011 911 Turbo S, it might be understandable if your first thought is "Road trip!"
That's my excuse, anyway, and I'm sticking to it. After all, when a company teases you with the intoxicating lure of a world class sports car that puts 530 horsepower onto the pavement, you need to figure out a way to savor it, to exploit it properly. And what better way than to pack an overnight bag, pick up your best friend, and head for the hills? Or, better still, the mountains.
I'm fortunate enough to live in the foothills of the mighty Rockies, where there's an abundance of great driving roads you'd almost think were designed in anticipation of the modern sports car. Want long, straight back roads where you can wind out a car properly to ensure its horsepower is as advertised? We have them. Want hills, sweeping curves and tight, twisty esses? Check.
It really is an embarrassment of driving riches: the tough part is choosing which roads to exploit! After much discussion, we decided a quick trip (well, it was a Porsche 911!) to Golden, B.C., was in order, driving there in a big loop that took us via Radium Hot Springs. As it turned out, it was a nearly perfect run for such an automotive fleshpot.
What a car! My sample was finished in Ice Blue Metallic, a gorgeous light blue that immediately became my favorite color for the 911, replacing the silver I'd loved on the Turbo I drove last summer. The interior was finished in Black Full Leather with Titani, and it was comfortable and classy.
Under the hood, which of course is aft on this rear-engined icon, Porsche has crammed its legendary 3.8 liter flat six engine, with all the high tech stuff you'd expect (such as direct fuel injection and VarioCam Plus variable valve timing and lift), the deal sweetened by variable geometry twin turbochargers.
The 530 horsepower and 516 lb.-ft. of torque is absolutely ridiculous but you get used to it quickly and within about five minutes can't imagine living without it. The power comes on smoothly at first, then the turbos kick in with a whoosh and you're pressed against the seat back as if solid rocket boosters have been fired up, the smile on your face flattened against the back of your throat.
You can't take advantage of this power everywhere, of course, but where you can, it's unbelievable fun.
Our route took us west from Calgary, Alberta, along the Trans Canada highway, a smooth and wide four lane (at least) strip of blacktop with a speed limit of 110 kilometers per hour (about 68 mph). This stretch hardly stretches the Turbo S at all, and we cruised along at minimal rpm – with plenty of traffic to accompany us – as the mountains rose ahead of us, hinting at the asphalt-flavored moments of bliss to come.
We drove past the lovely mountain town of Canmore, nestled just inside the Rockies, and into the world famous Banff National Park, though we eschewed the ultra-touristy Banff townsite and continued along the Trans Canada to its junction with highway 93. Phase One complete, a nice but hardly adrenaline-inducing cruise.
Ah, but highway 93 snakes southwest to Radium, over the continental divide through Kootenay National Park, a 350,000 square acre delight that straddles the Alberta/British Columbia border and is part of a UNESCO World Heritage Site. Ranging in elevation from about 11,200 feet at Deltaform Mountain to about 3000 feet near its south-west entrance at Radium, Kootenay Park, is simply gorgeous, a popular destination for fans of the great outdoors.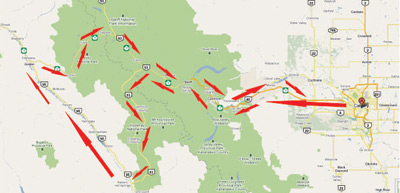 Our route (Click for larger image)
Porsche 911 Turbo S at the Great Divide
(click for larger version)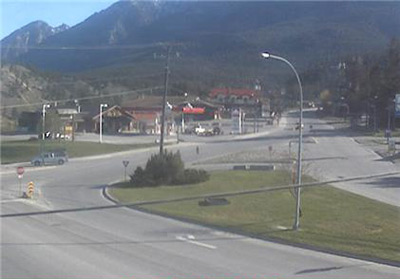 Radium Hot Springs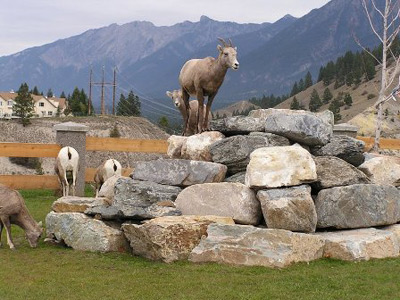 Radium Hot Springs Natives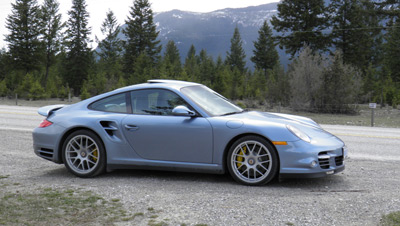 Porsche 911 Turbo S (click for larger version)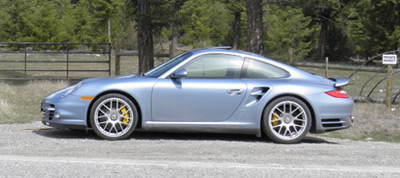 The Turbo S glistens in the sunlight on Highway 95
(click for larger image)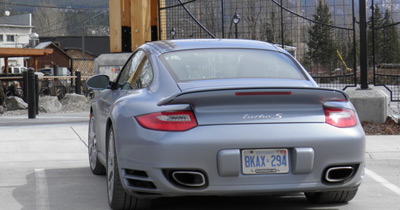 The Turbo S in Golden (click for larger version)
In Banff, on the way home (click for larger image)
I'm not the outdoorsy type (I think the sport of skiing is going seriously downhill!), so other than the chance to rubberneck some spectacular scenery, I was looking forward to highway 93 itself. From its junction with the Trans Canada highway, this marvelous thoroughfare rises sharply toward the great divide, then twists and rises and twists and drops and twists and rises and twists and drops with a delightful variety of hill types, curve configurations and straightaway lengths. 
So I put the 911 into Sport mode, which tightened up its responses and woke the potent turbo six from its divided highway-induced slumber. In the process, its song changed from merely sounding very cool to something more resembling a mountain lion's snarl, which seemed appropriate considering where we were. Aiding and abetting that change of tune were rpms that went from barely registering to "come on, whaddya got for me?" while the chassis metamorphosed from comfortable all-day cruiser to "hang onto your bladder, it's going to be a wild ride!"
And it was. We stretched the Porsche's legs nicely – nothing outrageous, mind you, just a happy barreling along in a car designed to do it with gusto, on a road guaranteed to put a smile on the face of those who've mustered up a relish for a fine drive. I'd tell you what speeds we reached but, as the cliché goes, then I'd have to kill you.
Unfortunately, highway 93 really, really needs a good repaving job. Its substandard condition kept our speeds much saner than they could have been, not only because the car was shuddering over frost heaves and potholes but also because, when the heaves and holes were combined with a Porsche 911 in Sport mode, we risked leaving our internal organs where various wildlife would find them. And you're not supposed to feed the wildlife in a national park.
Coming into Radium, you go down a looong hill and the road gets slower and the twisties tighter. It isn't a stretch of highway designed for making time – especially if you get stuck behind a semi trailer like we did – but it gave us an opportunity to catch our breath and reflect on the awesome drive we'd just experienced.
By this time, Les and I had come to the conclusion that we were not only in lust with the car, but hopelessly in love with it as well, and ready to sell our souls to the highest bidder to keep it. Les, who has a bad back, had nothing but praise for the Adaptive Sport Seats, which are more supportive than some bosses I've had and hold you in place beautifully when the esses get spectacular.
As you might expect from a car whose history is nearly 50 years old, the interior has been refined over the decades and is a model of efficiency. The power seats, combined with the tilt/telescoping sport steering wheel (which doesn't have auxiliary audio controls on it) make finding the perfect driving position child's play, and everything – from the audio and HVAC controls on the center stack to the instantly legible instrument panel – is just where it should be and works as it should.
And once again, we marveled at Porsche's cup holders, which are mounted behind a piece of trim on the passenger side of the dashboard. Drop the trim and you can pop out a pair of holders that hold your drink in easy reach of either passenger, without it blocking the view or getting in the way.
It's a fantastic use of the 911's (indeed, all the Porsche sports cars) limited space and not deserving of the mocking it sometimes gets.
Everything on my test 911 Turbo S was standard equipment, with one exception: the gear selector and handbrake handle were finished in aluminum, which added $1470 Canadian to the tab. And the list of standard equipment is long, and welcome, including stuff like:
Porsche's fantastic PDK double clutch auto manual transmission, which feels closer to a manual than any automatic I've driven. You can leave it in automatic mode and it'll cruise happily all day, but downshift or tromp on the gas pedal and it'll jump to attention instantly, unbridling all those happy horses. Manual shifting is accomplished by either rowing the stick or, much better, using a pair of real paddles behind the steering wheel.
Sport Chrono Package – Turbo. You notice it via the stopwatch atop the dashboard, but it crops up other places as well, working hand in hand with the Sport and Sport Plus functions to maximize the fun factor.
Porsche Traction Management with torque vectoring all wheel drive. Combine this with the car's inherent balance and you have a vehicle that's stable and drivable at all speeds and, with the right rubber, in all conditions. Fortunately, our summer tire-equipped Turbo S only encountered snow once, at a rest stop where it didn't matter.
PSM (Porsche Stability Management), and PASM (Porsche Active Suspension Management)
19 inch RS Spyder Center Locking Wheels
Ceramic Composite Brakes. These are a multi-thousand dollar option on lesser Porsches and they can stop the car as quickly as the engine gets it going. They emitted an embarrassing squeal on occasion, but I put it down to the car objecting to being slowed down. And you should see the calipers! The front ones are bigger than the wheels of my old Toyota Supra!
PCM (the audio/nav system), with Bluetooth for the phone and an interface that lets you control an iPod right from the center stack, using the excellent Bose surround sound audio system (though the Bose did add a tiny pause between continuous cuts on DVD-Audio discs, which both people who have such discs will find annoying)
Bi-Xenon headlights
I have a quibble about the lack of automatic headlights and seat heaters. For the car's list of $202,000 Canadian (about $160,700 U.S.), you'd think they could throw them in.
Radium Hot Springs is located at the southwest edge of Kootenay park, between the Purcell and the Rocky Mountains. The village itself claims about 1000 full time residents and is bordered by the largest continuous wetlands in North America.
We paused there for lunch and, after a morning jaunt through iffy weather that included some snowy virga, the sun came out over the beautiful Columbia Valley, promising an afternoon of delightful driving. 
From Radium, we headed northwest-ish to Golden. This meant hanging a right onto highway 95, which is a much flatter but slower drive through tiny communities like Spillimacheen and Parson (with my arson a Porsche!) and took less than two hours. Highway 95 is in much better shape than 93, which figures because it isn't nearly as exciting or fun.
We had some deer meander in front of us at one point, and they seemed blatantly unimpressed that we were in a car capable of over 190 mph. I suspect the B.C. government keeps them there as living chicanes, to keep speeds down…
Golden Opportunity…
Golden is a lovely town of about 4300 in "Kicking Horse Country," which isn't nearly as alarming as it sounds. It's located where "the frothy Kicking Horse River flows into the mighty Columbia," according to the town's website, and offers spectacular views of the mountains surrounding it. Another four seasons playground, we hit it just after ski season and had no trouble finding a decent and affordable motel in which to spend the night.
Over dinner, we again discussed the mighty 911, marveling about such things as Porsche's attention to detail, which extends to the stitching of the leather, and agreed that the 911 Turbo S is, indeed, the whole package. Not only is it a blisteringly fast, world class sports car, it's comfortable and luxurious, yet easy to live with and use as a daily driver. Sure storage is tight, but it's a toy! If you want to haul golf clubs, get a Cayenne or Panamera.
The next day we returned to the Trans Canada highway for the trip home. It wasn't nearly as much fun as the trip out, thanks to heavy traffic. We got stuck behind a few semis, but fortunately there are plenty of passing areas once you get a few miles east of Golden – and once you're back in Banff National Park, east of Lake Louise, the road is pretty well four lane divided right back to Calgary, a perfect opportunity to stick the Porsche in cruise and ogle some glorious mountain vistas.
So we did.
The 911's sunroof is small, but reasonable considering the size of the car, and sometimes I could open it with one touch of the button – though I could never get it to close that way. A trip through the manual in search of the magic word that activates one touch operation might have helped, but we didn't want to risk staining the pages with the drool that kept forming when we were in the Turbo S.
It's as loud as a banshee inside the car if you have the sunroof open at highway speeds, but the tilt setting keeps the cabin quiet enough to talk while letting in fresh mountain air.
We used what Porsche laughingly calls a rear seat (which can be used in an emergency, but unless it's little kids back there they won't think much of you) to enhance the storage available in the small, front-mounted trunk, so there was plenty of room for two guys on a road trip.
Porsche definitely has my number; the 911 Turbo S is quite simply the best car I've sampled so far. The fact that I got to drive it on highways that cried out for a high performance sports car like a Porsche – even if the pavement was spotty in places – only made the experience better. It was truly automotive heaven.
Then Porsche made me give it back.
Bastards.
Copyright 2011 Jim Bray
TechnoFile.com