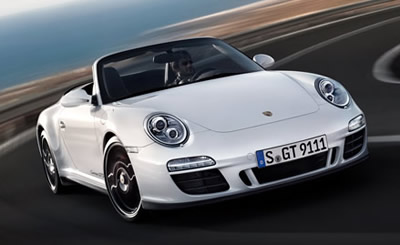 Carrera GTS – Upping the 911's Naturally-aspirated Ante
By Jim Bray
September 30, 2011
Just in time to be replaced by a brand new Porsche 911 Carrera for 2012, the 2011 Carrera GTS is an upgraded and tweaked version of the 911 S for those who want just a bit more out of their classic Porsche sports car.
The company says the GTS – the cabriolet version of which I got to spend some quality time bonding with – combines the "emphatic sportiness" of the Carrera S (and there's plenty!) with "Performance you'd expect to find only on a race track."
Sounds like a challenge! Alas, I didn't get a chance to take my lovely white GTS sample onto a racetrack (Much, I'm sure, to the relief of the Porsche folk), but I did indulge in a couple of spirited romps through the foothills of the Rocky Mountains and can report with confidence that the GTS is, indeed, a lovely drive, and would be that even if it weren't "merely" an enhancement to the Carrera S.
As far as power delivery is concerned, the upgrade from S to GTS isn't huge, but who can argue against a Porsche offering extra horses? In this case, the GTS' 3.8 liter flat six engine (rear mounted, as are all 911s') cranks out a healthy 408 horses at 7300 rpm, an increase of 23 over the garden variety S. Porsche says the Cabriolet version reaches 60 mph from a standing start in 4.6 seconds (.2 seconds slower than the coupe GTS but .1 seconds quicker than the 911 S cabrio).
Add the superb PDK "automatic manual" transmission and those disparities get even smaller.
The GTS' maximum torque isn't boosted from the S', but it comes on 200 rpm sooner.
These aren't huge distinctions, but they give GTS owners bragging rights until someone in a 911 Turbo blows their doors off…
Oh, yeah. Porsche says the extra performance comes at no cost to fuel economy.
Visually, the GTS takes its cues from the all-wheel-drive 911's, with a wider rear track and wheels, though it retains its rear wheel drive configuration (unless you opt for the Carrera 4 GTS). You also get a very fetching set of 19-inch center-mount "RS Spyder" wheels, painted black, with high-gloss rim flanges and 305/30 R19 tires on the rear axle that are so low profile it almost looks as if the wheels have black elastic bands stretched around them. The GTS also has a different, SportDesign front apron with a black spoiler edge, special side skirts, and Carrera GTS logo on the doors, door sills and rear deck lid.
And if that isn't enough to keep rubberneckers rubbernecking, Porsche has blacked out the area between the tailpipes.
Inside, the GTS features black Alcantara in combination with the standard interior color, which in the case of my test unit was black. They've even stuck Alcantara on the steering wheel, which I have to admit I didn't care for, classy-looking or not. I liked the steering wheel other than that, though; it feels great in the hands and the paddles that came with the optional seven speed PDK transmission (a six speed manual is standard) are just where they should be.
Every time I drive one of Porsche's sports cars equipped with the PDK (Porsche Doppelkupplungsgetriebe)  I like it more. In fact, this dual clutch transmission has gone a long way toward making me comfortable living without a clutch pedal; its shifts are as quick as lightning and it almost seems to read your mind, knowing intuitively what gear you need. 
If you aren't driving the car aggressively, the PDK runs quickly up to seventh gear as a fuel saving strategy. When it's time to boogie, however, mash the gas pedal and it shifts down as many gears as necessary – quicker than you can say "Doppelkupplungsgetriebe" – to spur the car on if it has just received a kick in the pants.
The paddles work great, too, upshifting from the right and downshifting from the left, and you can shift from the lever on the console if you prefer. I had preferred Porsche's standard, redundant up/down controls, but I drove a Cayenne S hybrid shortly after the 911 GTS (which had the "traditional" shifters) and have now changed my mind: paddles are the way to go.
Leave the PDK in automatic mode and the car's incredibly easy to drive, but step on the gas or pop a paddle and it comes to life almost as if it's saying "Well, it's about time!"
My sample GTS also featured the Sport Chrono Plus package, which adjusts the shift points "infinitely" depending on your driving style (My "style" is to wear a hat in convertibles). It also includes Launch Control and "A special gearshift function" for those times you're driving "male genitals to the bulkhead," such as on a race track.
You active Launch Control by pressing the Sports Plus button on the console, holding down the brake pedal with your left foot while revving the engine up to about 6500 rpm – by which point you're being treated to an incredible rendition of the "Song of Porsche" – and then releasing the brake while holding on for dear life.
If you activate Sport Plus mode and don't drive as if you're trying to escape the long arm of the law, the car keeps downshifting as if it's saying "C'mon, c'mon, what's the matter with you? You some kind of baby or something?" It keeps egging you on to ever-increasing demonstrations of driving dexterity and I must admit it's a siren call that's hard to resist. I don't think the real life siren call – the one originating from the cop – will buy the claim that you were just responding to the car's demands, though.
The GTS ups the suspension ante by adding Porsche's advanced Active Suspension Management (PASM) system. It's controlled electronically and lets you select from normal or sport settings, also supposedly adapting itself to your driving style. When you activate the sport setting, the car hunkers down and tightens up, its personality changing from merely being a superbly enjoyable and sporty daily driver to a lean and mean driving machine.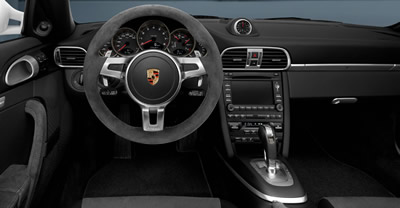 All 2011 911's benefit from increased standard equipment which – since Porsche tends to require extra blood for things some lesser car companies include in the price – is welcome. The new stuff includes Bluetooth hands-free phone support and a universal audio interface that lets you connect an iPod/iPhone or other smart phone/MP3 player and control it through Porsche's excellent Communication Management system.
Now, how about adding automatic headlights as standard equipment? Bluetooth and auto-lights are excellent safety features and really should be standard on every car today. Heck, you only use an airbag once, and that's if you're unlucky or in the wrong place at the wrong time, but chances are you'll use Bluetooth and/or auto-lights nearly every day.
Nothing is perfect, of course, not even a Porsche 911. My biggest complaint (heck, my only complaint!) about the GTS has nothing to do with its performance, though. In fact, it's a pretty superficial gripe and you're within your rights to think I'm completely out to lunch: sawing the top off a 911 to create the convertible cabriolet version ruins the car's classic lines.
Yeah, that's it. Making a retractable soft top version of the 911 takes the wonderful fastback design of the coupe and gives it a hunchbacked look. It also looks like an afterthought, and doesn't feel quite as tight as the coupe. Not that it's sloppy, of course. It's still a 911.
On the other hand, the convertible top is great. There are no clips or handles to hook/unhook and all you have to do is activate (and hold) a control on the center console and the roof does its little ballet, retracting or closing in about 20 seconds.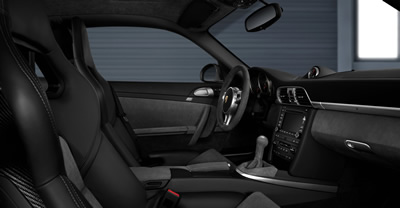 Porsche says you can operate the roof at speeds of up to about 30 mph. I didn't have the guts to try that – and I imagine it wreaks havoc on the car's aerodynamics – but I did raise it while driving in rush hour traffic, when it started raining suddenly, and not having to come to a complete stop and hold up the folks behind me was a great feature.
My sample GTS Cabriolet also came with heated seats, automatically-dimming interior lights, dynamic cornering lights, an "extended navigation module," and the excellent, upgraded Bose surround sound system.
And if the additional standard equipment leaves you pining to spend more of your after-tax disposable income on extras, you'll be happy to note that my sample GTS also featured the optional "Seat belts in Guards Red," which means you can drop an extra $600 or so to make all four seat/shoulder belts (remembering that this car is, supposedly, a four seater) resemble a lumberjack's suspenders.
Me, I'd put that money toward automatic headlights.
Notwithstanding that bit of silliness, which doesn't affect the performance anyway, the Carerra GTS Cabriolet is a wonderful car to drive. It would probably be even better to own…
The Porsche Carrera GTS Cabriolet starts at $112,900 U.S./$128,800 Canadian.
Copyright 2011 Jim Bray
TechnoFile.com