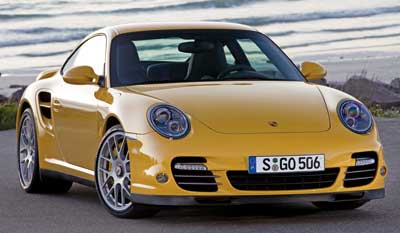 Porsche's Iconic Sports Car a Wolf in Any Clothing
By Jim Bray
October 23, 2010
Driving a Porsche 911 is like having nary a "Carrera" in the world. Or something like that.
The 911 Carrera is a rear-engine curiosity in a world of front and mid-engine competitors, and it has been around in one form or another for the better part of half a century. Yet rather than being past its prime, the 911 gets better with age as Porsche refines it continually, forcing ever better performance from its six cylinder engine, upgrading its other components as the state-of-the-art improves.
This results in a driving experience ever more rewarding as well and if it weren't so hackneyed I'd say "Thank Heaven for 911."
The Porsche 911 is one of the sexiest sets of wheels you can get. And in a remarkable exhibit of stability and tradition, you can trace that body style – kind of like a flattened VW original Beetle – right back to the first 911 from the early 1960's and even to the 356 before it to a certain extent.
Some say this shows that Porsche designers are lazy. I'm hoping they're just remarkably restrained.
The 911 is available in about a googolplex of configurations, from the base Carrera to the 620 horsepower screamer, the 911 GT2 RS. Porsche didn't see fit to send a sample GT2 RS to my neck of the woods, but despite that I've gotten a chance to taste a reasonable cross section of their "lesser" models, from the 345 horsepower entry level Carrera to the outrageously fast, 500 horsepower Turbo and plenty of models in between.
This year's 911 a la carte consisted of the Turbo and the Targa 4, which I drove close enough together to get a good comparison, not only between the two in-car-nations themselves but also between Porsche's excellent six speed manual transmission and their equally, or possibly more, excellent PDK seven speed dual clutch auto/manual transmission.
Life is good!
First up was the Turbo. The late summer weather in the foothills of the Rocky Mountains where I hang my hat (or would if I wore one) was perfect and I got a terrific chance to revel in its earthly delights.
This car is crazy fast, faster than it need be!
Now, before I get struck by lightning, I note that I'm not a power prude – heck, I've been accused of speeding in my driveway – but as wonderfully seductive as 500 horsepower are, it really is a case of gilding the lily. All Carreras are fast. The Targa 4, like the base Carrera, cranks out a "mere" 345 horses, and that's not only enough to get this sports coupe – and you – into a heap of trouble with the authorities, it provides bounteous entertainment between tickets.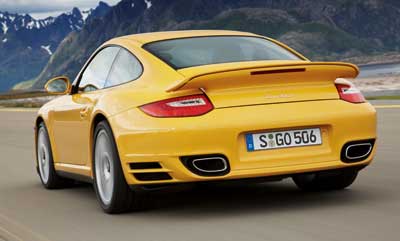 On the other hand, there's nothing like 500 ponies under your right foot to widen the smile on your face! How wide will that smile get? Porsche says the 911 Turbo will do zero to 60 in 3.5 seconds and continue to a top track speed of 194 miles per hour. Not bad for a car that's nearly 50 years old!
And now there's direct fuel injection, which gives more power from less gas – in the Turbo's case 20 more horsepower with a 13 per cent increase in fuel economy over last year's model. I can't imagine anyone buying a Porsche for its gas mileage, but hats off to Porsche for giving you more poop from less petrol anyway.
While I'm doffing the imaginary derby, I also give full marks to the awesome PDK transmission. Its seven speed, dual clutch technology gives you the best of both worlds – letting you do your daily drive in automatic mode but downshifting almost instantly when you stomp on the gas (and you will!) and the turbos kick in like you've fired up a pair of solid rocket boosters! Whoo-hoo!
And if you want to shift it yourself, you can either use the stick or the paddles behind the steering wheel. I never thought I'd like an automatic transmission better than a stick, but Porsche has made me a believer. Again, I tempt lightning.
My test Turbo had conventional paddles instead of the front/rear-mounted shifters that come with the PDK normally. I like the standard system better. With the paddles, you upshift with your right hand and downshift with your left. The regular PDK shifters are redundant, the same on both left and right sides of the wheel. Upshifting is accomplished merely by flexing your hand onto the shifter facing you and you downshift with either shift button on the rear of the steering wheel.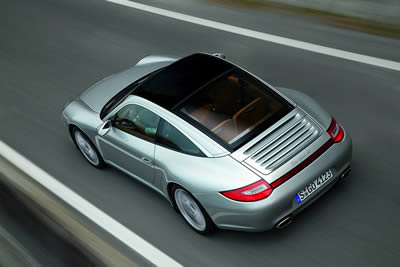 The six speed manual of the Targa 4 is a peach as well, but while Porsche clutches work great, they're pretty heavy and that gets tiring if you're using the car as a daily driver (for which it's eminently suitable) and find yourself in a lot of stop-and-go traffic.
The Carreras handle as beautifully as they look. Time was, apparently, when the rear engine layout made the 911, well, twitchy when you got seriously into the fun zone. This undoubtedly made it a lot less fun.
But over the years Porsche has managed to tame most of that, in the Turbo's case (and the 911 "4's" – such as the Targa 4), by giving it an all wheel drive system that sticks it to the road like you've put Krazy Glue on the tires.
Not that the rear wheel drive 911's are boats, mind you. All are a joy, and if you get all the sporty stuff installed you can make the car hunker down like a running back and squirt through every hole in whatever traffic you find yourself.
Both cars feature basically the same interior and, like all Porsche interiors, it's lip smacking good. It's classy and attractive, efficient, and makes excellent use of the limited space inside.
The instrument panel is excellent. The big central tachometer has a digital speedometer right below, so you can see your engine speed and highway speed in one quick glance. The digital display can also read out the name of the tune you're playing, your gas mileage, tire pressure, and more. 
The joy of the Targa is that it features one of – if not the – best sunroofs in the industry.  In fact, pretty well the entire roof consists of two glass panels, extending backwards from the windshield header to the leading edge of the engine cover.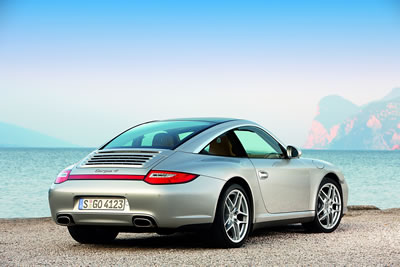 Visibility outward (and upward) is superb – until you actually open the Targa top. Then, you get a spectacular view to the front, sides, and upward, but since the big panel slides back to cover part of your view out of the rear window, it can be a bit challenging seeing the vehicles behind you.
The obvious solution is to keep so far ahead of other drivers that you don't have to worry about it. The 911 makes this a feasible proposition.
The Targa's rearmost panel can be opened like the Cayman's hatch to give rear seat access so you can dump stuff in more easily. If you're wiry, you might find getting into the back seat easier this way, too, compared with squeezing past the front seats.
The back seat itself is very small and unless you're a dog or a toddler you might find it a tad tight. It can be used in an emergency, though; my daughter-in-law sat back there for about 15 minutes and lived through it, emerging in fine humor.
Clearly, I'll have to try something else.
Oh, yeah. The bad news: According to Porsche's respective websites, the 2010 911 Turbo starts at $135,500 U.S./$167,900 Canadian. The Targa 4 starts at $92,100 U.S./ $111,100 Canadian.
Choosing between them would be tough. I love the Turbo's look, with the extra air intakes and sexy wing on the back – it's the best looking of the "mainstream" 911's – but I also love the Targa's retractable glass roof.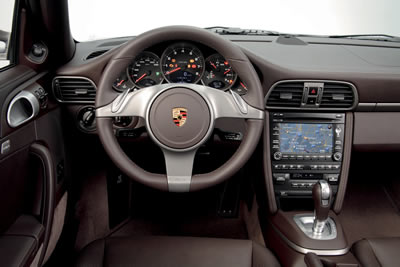 I don't like the visibility you lose with the Targa, however. Then again, as much as I love the Turbo's sexy skin and exhilarating performance, I don't like the extra tens of thousands of dollars it costs compared with the Targa 4.
Of course there's more that's different under – or with – these cars' skins than a sunroof and turbocharging. The result is one gorgeous 911 that focuses on blurring the landscape around you and one built to  help you can revel in it.  I can think of reasons to love both.
Guess I'd better check that lottery ticket again to see if the numbers have changed yet.
Despite my slobbering reviews of their products, I do have a pet peeve with Porsche: they nickel and dime you – or thousand dollar you is more like it – to death with options that should be standard, like a Bluetooth handsfree cell phone and audio interface link that lets you control your iPod and/or iPhone right from the car's LCD screen.
But if you have the price of admission, the Porsche 911, in any version, just gets better with age – like a fine Scotch – and is about as much fun as could want.
Copyright 2010 Jim Bray
TechnoFile.com