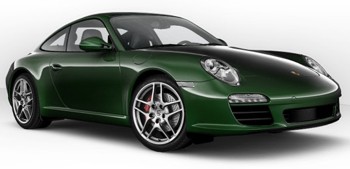 Shiftless? Porsche Creates a 911 Just For You!
By Jim Bray
February 26, 2009
Few would argue that Porsche's 911 Carrera is a classic. For more than forty years it has been a benchmark sports car, a seemingly timeless style that, thanks to constant refinement and updating, still inspires lust.
It's clearly a car that has never been passed by the sands of time or the rigors of fierce competition. That's a remarkable achievement, especially in a time when technical innovations come so quickly it can make your head spin.
So it is that the 911 Carrera enters 2009 sporting some healthy technological upgrades designed to make it even more compelling – even in an era when many people care more about gas mileage than in putting a smile on their faces.
Porsche calls the new 911 and the upmarket 911 S "the most sophisticated, potent and environmentally friendly 911 Carrera models that Porsche has ever offered." I have to admit that scared me; the phrase "environmentally friendly" always waves a red (well, green) flag in front of my eyes as more and more corporations seem to buy into a global warming cult that's the closest thing "The Left" will come to embracing an organized religion.
On the other hand, there's nothing wrong with being efficient and, since it's good business to be "green" these days, I can understand why corporations take that tack. I just don't happen to celebrate the Lemming instinct.
On the other other hand, who can complain about a vehicle that's glorious to drive, and costs you less at the pump?
But let's talk about the refinements Porsche has piled onto the 2009 Carrrera, which include "new" and more powerful and fuel-efficient engines and the offering of Porsche's new seven-speed double-clutch transmission instead of the "old" Tiptronic S auto/manual.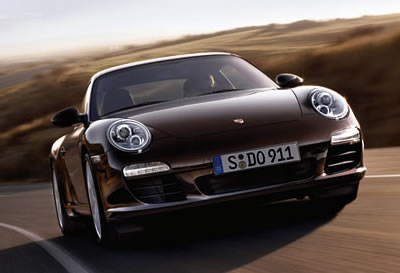 The new 911 also comes with larger, more potent brakes, the newly revised Porsche Communication Management system, a freshened exterior with Bi-xenon headlights and LED rear lighting.
The power I never got a chance to savor (thanks to extreme wintry conditions) comes from Porsche's traditional flat six engines, but now they feature direct fuel injection, new two-piece crankcases, revised intake and exhaust systems and more. These tweaks result in a 6.2 percent increase in horsepower, taking the base Carrera's 3.6-liter engine from 325 horses to 345, with a 5.5 percent gain in torque (from 273 to 288 lb.-ft.). Porsche says the 2009 911 Carrera Coupe with the stick shift now accelerates from zero to 60 mph (96 km/h) in 4.7 seconds.
There are faster cars out there, but 4.7 seconds is definitely not chopped liver.
The Carrera S (my test car came in gorgeous "Porsche Racing Green" with a Sand Beige Full Leather Interior), features a 3.8-liter engine whose 30 extra horses (up 8.5 per cent, to 385 hp) and 15 more "things torquey" (up five percent, to 310 lb.-ft.) trims that zero to 60 time to 4.5 seconds.
When you add the new PDK – don't call it a slushbox! – the time drops to 4.3 seconds.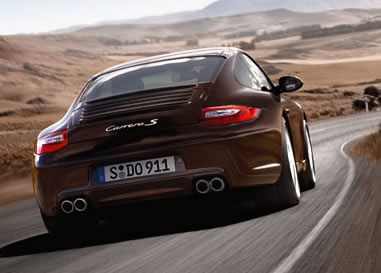 The new engines also receive Low-Emissions Vehicle, category two (LEV-II) certification and official gas mileage estimates (whatever relation that has to the real world!) are reduced by 6.4 percent over last year's car (manual gearbox) and 12.5 per cent with the PDK.
I have a soft spot for manual transmissions, and Porsche's – especially the six speeds – are simply splendid. But while it's a blast to snickety-snick a stick when you're out on the highway partaking of a serious grin-widening session, that clutch can get mighty heavy during a bumper-to-bumper commute.
Porsche's TipTronic was one of the first of these auto/manual trannies and it was a good one, though I never really liked the up/down shifter switches on the front of the steering wheel (they were too far away for my stubby little thumbs). You could (and can) shift manually via the shifter on the console, but give me paddle shifters any day.
The new PDK (an abbreviation of "Porsche-Doppelkupplungsgetriebe", and thank the Lord for the abbreviation!) transmission is of the double clutch-type that's becoming popular on cars of this ilk. Porsche describes it this way: "Essentially, the PDK is a conventional, seven-speed manual gearbox with two electrohydraulically controlled, oil-bathed multiplate clutch packs. One clutch pack controls the odd-numbered gears and Reverse; the other controls the even-numbered gears. As one clutch pack engages the appropriate gear based on engine speed, load, and vehicle speed, the other clutch simultaneously disengages the previous gear. The results are seamless, instantaneous up- and downshifts, performed more quickly than could be done by even a skilled test driver."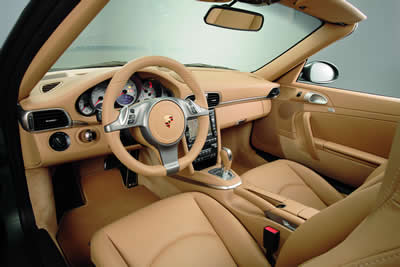 I merely dream of being a skilled test driver, but was very impressed by the quick, smooth shifts. I also noticed that when you aren't driving it as if you're a car thief under hot pursuit, it upshifts quickly, putting you in seventh before you can say "Professor Porsche". This is undoubtedly to save fuel and that's okay.
Drive aggressively and it's a very different beast. You can wind the sucker out nicely and the PDK will wait patiently for your next command, then give you a lightning-quick transmission transition to the next gear.
Or so it appears. I really only got to try it once or twice thanks to the snowy roads. But it seemed great.
What isn't satisfying is how Porsche has changed the steering wheel-mounted controls. Gone are the up/down switches on the front of the wheel (Hooray!), replaced by a kind of thumbpad thingy augmented by perfectly-placed "paddle-compatibles" on the rear.
Alas, the new front-mounted shifters are just as hard to reach as the old ones and, since they do the upshifts (the rear-mounted "paddles" only perform downshifts) you have to use them if you don't want to shift via the stick. Since most of the competition's paddles do upshifts on the right and downshifts on the left, I tended to forget about those faraway front shifters and, without thinking, use the rear-mounted switches instead – causing the car and I some angst when I'd downshift instead of upshifting.
It's embarrassing, too!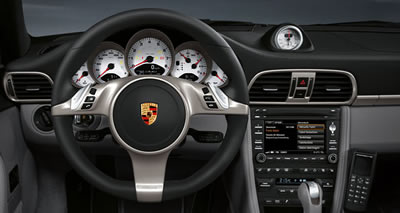 What a shame. Those rear-mounted "paddles" are placed perfectly and if I could've used them exclusively I'd be waxing effusively about how great the PDK is in manual mode.
The new PCM communication system switches from knob/button operation to a touch screen and my second experience with it was much pleasant than when I tried it in the Cayenne Turbo S. Maybe I'm more used to it now but, while I still think other companies offer better interfaces (GM for example), Porsche has done a nice job of integrating audio, Bluetooth, and the like. And the Bluetooth worked really well with my cell phone, interfacing with it easily and seamlessly – one of the best I've tried.
One thing I missed about the old system, however, was its row of about a million (give or take a few hundred thousand) small preset buttons that give you plenty of radio station choices. The new system uses the touch screen and offers banks of six presets at a time, which isn't as quick or easy to access if the preset you want isn't on the screen being displayed currently. This is particularly important now that satellite radio, with hundreds of channels, is offered.
That's a nit being picked, though.
The HVAC controls have been redesigned a bit. They look and feel mostly the same, but they used to be "chrome-ish" and now they're black – a little harder to see, but overall not a big deal: Porsche's HVAC works just fine.
The new car also has a nifty set of lights on the front that double as daytime running lights. They're basically just LED versions of what was there before, but they look a heckuva lot better than the silly "false eyelashes" Audi now inflicts on its owners.
One thing that really surprised me about the 911s, though it probably shouldn't have, is just how great it was in the snow. The temperature was bitterly cold and the roads snowy and icy during my test, yet the winter tire-equipped sports car handled fantastically, always stable and serene on the worst of throughways. I was tempted to find a parking lot and do some doughnuts, and perhaps would have if it were my 911 S.
This is probably the car I'd buy if the Lotto Gods were to look down upon me kindly, assuming I could convince my wife that such a purchase weren't complete folly. I'd have a tough time deciding which transmission to get, though, and would have to try the PDK in good weather to make up my mind. And beg Porsche to reprogram the system to let me "paddle" shift properly.
But either version would put a smile on my face for the rest of my days.
The Porsche 911 Carrera S starts at $86,200 U.S./$106,600 Canadian. If you option it up like my test car, with power seats, the PDK, self dimming mirrors, Sport Chrono Package plus, nav system and more, it'll come in more like $105,000 U.S./$130,000 Canadian.
Copyright 2009 Jim Bray
TechnoFile.com