New age snow brush and driving shoes aim to enhance your auto-based life
By Jim Bray
January 21, 2016
What do driving shoes and a snow brush have in common? Well, they both relate to cars and driving and either could make life with your prized wheels a little more awesome. So let's use that as a hook for a quick look at two very different but very interesting lifestyle products for you and your vehicle.
(click on the image to open a slide show)
As a respected member of the automotive media - well, as a member, anyway - I get to check out the odd bit of interesting tech and that's undoubtedly what led both Garant and Piloti to give me a chance to check out samples of their latest wares. So I've been doing: trying out a sample of Garant's newfangled snow brush and Piloti's Prototipo GT driving shoes.  
If the shoe fits…
I've been wanting a pair of driving shoes for, well, decades but for one reason or another never actually put my money where my mouth is - which is probably just as well, since you never know where your money has been. Piloti's offer to try a pair of their latest line was therefore extremely serendipitous, and I leapt at the chance. They make professional and non-professional driving shoes and, since I'm definitely no pro, I opted for a pair of their "Street Legal Style" casual line. They also make a Luxury line.
Piloti's classy brochure describes the casual shoes thusly: "perfect for driving and general wear, this street-friendly line offers the same technology and comfort as our Performance shoe, just without the Nomex." This lack of Nomex (the fire-retarding material from which race drivers' suits are also made) means that if your feet catch on fire, you're on your own.
So avoid jaunts over hot coals...
Casual in mien or not, the Pilotis are truly meant to be part of your hard drive, and I don't mean the one in your computer. "We continue to design every pair of Piloti driving shoes for people who love to drive," said Andrew Davies, Piloti's head honcho. "Perfect pedal feel and enhanced control are what the professional drivers who wear Piloti dream about. Yet unlike traditional driving shoes, Piloti driving shoes are also comfortable and stylish enough to wear on the street or in the office."
Available in men's sizes 6.5 to 13, the Prototipo GT's I'm trying may not make you really popular if you wear them to your job in an office tower, but they're definitely designed to look at home in a sports car, thanks to their handsome, stitched leather. The company also says they include their patented Roll Control spherical heel, which they say is meant to protect and cushion the heel bone while "adding durability and grip." The right shoe, the one that facilitates you tromping on the gas pedal, has a reinforced side to protect the shoe (and your foot inside it, undoubtedly) from heat and vibration when you do heel and toe braking.
I suck at heel and toeing, unfortunately, and since I received a pair of Prototipo GT's that fits my misshapen feet the road conditions around Calgary haven't been conducive to using the technique anyway (just stopping on the snow-and-ice-covered roads around here is an adventure). In fact, I've been wearing the Pilotis mostly indoors so far, to ensure I don't destroy them with snow and salt before I get a chance to really put them through their paces when Elderly Patriarch Winter finally gives way to human-caused global warming. Even so, I've come to be very fond of the shoes' leather and Rubber/EVA construction and look forward to exploiting them in their natural environment.
The shoes fit small, which meant my normal size nine ended up being a size 10 by the time we got the sizes all sorted out - and even the tens are a bit tight, though they're loosening a tad as they get broken in. The folks at Piloti suggest ordering a half size larger than normal (keep this in mind if you're taking the plunge) and I figure the fact that I had to go up a full size is more due to my fat and mildly-bunioned feet than the shoes themselves: I have the dickens of a time getting comfortable shoes at the best of times.
Piloti footwear and apparel (they also market a line of leather bags - a.k.a purses for men - as well as T shirts, belts, gloves, wallets, caps and jackets) are available across Canada, the United States, the United Kingdom, Australia and Japan at "select Motorsport and luxury retailers." You can also get them, in Canada, at Drivinggear.ca. The Performance and Casual styles of shoe range from $150 to $240. Luxury styles range from $350 to $500. The Prototipo GT's I'm using list for $170 Canadian on the company's website.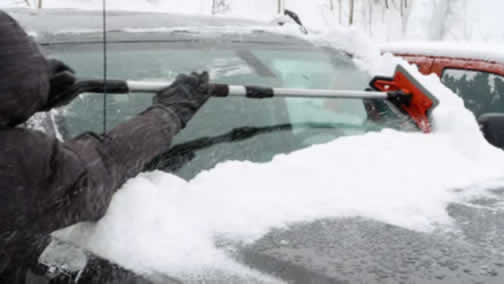 Snow squeegee…
Meanwhile, I've also been trying Garant's Telescopic Scratch-Free Snow Brush (available for $25 at Canadian Tire), which is a new take on an old chestnut. It's a strange looking but surprisingly effective tool that looks more like a squeegee than a brush - probably because it is more like a squeegee for snow than a brush. And while that may look and seem a tad weird, the lack of a brush's bristles, according to the manufacturer, means its friendlier to your car's paint job than traditional snow brushes.
It's also designed to never get clogged with snow, freeze, or break down. "The Telescopic Scratch-Free Snowbrush has undergone rigorous testing to withstand some of the harshest winter weather conditions," said Laurence Grenier, Product Manager at Garant. "It features a telescopic handle so users can easily remove snow from high, out-of-reach areas and durable EVA foam which doesn't freeze, clog with snow, wear down or scratch vehicle surfaces like most traditional bristles."
I've had a chance to try the "non-brush" on a variety of vehicles since it showed up at my door, from sporty sedans to tall SUV's, and I like it quite a bit. Since its shaft extends up to 52 inches, it's nice to use on SUV's where I'd normally miss quite a bit of the snow on the roof (hey, leave my hair out of this!) because of my shorter than average stature. And you should clear off the roofs - and the hood and front end - of the vehicle you drive because if you don't it's sure to slide backwards when you take off, re-covering the windows you've just swept clean. This is not only a waste of effort, it can be dangerous.
Besides telescoping, the "brush's" "head" can rotate 180 degrees - to the more traditional position of a snow brush - to help you reach into small and hard to get at places, though it doesn't always work out that way thanks to some cars' variety of protrusions and other body design issues.  
Changing the orientation of the pieces - the extension and rotating features - is done via big red buttons that can be pushed even if you're wearing gloves, which is handy. The scraper section also features "teeth" to help break up the ice, as well as a straight edge for clearing it away once you've broken it up.
I like the snow "brush" quite a bit. While it hasn't worked as well on some vehicles as it has on others, due mostly to the vehicle designers' penchant for putting weird things on their products' exteriors, on most vehicles with which I've tried it, it works just fine and I like that it's not supposed to scratch the vehicle.
I have a feeling that, as with the Piloti shoes, this nifty brush-compatible should be a "shoe-in" among those who care about driving.
Copyright 2016 Jim Bray
TechnoFile.com