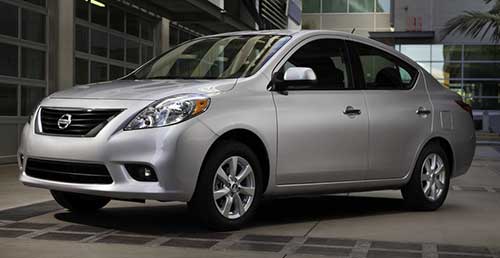 Nissan Versa has few vices
By Jim Bray
June 1, 2012
It screams "entry level," but if you can get past that, and the continuously variable transmission, you might find the Nissan Versa a decent little car.
It certainly tried to win me over in my week with the 2012 Versa SL sedan supplied by Nissan Canada. It came in at a quite reasonable $17,233 Canadian, which included the "Technology Package," an $800 option that includes a five inch LCD screen, satellite radio, a navigation system and USB audio. Eight hundred bucks is pretty reasonable for a  navigation system, but the affordability might be because many competing nav systems come bundled with a bunch of other stuff, whereas this one is nearly stand alone.
That's a nice way of doing it; so often, carmakers will load stuff into packages that you may not want, so this "a la carte" method has its merits.  
As for the Versa itself, it initially rubbed me the wrong way – very much so – because of its low rent demeanor (and that darn CVT), but over my week with it I began to like it, grudgingly. The CVT would still be a deal breaker, but to each his own.
The Versa sedan was redesigned for the 2012 model year, and isn't a bad looking car, in a relatively bland way. The exterior won't get you noticed (which could be a good thing!) and while the interior is also basically quite uninteresting, it's also quite spacious for this class of car, though the overall effect is of a car that looks and feels a tad cheap, as if it were meant to compete on price rather than excellence. 
This fits in with Nissan's claim that the Versa carries the lowest MSRP of any other car sold in Canada, at $11,798. That one must be pretty darn Spartan, 'cause the test SL sedan didn't have a lot of goodies on it, but was six grand more.
"Compact cars are getting a lot of attention recently due to rising fuel costs and concerns about the environment," said Judy Wheeler, Director of Marketing, Nissan Canada, Inc., "yet many buyers are disappointed in what they find – vehicles rife with compromise." Unlike this new Versa Sedan, she says, noting that it's a "clean sheet" design from the ground-up, "proving that you don't have to sacrifice style for affordability, interior roominess for a smaller footprint, or drivability for high fuel efficiency."
Yeah, well that pretty well sums up the Versa – though I might argue about its drivability. On the other hand, all the time I was in the Versa made me think of the Kia Rios I drove a while back that, while quite a bit more expensive, were so compelling that the only way you could really tell they were entry level was that they are in the same size class. Then there's the Ford Fiesta, which is also a pretty compelling little car.
Available in three models – 1.6 S, 1.6 SV and 1.6 SL – Versa gets its minimal power (109 horses at @ 6000, with 107 lb.-ft. of torque @ 4400 rpm) from its 1.6 liter four cylinder engine, which now features two fuel injectors per cylinder. It's enough power to get you around town fine, but – at least saddled as the sample was with the CVT – it isn't particularly engaging. Nissan says the Xtronic CVT transmission adds an auxiliary gearbox that uses planetary gearing this year, which Nissan says helps enhance efficiency, and maybe it does. If you can drive a stick, however, you might enjoy the standard five speed manual transmission a LOT more.
The CVT definitely creates a leisurely drive – and a noisy one to boot, so better bring a bullhorn with you if you plan to converse with your passengers.
On the other hand, the brakes (discs up front, drums on the rear wheels, with ABS etc.) work fine, stopping the Versa promptly with no fuss. Pedal feel is good.
So's the steering, which seems more spry than it has any right to be. It certainly isn't sports car stuff, but it's better than I expected. But the lack of telescoping ability coupled with the minimal manual seat adjustments meant I couldn't find a really comfortable driving position.
The suspension isn't too bad, either, but the car feels taller than it is, almost as if it's going to flip onto its roof if you apex an offramp too quickly.
Other new features for 2012 include an all-new front wheel drive platform Nissan says uses nearly 20 percent fewer components and weighs around 150 pounds less than the previous platform, and an all-new exterior and interior – the latter of which can be had with upgraded cloth, a 60/40-split fold-down rear seat and Fine Vision instrumentation.
The sample Versa also came with Bluetooth for the phone, though the voice interface is rather clunky (though it works okay), cruise control, air conditioning, a tilt steering wheel with redundant audio controls, power windows (with driver's side one touch down operation) and an audio system that's actually not too bad for this end of the market if you don't crank it up more than halfway (and beware the distortion if you do!).
I stuck a huge capacity USB drive into the Versa's auxiliary slot and was delighted to find that you can navigate and operate it from the LCD screen on the center stack.
Versa has a good greenhouse, seats that are more comfortable than they have any right to be (including a back seat that's actually useful – though perhaps not pleasant – for three and which offers excellent leg room) and a decent trunk. You can't open the trunk from the key fob like you can with a lot of other vehicles, nor is there a quick release on the trunk lid like there is on a lot of other vehicles – so you have to either open it from the driver's seat or stick the key in the trunk lid's lock. Not a huge deal, perhaps, but definitely behind the times.
The Versa seems aimed at those who'd rather spend as little as possible on a new car and still get a new car warranty. That advantage is gone by the time you get to the SL as configured for this test, since it's now in the same ballpark as the Honda Fit LX, Kia Rio LX+ or loaded Toyota Yaris, give or take a few hundred loonies. And while I'd rather drive any of them than the Versa, as long as you don't expect the little Nissan to be anything more than a reasonably competent little commuter vehicle it should serve you well.
And though it appealed to me about as much as a visit to the dentist, I had a chance to speak with a woman who has owned the hatchback version for a couple of years – though of course that's the old model. She absolutely loves it – which shows just how much I know…
So while there are definitely more interesting cars out there (actually that would include most of them!), the Nissan Versa does what it claims to – which is to provide economical and unpretentious transportation. And if that's what you want, maybe the Versa is your automotive oyster.
But don't buy before you test the competition.
Copyright 2012 Jim Bray
TechnoFile.com