New Sentra – Wheels for the Mainstream (Part two)
By Jim Bray
Continued from here...
Inside, the cabin is quite comfortable but it seems just a little tight, especially in back. I didn't have any trouble getting into the back seat, but once there I had to be careful getting out to ensure I didn't put footprints all over the place. And while there's a good greenhouse overall, with plenty of glass, the A pillars up front are a tad thick.
This "close but no cigar" mien stretches to the driver's seat, too, where the tilt steering wheel wouldn't tilt quite far enough down for my comfort. I had to raise the seat from where I like it to get the steering wheel angle I prefer. Likewise, where there were cruise control buttons on the steering wheel there were no audio controls. Huh?
The fabric seats are comfortable, though without bun warmers, and the interior materials seem quite good. And the little storage bin at the top of the center stack was a handy place to put my cell phone and other small knickknacks.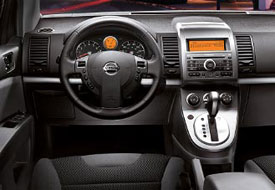 Instrumentation is analog, clean and easy to read. Not so for the LCD displays (on the instrument panel and the center stack), which are illegible when you're wearing polarized sunglasses. On the other hand, the HVAC is efficient, easy to fathom, and has plenty of fan control positions.
The rear seat splits and folds 60/40, with a high and wide pass-through, for extra storage.
The AM/FM/CD audio system sports Nissan's nicely configurable preset buttons (where you can store AM or FM regardless of the band to which the radio is tuned), but the audio quality is less than optimal. I found it bass heavy and somewhat muddy, though the power was more than adequate. And, on the upside, it does offer an MP3 player input.
Naturally, power stuff abounds, including door locks and windows (with driver's side auto down, but not auto up), and Nissan makes a bunch of generally higher end options available on the Sentra, including keyless, push button start/stop and Bluetooth capability.
According to Nissan, its 2007 Sentra earned the National Highway Traffic Safety Administration's (NHTSA's) highest front impact safety rating of 5 stars for front-impact. The car comes with six standard air bags, including seat-mounted side-impact supplemental air bags and roof-mounted curtain side-impact air bags.
The base Nissan Sentra 2.0 starts at $14,750US/$16,798.00 Cdn. The 2.0S trim level of my tester starts at $15,650US /$19,498.00 Cdn., and the top line 2.0 SL starts at $18,400US/$23,998.00 Cdn.
Whether or not this new Sentra will snag buyers away from the Toyota Corolla, Honda Civic, or the "zoom zoomy" Mazda 3, only time will tell. But it doesn't seem like a bad deal for what you get.