New Sentra – Wheels for the Mainstream
By Jim Bray
March 2, 2007
Nissan's all-new Sentra won't set the world on fire, but it's a pleasant and efficient vehicle that should serve its target audience very well.
Nissan says this new Sentra is "all about you." If you're an enthusiast you might find this a tad insulting, but if you're one of the millions who looks upon a car as simple transportation and not a means to an exciting end, it may speak volumes to you.
And so it should. The front engine/front wheel drive car is unpretentious and features a good list of standard features and that, for many, is exactly what the doctor ordered.
I will tell you that, after nearly a week behind the wheel of the Sentra 2.0 S, I went away quite satisfied with what it does and how it does it, but pining for a dash more élan.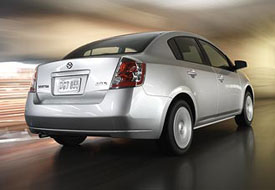 For 2007, the Sentra features a more powerful engine and the choice of either a six speed manual or continuously variable automatic transmission. My tester had the optional CVT, the latest application of Nissan's Xtronic CVT, which treads the fine line between performance and fuel economy by keeping the engine operating at its optimal rpms.
It works well, though I noticed that the engine/transmission combo tended to be a bit loud when pressed. Still, this is an economy car, so you shouldn't expect the sound deadening of a more expensive vehicle.
The 2.0 liter four cylinder engine is of the dual over head cam type and features four valves per cylinder. It creates a competitive 140 hp @ 5,100 rpm and 147 lb-ft of torque @ 4,800 rpm, the same horsepower and a tad more torque than the Honda Civic sedan and the base Mazda 3 – and appreciably more than Toyota Corolla's 126 /122 hp/torque.
Nissan prides the Sentra's four banger on its low end torque, and claims about 36 mpg, which is pretty good. I did notice the low end torque, which is great for when you're zipping away from a traffic light, and my gas mileage over the "near week" was quite satisfactory (thanks to having a lead foot, I never get close to the EPA ratings).
Sentra is slung via an independent strut front suspension with a stabilizer bar and there's a torsion beam axle with integrated stabilizer bar in the rear. Nissan says "Ripple Control Shocks" and rebound springs combine to help damp out vibrations while offering a flatter, more secure ride. I didn't have a chance to take the Sentra onto my favorite twisty bits during my snowy time with the car, but it handled just fine on wintry urban streets.
Braking is done via a front disc/rear drum configuration and ABS. My tester, which wore 16 inch wheels, featured a good pedal feel and stopping distances were quite good.
Article continues here