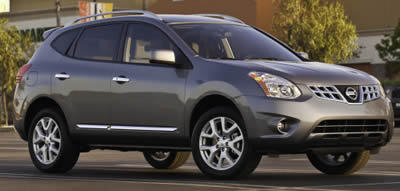 Nissan Rogue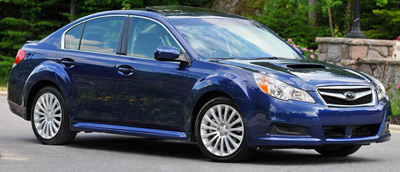 Subaru Legacy
Subaru Legacy, Nissan Rogue – Affordable All-wheel Drive
By Jim Bray
June 23, 2011
All-wheel drive can come in a handy if you're looking for the most traction or flexibility in where you can take your vehicle – such as in snowy climes or to off-road locations.
Nothing is free, of course, and all-wheel drive technology also adds weight and complexity to a vehicle, and any time you add something to a basic vehicle you can assume the price is going to go up as well. Fortunately, all-wheel drive doesn't have to break the bank, as witnessed by the two vehicles under discussion in this column: the Nissan Rogue and Subaru Legacy.
The Legacy is a pretty standard family sedan, while the Rogue is an SUV/Crossover-type of thingy, which shows there's also a variety of choices to be had even at the lower end of the all-wheel drive market. And though the Legacy and the Rogue are very different vehicles from each other, they have similarities beyond their four-footed demeanor. These include the fact that they're priced within a couple of grand of each other, offer the same horsepower, and both are saddled with automatic transmissions of the continuously variable type.
My sample Legacy was quite entry level – hardly optioned up at all from its base price of about 20 grand U.S. (about $24K Canadian). The test Rogue I drove was the SV AWD model, which made it a little more nicely turned out than the Subaru, but still far from loaded. AWD Rogues start at just under $23K U.S./$27K Canadian, while the SV AWD raises the ante to a starting price of just under $24K U.S./$28.5K Frostback.
The midsize Legacy sedan was redesigned for the 2010 model year and it sports a very attractive exterior that's sleek and interesting. The inside of my sample was pretty classy, though the silver/grey plastic trim cried out "Entry Level!" Other than that, though, it's an interior that's designed and laid out well and that is also very functional. And if you want something a little nicer, you can option it up.
The Legacy 2.5i is powered by a 2.5 liter four cylinder Boxer engine, the name referring to its "horizontally opposed" configuration that places the pistons 180 degrees from each other (so they work as if they're boxers punching away at each other). Subaru says it creates a flatter and smoother-running engine with a lower centre of gravity. It's an unusual configuration; the only other company I can think of that uses it is Porsche, though Toyota is rumored to be putting a Subaru boxer in a new, rear wheel drive car. Obviously, Subaru is in good company.
The Pugilist engine in my sample Legacy puts out 170 horsepower (and identical torque), which isn't a huge amount but which is sufficient to move the Legacy along nicely. If you want something a little more interesting, you can order your boxer on steroids (turbocharged, in this case), at which time it'll slam 265 horses and 258 pound feet onto the pavement. You can also get a 3.5 liter six cylinder boxer rated at 256 horsepower.
That's nearly enough boxers to start a league!
A six speed manual transmission is standard; my sample Legacy's "Lineartronic" CVT came with paddle shift controls that impart more of a "manual" feel than it would have without them, with six pretend gears. Not much of a manual feel, unfortunately, but at least the manual mode gives you better control. The CVT works fine, but it's loud (perhaps because it uses a chain rather than a belt).
The AWD system, a Subaru, er, legacy, maintains a 60/40 front/rear torque split under normal conditions, but adjusts to a 50/50 split under hard acceleration
I quibble about the softness of the car's independent suspension, which seemed to work against the Legacy's otherwise engaging handling and ride.
Subaru Legacy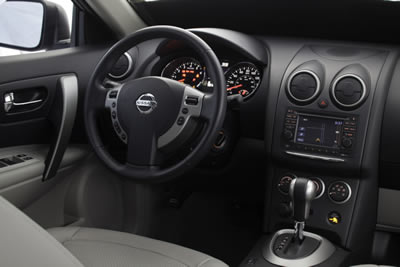 Nissan Rogue
The seats are comfortable (and adjusted manually on this trim level) and the 60/40 split/fold flat rear seat is reasonably roomy for three.
Everything in the car works well – though the standard issue stereo is nothing to write home about. You can upgrade pretty well everything, though, including the chance to add a multimedia center that operates via a touchscreen LCD. And, naturally, you can get stuff like Bluetooth.
The audio system perches high on the center stack, within easy reach. The HVAC controls are simple, and located low on the stack. Between them is a storage bin behind a big door.
The Legacy also comes with quick ratio power steering, traction and stability control, four wheel disc brakes with ABS, air conditioning, power windows (though no auto up/down on my Legacy's trim level), and power door locks and mirrors.
It's a pretty good package for the price.
Going Rogue…
Are other crossover SUV's "Palin'" in comparison to the Nissan Rogue? Probably not, but never let it be said that I won't walk a mile to make a bad pun.
The Rogue, being an SUV, rides much higher than the Legacy and this makes for even better outward visibility than the Subaru, since you can see over a lot of the traffic around you.
People can see you and your Rogue, too, which makes this year's exterior refreshing particularly, well, refreshing. The Rogue has never been drop dead gorgeous, not that it would frighten small children, and it still isn't – but it's reasonably attractive and bears a strong family relationship to the styling of its big brother, the Murano.
Rogue's power comes from a 2.5-liter DOHC 16-valve four cylinder engine that puts out 170 hp @ 6,000 rpm and 175 lb.-ft. of torque @ 4,400 rpm. It isn't a huge amount of oomph for a vehicle this size, but it's enough to move it along smartly and I had no trouble merging with other traffic. It sounds a tad buzzy when you first fire it up, however.
The only transmission for the Rogue is Nissan's Xtronic CVT and, unlike the Legacy's, it doesn't offer a manual mode. Like the Legacy's, it's noisy, but it works well. I still think CVT's feel weird to drive, though, since they never shift.  
The Rogue gets its decent handling from an all-independent suspension – struts up front and with a multi-link buttock – and also features four wheel disc brakes with ABS and speed sensitive power steering.
It's reasonably well equipped, too. Standard equipment includes a six-way manually adjustable  driver's seat, though I could never find a driving position that made me really comfortable. Perhaps the Rogue is meant for people taller than I, people whose legs actually reach the ground when they stand on it, but I would have liked the driver's seat to be a bit lower under my thighs.
Nissan Rogue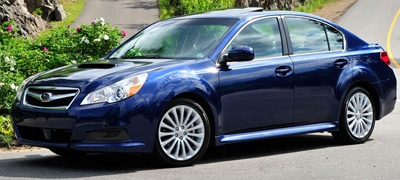 Subaru Legacy
The standard trip computer has displays for distance-to-empty, average fuel consumption, average speed, elapsed time and outside temperature. Nice touches include a Bluetooth hands-free phone system, heated front seats and a fold-flat front passenger seat. My sample also had a rear view camera, iPod connectivity and a power moonroof with one touch open/close operation.
Another nice touch is height adjustable shoulder belt anchors for both front and back rows.
As with the Legacy, you can up the options ante, including a premium package that gives nice stuff like automatic headlights and climate control. An SL package adds leather and an upgraded audio system, among other things.
I didn't have a chance to drive through snow when I sampled these vehicles, which was a welcome change after our seemingly endless winter. But I've driven other Legacys in bad weather and the Rogue, being an SUV, should also do a good job in the snow, especially if you opt for the all-wheel drive version.
It looks like your main challenge in choosing between the two vehicles, therefore, is deciding if you want a sedan or an SUV – or a boxer as opposed to an engine that treads the straight and narrow. 
Copyright 2011 Jim Bray
TechnoFile.com