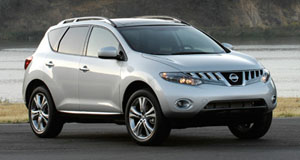 Murano 2.0 a Family Friend
By Jim Bray
April 10, 2009
If you thought Nissan Murano Version 1.0 was a pretty decent vehicle, you'll probably love what they've done to it in Version 2.0.
I kept missing the first version of Nissan's popular SUV and/or crossover, like two ships that passed in the night repeatedly as review vehicles came around. It drove me nuts, especially since I have a neighbor who has one and who loves it dearly and I really wanted to try it for myself.
Oh well, all is now well with the world again because I got a week of seat time in the new edition, and it's as good as I'd hoped it would be.
The 2009 Murano is distinguishable from its older self immediately, via a grille that no longer looks as if you can grate cheese on it and tail lights that are now mostly horizontal instead of mostly vertical. It's still an attractive vehicle, with a clean and modern design that features a dynamic front fascia, large integrated headlights, 18-or-20-inch wheels (my test car had 18 inchers) and LED taillights.
Nissan calls it a "mid-size crossover sport-utility vehicle", which in a world of SUV's and CUV's makes it a "MSCSUV" (and apparently a Microsoft product – though I never saw the blue screen of death during my time with the vehicle). MSCSUV is a fairly apt description, and I came away from the week in the SL trim level sample thinking it would be a nice vehicle to house in the auto stable at Chateau Bray, if we ever build it, with only one minor flaw preventing me from loving it completely.
That minor flaw was a driver's seat whose cushion was just a tad high for my little legs. It was really a nit I was picking, but if I don't whine about something I may be accused of whitewashing the vehicle – when in fact I didn't even vacuum it.
Nissan says the 2009 Murano features an advanced new platform, continued refinement of Murano's standard V6 engine and a new, second-generation CVT (Continuously Variable Transmission). Power from the 3.5-litre DOHC V6 is rated at 265 horsepower and 248 lb-ft of torque, which proved to be plenty and, though they still feel weird after transmissions that actually shift, the Xtronic CVT handles its duty very well.
The Murano has an advanced all-wheel drive drivetrain whose handling is enhanced by a new, lightweight four wheel independent suspension with extensive aluminum components. New dual flow path shock absorbers are designed for responsiveness and reduced ride harshness, while the new twin-orifice (I don't want to even think about going there!)  speed-sensitive power steering feels great.
Stopping is accomplished via four wheel vented disc brakes with ABS, Brake Assist (BA) and Electronic Brake force Distribution (EBD). There's also a Gee sensor. It works great, too. I took a corner quite quickly and went "Gee!" with delight, after which a little hand came out of the driver's seat back and patted me on the shoulder.
Vehicle Dynamic Control (VDC) with Traction Control System (TCS) is standard and Nissan says all 2009 Muranos meet ULEV (Ultra Low Emissions Vehicle) standards.
It's surely a fun beast to drive. It isn't a sports car, but it's a darn sporty SUV – er, MSCSUV.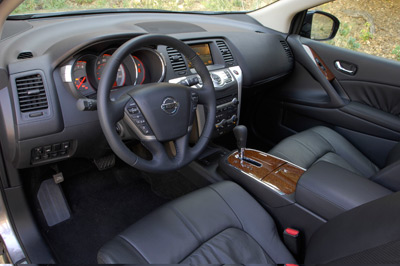 Hop into what Nissan refers to as a "Business class" interior and you're met by an attractive and efficient cockpit that sits four in comfort, five in a pinch (though not as much of a pinch as in smaller vehicles, of course). The driving position is first rate (other than my problem with short legs) thanks to my test unit's power-operated driver's seat and tilt/telescope steering wheel, though it seems a tad strange to have separate tilt and telescope controls.
The front seats are new (maybe I would have preferred the old ones) and there's a new steering wheel design as well. "Warmth", Nissan says, is provided by a new "Welcome Lighting" ambient lighting system, a new instrument panel design and available wood and aluminum accents. Fortunately, this is just a bit of marketing hype and doesn't mean they've removed the HVAC system.
Also new are standard 60/40 fold-flat rear seats with (available) power return and bun warmers. A nifty foldable cargo organizer is standard and it's great for carrying groceries home.  
For 2009, Nissan also makes available such toys as standard push button ignition and (optional, alas) intelligent key, which you can leave in your pocket and/or purse, unlocking the door via a little spot on the handles. These features work together beautifully, making me wonder why, if they're going to give you one, they don't give you both.
Other options include a rear view camera, integrated MP3 player connectivity, DVD Mobile Entertainment System with 9-inch screen, 11-speaker Bose audio system and an enhanced touch screen Navigation system with voice activation. You can also get XM Nav real-time traffic information (if you subscribe to XM) and a 9.3GB Music Box Hard Drive.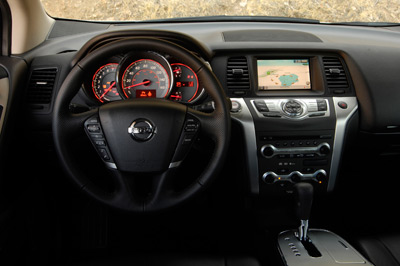 My SL AWD test unit didn't have all of that, but it had enough. There was no nav system, for example, but it had Bluetooth and a voice recognition system that worked very well. The steering wheel (steering feel is very good, by the way) features redundant audio and the cruise controls.
The instrument panel features big, analog instruments that are lit with a pretty orange color that was very attractive, though the white on gray lettering was hard to read in daylight when I was wearing my polarized sunglasses. It also had an LCD screen for navigating the menus, with cursor control interfaces that look culled from Infiniti (nothing wrong with that: they which work well), XM satellite radio, a backup camera and a power-operated tailgate.
A nice touch for rear seat passengers is adjustable shoulder belt anchor points, like most vehicles now offer up front. This is great for short people because they can make the shoulder belts less noose-like. Oh, and the 60/40 split/fold rear seats also recline.
Another nice touch is a huge, double sunroof – a fixed panoramic one for the rear seat passengers and a conventional tilt/slide one up front. Both can be covered by a power-operated blind-like thingy.  
There's plenty of safety equipment, too. The six standard air bags include dual stage supplemental front air bags with seat belt sensors and an "occupant classification sensor" which sounds like something Commies would love. There are also roof-mounted curtain side-impact/rollover supplemental air bags for front and rear outboard passengers, front seat "Active Head Restraints" and a Tire Pressure Monitor System (TPMS) is standard. It works as well as most, which means it's useless when it get really cold because it freaks out and tells you your tires are low regardless of whether or not they really are.
I liked the new Murano a lot. Its combination of features, quality, comfort and price make it a good value, in my never humble opinion; this is another vehicle that would be on my ever-lengthening list of vehicles I would own.
The Nissan Murano S starts at $27,680 U.S./$37,648 Canadian. My test SL model starts at $27,680 U.S./$39,348 Canadian and the top line LE starts at $37,260 U.S./$47,498.00 Canadian.
Copyright 2009 Jim Bray
TechnoFile.com