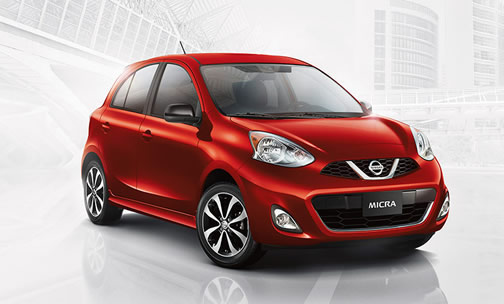 Nissan Micra-sizes and Micro-prices its entry level car
By Jim Bray
August 7, 2014
The smallest Nissan in Canada has been reborn after a several year hiatus, and its new incarnation is a fun little vehicle that packs a lot of punch - as long as you don't mean "horsepower" - into an affordable package.
And all for an advertised entry level price of under 10 grand! How can this be? (click here to open a slideshow in a new tab)
Well, it probably can't. Though I didn't have the chance to try the sub $10G version (for which I'm grateful, actually, because I like features), it's a very stripped down model that's more Spartan than most cars these days. But if you pony up a few thousand dollars extra you can have a pretty decent car that's actually quite a bit of fun to drive.
And no CVT!
Available in eight versions, the Micra undercuts the $10,000 figure by eschewing stuff like power windows and air conditioning. Basically, you get a five speed manual transmission, which probably makes this little car a lot of fun to drive, a basic AM/FM/CD audio system with auxiliary input jack, split/fold rear seat and 15 inch steel wheels. There are no automatic headlights, cruise control, steering wheel-mounted redundant controls and the like, or Bluetooth. But what do you want for 10 grand? Heck, you're lucky it comes with wheels!
Up the lucre level to the SV version (which Nissan Canada's website says starts at $13,698 - and add a grand if you want the automatic tranny), and you get Bluetooth (though only for the phone, not streaming), power windows and door locks, integrated key with remote keyless entry, illuminated steering wheel-mounted audio controls, body colored door handles, heated power outside mirrors, six-way driver's seat manual adjustment and a cargo cover. For an extra five hundred clams you can get the "SV Convenience Package" which adds a rear view camera, upgraded audio with a small LCD display and USB connection port.
The top tier SR version starts at $15,748 and adds stuff like 16 inch aluminum-alloy wheels, the backup camera, fog lights, side sill spoilers and a rear spoiler.
Nissan's sample was the SV version, with the four speed automatic transmission, "pearl metallic" paint and the convenience package. It totaled out to $15,333 sans freight and the other usual kilos of flesh. Still a pretty cheap little car and I have to admit I enjoyed driving it a lot more than I thought I would. In fact, other than the technological changes wrought by nearly 40 years of automotive evolution, the new Micra reminded me a lot of how my old 1976 Honda Civic felt - and I loved that car.
Hats off to Nissan for returning to a real automatic transmission instead of a CVT. Nothing fundamentally wrong with a CVT, but many of them are loud and obnoxious - and the "shiftless" aspect of their performance feels just plain weird. The four speed automatic in the Micra is hardly state of the art - you can get a six speed automatic on the competing Kia Rio, for example  - but it works well and it doesn't assault your senses when you press your right foot to the floor.
On the other hand, your right foot won't get too much exercise with a Micra, anyway, but of course "sporty performance" isn't its mandate. And so its 1.6 liter inline four cylinder engine dribbles 109 horsepower onto the road @ 6000 rpm, with a nearly identical torque figure of 107 lb.-ft. @ 4400 rpm. You aren't going to burn rubber in this car unless the rubber's already smoking! And that's fine - Nissan makes other cars for those with heavier right feet. The Micra is designed as minimalist, entry level transportation and in that regard it does a nice job.
The front drive Micra has mostly pretty good underpinnings, including vented front disc brakes with four wheel Anti-lock Braking System (ABS) and Electronic Brake force Distribution (EBD) as standard equipment. Micras are slung via an independent front suspension with struts and a stabilizer bar, there's a torsion beam rear axle with integrated stabilizer bar and the steering is speed-sensitive electric power steering. 
One thing you lose with the Micra is a telescoping steering wheel, and this disappointed me because, while the tilt is helpful, I couldn't find a completely comfortable driving position thanks to the combination of the driver's seat position and the lack of a telescoping column. It wasn't a huge deal, but it was one feature - or lack of - that made me wonder just how much you have to suffer in order to drive a cheap car. On the other hand, you have to suffer to own a BMW, too, so everything's relative.
Driving position aside, the car is reasonably roomy and comfortable, with a decent back seat for two (don't put a third person back there if he or she is armed!). There's also decent storage space considering what a small vehicle this is. The split/fold rear seat doesn't fold flat, but it's still pretty good.
My test Micra's air conditioning was pretty anemic, due undoubtedly to the small output of the engine coupled with the fact that it was really HOT! when I drove the car - want it cooler? Crack open a window and hope for the best.
The rear view camera worked fine most of the time, but when I was wearing my Serengeti sunglasses its display became virtually invisible.
Nissan offers an abundance of custom tweaks from which customers can pick and choose for the Micra as well, including such important stuff as mirror covers, door handle finishers, a rear hatch finisher, wheel caps and interior trim finishers (in five distinct colors!). There are also such lifestyle accessories as bike, ski and kayak carriers, cargo organizers, winter mats and trunk protectors.
You get a surprising amount of good stuff even on the base Micra, though, including variable intermittent windshield wipers and an intermittent rear wiper (and defroster), and of course it's filled with the usual cornucopia of airbags and safety belts.
Two things I'd like to see Nissan offer on the base model are automatic headlights and Bluetooth connectivity (and don't cheap out by eschewing tunes streaming!), both of which are important safety features that every car sold today should have. In the case of automatic headlights, they can help avoid the situation where oblivious drivers tool along at night with only their daytime running lights on, leaving their cars' butts in the dark - a tribute to the well-meaning nanny staters who deemed front daytime running lights as mandatory in Canada without thinking it through.  
But that isn't just a Micra - or Nissan - issue!
If you can live without such stuff, Nissan's new Micra is a pretty decent car, though if "fun to drive" is important to you I'd recommend test driving the manual version during your due diligence. But even the automatic makes for a pretty fun drive and considering the financial outlay required to get into a Micra, it's a pretty good deal.  
Copyright 2014 Jim Bray
TechnoFile.com