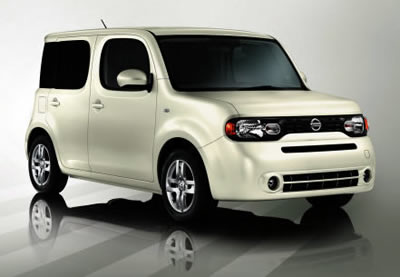 Nissan cube a Square Deal
By Jim Bray
November 27, 2009
It may be a little funny-looking, in a kind of cute way, but Nissan's new cube "van-like object" is a pretty nifty vehicle overall.
And while it does tend to perform somewhat like the brick on wheels that it resembles, it actually acquitted itself better than I'd expected, especially when I took it onto a handling course set up on a regional airport a few weeks ago. It was no Porsche Panamera, of course, but it was pretty good.
Nissan likes to think of the cube as something that "enhances life like people's digital devices do." To Nissan, cube is "A vehicle that people of all ages can fall in love with, even when they don't love cars". Kind of like an appliance, then: something you use but don't think about much.
Let's hope that doesn't lead to people forgetting its regular maintenance!
You probably don't have to worry about that, because the cube has built in maintenance reminders, which I discovered to my chagrin when my test unit kept telling me it needed service "soon". It also has a tire pressure monitoring system that worked fine while I was testing the vehicle, though these things tend to freak out when the weather gets really cold.
The cube has been available in Japan since about 1998, but only recently has Nissan had the guts to unleash it on unsuspecting North Americans and, while its looks could definitely be off-putting, I can see why people would like it on its own merit. It's comfortable, drives nicely, offers lots of space, is easy to use and is equipped well.
As for its looks, it isn't quite as bad as a quote I read a while back, attributed to a Nissan person, that it looks like it's standing still even when it's going fast.
It's a good line, though!
Nissan called the previous generation cube for the Japanese market, a "pocket-sized fun-and-function cocktail mixing the charm of Godzilla and the wit of Mothra," which makes me wonder if the PR people have ever watched a movie with Mothra in it; it isn't as if the gigantic monster performed stand up. About this current, third generation cube, Nissan says it's "clever, quirky, witty, fun and uniquely functional. And still totally square."
Possibly the most arresting thing about the cube's exterior, besides the overall square look that resembles the container in which it was shipped, is the wraparound rear window which appears to extend right around to the passenger side. It makes for a little bit of "non-symmetry" that actually helps to break up what otherwise are very slab-like sides.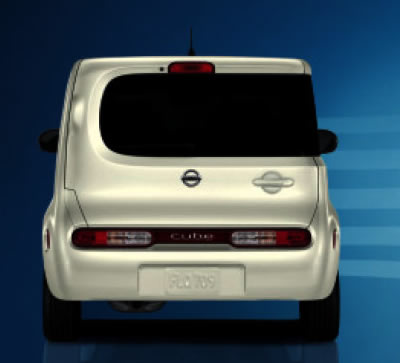 As it turns out, the wraparound window is fake! Inside, you get clearly separate rear and right side windows divided by a regular "D" pillar. This is probably a good thing from a rollover strength perspective, and it's kind of cool how they've pulled it off, but it's hard not to feel cheated somehow that the engineers were just messing with your head.
Nissan eschews the square theme inside, too, starting with a "pebble dropped into a pond" motif on the headliner as well as several swoopy curves around the interior that make the cube seem more like an egg when you're inside its body, er, shell. Okay, a pretty square egg.
Powering the cube is a 122-horsepower (127 lb-ft of torque) 1.8-litre DOHC inline  four cylinder engine with a "new-generation Nissan Xtronic continuously variable transmission" that gives pretty good acceleration and fuel efficiency. It won't set the race track on fire, but it's peppy and fun.
Keeping the wheels to the road are an independent MacPherson strut front suspension, with stabilizer bar, and a torsion beam buttock with an integrated stabilizer bar. Nissan says the cube's comfortable, relatively flat ride comes in part from their "Ripple Control" shock absorbers and the vehicle's overall body stiffness.
Helping enhance the driving feel are speed-sensitive electric power-assisted steering, power-assisted front disc brakes (with drums on the rear wheels) and 15-inch wheels wearing P195/60R15 tires. Slap some low profile rubber on this puppy and you just might enjoy carving a couple of chicanes with the cube.
The roomy interior is enhanced by A-pillars that are positioned far outward and mostly upright, with front door windows that have been given a "photo frame" design. They're big and let in lots of light and visibility, too.
Ah, but letting in all that light is a double edged sword. While driving my wife to work one morning before the sun had risen I noticed that vehicles to either side would reflect in the opposite window and that was quite confusing in heavy traffic. If a vehicle were coming up alongside in the lane to the left of the cube, it would reflect clearly in the passenger side window, making it almost appear as if two vehicles were coming up, from both sides of the car. Ditto for vehicles approaching from the passenger side.
The way to avoid this, of course, is to be the fastest vehicle on the road so no one can overtake you. The cube is not the best vehicle on the market for this, though…
The driving position makes it almost seem as if you're sitting on a bar stool, though that may be a bit of an exaggeration. The seat adjusts (manually) well, and it's easy to find a good driving position; it's just that you sit quite high. The steering tilt wheel contains redundant controls.  
The sun visors are really big, which would be nice except that if you extend them down all the way it becomes difficult if not impossible to see the road ahead because they block a lot of the view ahead, which seems to kind of defeat the purpose.
My SL trim level test unit was equipped nicely, with voice recognition that's actually very good – I never had to repeat myself, unlike in many other cars. It's also quite smart, and it doesn't slow you down too much by making you go through a bunch of extraneous commands and/or confirmations.
It also came with Bluetooth, smart keyless entry (one press of the button on the door handle outside and driver's door opens, two presses and they all open – just the way it should be but so often isn't) with push button start. Satellite radio was activated in my test unit, which also had an iPod connector that moves control of the player to the cube's audio system; there's also an auxiliary audio connector.
Other features include power windows with driver's side one-touch auto up/down feature, power door locks with auto-locking, variable intermittent windshield wipers (with an intermittent rear window wiper setting), rear window defroster with timer, cargo area courtesy light and a 12 volt power outlet.
The tailgate opens sideways, but at least it opens to the left – unlike some vehicles where they open to the right and therefore block access if you approach from the curb side, which you're sure to do when you're parallel parked. It not only opens fully, but Nissan has also built in a "limited-access position (of about eight inches) for when space is tight or you just need to reach in to grab small stuff like a backpack or grocery bag.
The rear seat is quite comfortable and offers recline and sliding features. It also folds down flat, which is nice but if it also flipped forward it could create a huge storage space with the kind of flat floor you'd probably expect from a "vanlike object" such as this but, alas, 'twas not to be.
Nissan says the rear seat is also positioned higher than the fronts, "theater style" which lets rear passengers see out better. Unless the sun visors are down.
Storage spaces and cupholders abound, and there are also detachable and moveable ripple-hooks for holding bags (or hats, Nissan says).
Standard safety equipment includes ABS with Electronic Brake force Distribution and Brake Assist, Vehicle Dynamic Control, Traction Control, six air bags (including front, front side seat and curtain supplemental air bags) and front seat Active Head Restraints.
The Nissan cube starts at $13,990 U.S./$16, 998 Canadian. A pretty good price for a pretty interesting vehicle I ended up liking a lot more than I thought I would when going into the review.
Copyright 2009 Jim Bray
TechnoFile.com