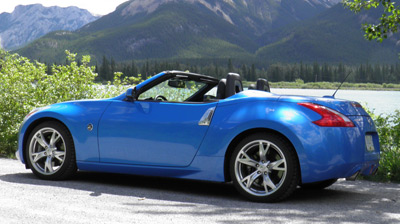 Nissan Z Roadster an Open-top Blast
By Jim Bray
September 9, 2010
Nissan's 370Z can be like revisiting your youth. Kind of.
Back around 1980, I bought the Datsun 240Z I'd always lusted after but could never afford when it was new. It was a 1972 model and I loved it, despite fenders so rusty they'd basically flap like eagles' wings at highway speeds. That Z was a marvelous car, a highlight of Japanese automotive technology of the time.
Alas, like so many other cars, the Z fell victim to safety and pollution regulations that helped turn the svelte 240Z into the less lust-inducing ZX models that, to me, seemed to have lost their way. It culminated with a 300ZX that was killed off around the same time other great Japanese sports cars – like the Toyota Supra and Mazda RX-7 – also met their makers.
To the joy of many car fans, Nissan reintroduced the Z early in the new millennium, and though it didn't look a lot like that original gem, it was modern in every way and a fine performer. The Z was back!
I didn't get a chance to drive those other Z's, but imagine my glee when the re-reborn 370Z came into my possession for a week of lovely summer driving. I was a bit disappointed initially that my review Z was the roadster, because I wanted to revisit my youth as much as possible by driving the coupe, but the car's looks, performance  – and the sunshine – won me over.
In fact, when I returned the 370Z roadster at the end of my test period I had come to the realization that I like the convertible's looks better than the coupe's. Instead of looking like the convertible top was an afterthought, it seemed more fully realized, like a Porsche Boxster compared with a Cayman – almost as if it were meant as a Porsche Boxster for people who can't afford a Boxster, or perhaps a Mazda MX-5 (Miata) for people who want a little more power and elbow room.
I like what Nissan has done with the new Z's front end, which has an aggressive beak reminiscent of the GT-R supercar. It's very cool. I'm not as in love with its butt, with its crescent-like taillights, but they're an improvement over the previous generation's.
The new Z Roadster features an aluminum hood, door panels and trunk for lower weight, and extra structural reinforcement (compared to the coupe), including in the A-pillars and side sills. This is so the car doesn't twist itself apart the first time you hit a tight corner, since hard top cars tend lose some structural integrity when the can opener's taken to the roof.
Unlike the original Z's 2.4 liter straight six engine and its 150 horses or so, which was pretty quick in its day, the new Z bursts with power. Its 3.7 liter DOHC V6 engine with Variable Valve Event and Lift Control (VVEL) – with a 7,500 rpm red line – even picks up 26 horsepower and 2 lb.-ft. of torque over the not-so-old 350Z. It's now rated at 332 horsepower @ 7,000 rpm, with 270 lb.-ft. of torque @ 5,200 rpm and, as you might expect, it's darn fast. Horsepower like that was V8 territory not long ago.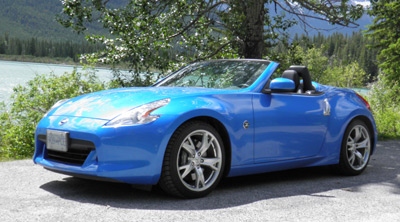 My test roadster had the optional seven speed auto/manual transmission, as opposed to the standard six speed manual with, Nissan says, the world's first synchronized downshift rev matching in a manual transmission). The automatic also offers Downshift Rev Matching (DRM) and Adaptive Shift Control (ASC) to smooth out your shifts.
In reality, I wasn't too enamored with that aspect of the tranny; it almost seemed to shift like a student learning a manual, at times quite jarringly.
That, of course, also brought back some memories!
It's not too bad, but it made me wish Nissan had stuck a dual clutch transmission in the Z, something like VW's DSG or Porsche's PDK; they not only shift like lightning, but they're smoother as well.
You can shift the auto via big, paddle shifters or the shift lever itself. Nissan says the seven speed's wide gear ratios offer better fuel efficiency than before, while the Adaptive Shift Control is designed to "adjust to the driver's driving style." It never adjusted to mine, though.
I also had an issue with the way Nissan has mounted the paddles on the steering column rather than on the wheel itself, because they don't turn with the wheel. Now, they're big enough that in most cornering they're still accessible, and you really should get your downshifting done before you reach the corner, but at times like when you're exiting a curve, in really twisty bits – or if you're just hanging a right at a stop sign – you can suddenly find them inaccessible.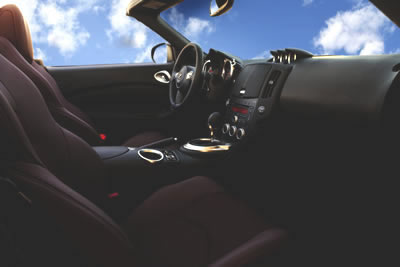 This isn't a deal breaker, however – and there's always the shift lever.
Z's very good handling comes via a double-wishbone front suspension that replaces the 350Z's lower multi-link setup. The rear is a four-link type suspension Nissan says is also stiffer and lighter that the previous model's. "High response" shock absorbers are used all around, for improved ride comfort, and the car does offer a nice balance between sportiness and bladder-busting.
The car comes with four wheel vented disc brakes with ABS, Electronic Brake force Distribution (EBD) and Brake Assist (BA). The Sport Package includes Sport Brakes that have large diameter 14.0-inch front and 13.8-inch rear rotors (versus the "measly" 12.6-inch front/rear standard rotors the less discerning customers saddle themselves with).
Steering is vehicle-speed-sensitive power-assisted rack-and-pinion and it feels great, sending the car just where you point it.
The power top works well, and doesn't require you to undo any latches or the like. Nissan says it folds or unfolds in about 20 seconds, which is pretty good – and the roof doesn't truncate the trunk. There's a glass wind deflector behind the seats that Nissan says has been optimized to reduce turbulence into the cabin, but if that's the case I'm glad I didn't drive the last version: in this version, the wind sweeps around you so you feel like you're about to be swept away to the Wonderful World of Oz. At highway speeds, I had to either drive with the windows up or staple my hat to my pate.
I still have the staple marks.
The Z's interior is very up to date, comfortable and efficient, and with an abundance of technology and convenience features including, the company says, the first-ever Z Roadster standard heating and cooling ventilated net seats.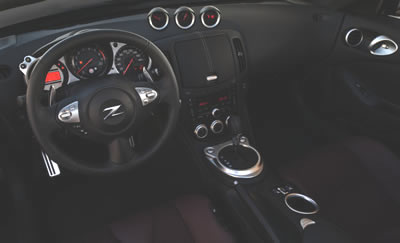 There's also a Bluetooth Hands-free Phone System, satellite radio and an optional advanced Nissan Navigation System.
I loved the seat coolers. Even though they tend to make me feel as if I've wet myself, it was insufferably hot when I picked up the Z and though my brain got fried on the trip home my buttocks were calm, cool and collected.  
The Roadster's leather-appointed "net" seats feature are very comfortable, with the power operation controls inboard, by the center console. They hold you in nicely when the driving gets interesting.  
The instrument panel retains the traditional three-pod cluster atop the center stack, with oil temperature, voltmeter and clock (though why not put a nice analog clock in a round pod like that, rather than just a digital display?). Instruments are easy to read and laid out well.
The steering wheel's a tad thin for a sports car. I drove the car a week after I had an Acura ZDX – which may be sporty but which is certainly not a sports car – and I liked its thick steering wheel better.
Standard interior features include "smart key" with push button ignition, power windows with one-touch up/down operation, power door locks with an auto-lock feature that drove me nuts because it made me (and/or passengers) unlock the car manually every time I wanted to get out, automatic climate control, two 12-volt power outlets and three cupholders (for two fisted drinkers!)
The 370Z Roadster's safety features include an Advanced Air Bag System (AABS) with dual-stage supplemental front air bags (with seat belt and occupant classification sensors), front seat-mounted side impact air bags, door-mounted curtain air bags and seat belts with pretensioners and load limiters.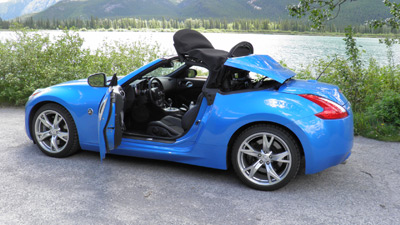 There are also Active Head Restraints and a Vehicle Dynamic Control (VDC) system.
There's a lot to like about the Nissan 370Z Roadster. It's fast, fun, and, at a starting price of $37,320 U.S./ $46,998 Canadian, it's easier to get into than something like a Porsche Boxster or BMW Z4. And that ain't bad.
All things being equal, I'd opt for the Boxster, but they aren't equal and that makes the more affordable Z a compelling choice.
Copyright 2010 Jim Bray
TechnoFile.com