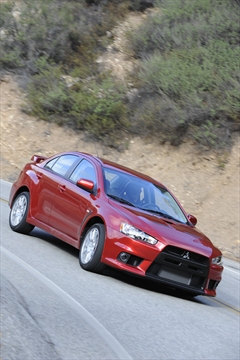 Mitsubishi's Lancer Evolution a Fast Friend
By Jim Bray
March 27, 2009
It's raw! It's visceral! It's "Basic transportation on steroids"!
It's the 2009 Mitsubishi Lancer Evolution, a superly-souped up version of the Japanese carmaker's mainstream sedan, a car designed for the rallyer or the wannabe racer.
The Lancer Evolution is all about performance or, as Mitsubishi says: "The 2009 Lancer Evolution is an ultra high performance, five passenger, sports sedan that showcases several cutting edge technologies including a 291 hp, 2.0 litre DOHC, intercooled turbocharged engine, and Super All-Wheel Control (S-AWC), a vehicle dynamic control network that provides an extraordinary level of control at individual wheels, going well beyond the capabilities of other all wheel drive systems."
And I can't argue that mouthful of hype. The car is definitely powerful, fast, and dynamic. Heck, within five minutes of leaving home for a trip to one of our favorite mountain destinations I had reeled in a speeding ticket – and I had been trying very hard to be a good boy. I blame the fact that I was so new to the car – and it's the type of vehicle that, if you don't keep a keen eye on the speedo, you can find yourself experiencing "officer angst" really quickly.
Obviously it's time for the government to start letting me write off speeding tickets as an expense of doing business…
Anyway, this "ultra high performance" all wheel drive sedan positively bristles with drivetrain technology as befits the car's heritage of international race and rally competition. That heritage doesn't appear to be running out of steam, either; according to Mitsubishi, the 2009 Mitsubishi Evolution RS recently copped an outright victory in its first outing, the Rallye Perce-Neige Maniwaki, Quebec.

The car looks mean. There's no real grille, just a big, angry hole up front through which you can see the radiator – quite intimidating, in all. The rest of the exterior is modern and attractive and if it's a tad boxy that's because it looks like it just finished shooting up with a banned substance to make its athleticism even more effective.
Motivating the Mitsubishi is an intercooled-turbocharged 2.0 litre DOHC, 16 valve, MIVEC, inline 4-cylinder engine that pounds out 291 horses @ 6500 rpm and 300 lb-ft of torque at 4400 rpm. As with most turbos I've driven there's a bit of lag, but once that sucker kicks in it's like I imagine being catapulted off an aircraft carrier would feel like. Your back is pressed into the excellent Recaro seats and the skin on your face flattens like you're atop a Saturn 5 – leaving just enough slack for that inevitable smile to peek through.
My Mits GSR (there's also a hotter MR) came with a five speed manual transmission. The MR gets a six-speed Sportronic Twin-Clutch Sport Shift "automatic" that seems more in keeping with this car's mien; I'm surprised they even off a five speed manual in this day and age of six speed manuals, but if you want to shift it yourself that's what you get. And that said, it works fine.
The car gets its cat-like reflexes and on/off road stability from its Super All Wheel Control (S-AWC) real time vehicle dynamics control network, which includes Active Centre Differential (ACD), Active Yaw Control (AYC) , Active Stability Control (ASC) and Sport ABS systems (the latter of which enhance the car's Brembo disc brakes).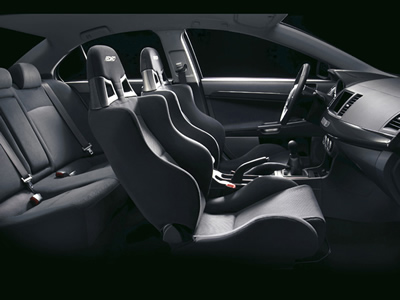 The ACD system lets you choose from three driving settings via a rocker on the steering wheel (where other cars would have redundant audio controls): tarmac, gravel, and snow. ACD splits the torque up to 50/50 between front and rear wheels, taking data from the steering wheel angle, throttle, wheel speeds and vehicle movements through both axes of motion to tweak the car to the current conditions.
The system impressed Canadian automotive journalists enough that they (the Automobile Journalists Association of Canada, or AJAC) declared it 2009's Best New Technology, one of significant benefit to consumers and likely to be emulated by other manufacturers. Past winners include such innovations as run-flat tires and a variety of hybrid and suspension technologies.
The Mits feels very light, only requiring gentle but firm touches on the steering wheel and brakes before it rushes to do your bidding. Handling is superb, without a lot of understeer. The suspension is sporty stiff but not excessively so, striking a nice balance between efficient sportiness and bladder busting.
Indeed, driving the Lancer Evolution is definitely a rush. It's fast, handles really well, and can make a middle aged dude feel 20 years younger almost immediately.
Or can it?
I love a spirited ride, to quote a Bond girl (referring, oddly enough, to 007's vintage Aston Martin) but enough things about this car rubbed me the wrong way to be a deal breaker, for me.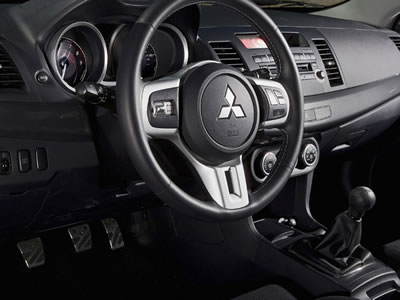 First is the noise. While the engine sounds marvelous at full throat, the interior of the Lancer is loud and buzzy, so much so that it gave me a headache. Not a good way to bond, no pun intended, with a vehicle.
And while the Recaro seats are wonderfully comfortable and hold you in beautifully when the road resembles Medusa's tresses, the high side bolsters on the bottom cushion make it very hard and uncomfortable for the short and portly to get out. This may be a way of the car telling you not to leave, but there comes a time when you just have to visit the bathroom.
The driving position is very good, but not perfect. The tilt steering wheel doesn't  telescope and it should, because when my legs were comfortable with the pedal position the steering wheel was too far away – just a tad, but enough.
I had some quibbles with the displays, too, mostly my usual whining about red-colored illumination. Here, the audio system (AM/FM/CD etc.) and the digital display on the instrument panel are all red, and I find that hard to read. What's worse, the "tarmac/gravel/snow" reading is reverse scan – black letters on a red background – and that gave me fits.
The instruments that really count, such as the tach and speedometer, are analog and much clearer, however – except that I had trouble reading the speedometer while wearing my polarized sunglasses. I'd like to blame that for the speeding ticket, but I think it's more related to the element "Pb" that seems to have been implanted surgically into my right foot.

The audio system is okay at best, with reasonable sound quality but an amplifier that runs out of steam far too quickly. More power and better speakers are called for (and, to be fair, there's an optional system available that from its specs seems pretty cool). 
Other quibbles include signal lights whose clicking noises are very quiet (and hard to hear over the car!) and which don't cancel themselves all the time, making the driver resemble an old fart even if he, she or it isn't (in my case it was embarrassing to have it proclaim exactly who I am!); also, the fuel range remaining indicator jumps all over the place, so you're best to keep the tank topped up with the premium fuel it wants.
The trunk is very small, partly because they've stuck the battery and windshield washer fluid reservoir there (for better weight balance, I assume). We tried putting two medium-sized suitcases into it and only one would fit, so if you're planning to take the Mitsubishi on a road trip, you'd best pack lightly and use soft luggage. Or call Fedex.
That said, this is a driver's car meant for driving. And as such, it's one heck of an experience.
The Mitsubishi Lancer Evolution starts at $32,990 U.S./$41,498 Canadian.
Copyright 2009 Jim Bray
TechnoFile.com