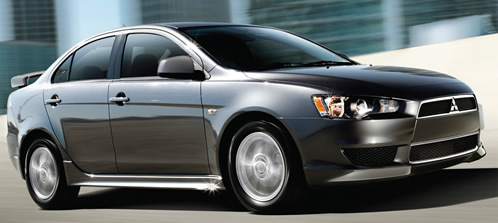 Mitsubishi Lancer a reasonable ride
By Jim Bray
August 31, 2012
Take a basic four door sedan, add all wheel control and a touch of élan and you have the 2012 Mitsubishi Lancer, a compelling choice for those looking for a reasonably priced, reasonably fun family car.
Well, the Lancer SE AWC, anyway. It's a new model for 2012 and the car Mitsubishi Canada provided as a sample. And you know what? It's a pretty nice ride.
The Lancer is Mitsubishi's "bread and butter" car, offered in versions from econcar to hotter'n'heck. The SE AWC is kind of in the upper middle of the line, and treads a nice, er, line between economy and fun. In fact, it's a lot more fun that I had expected, especially since the version I tried was fitted with a continuously variable transmission, the type of shiftless tranny that often sucks all the joy out of driving.
Here, however, it's actually not bad. It's quieter than many CVT's and Mitsubishi's paddle-activated fake manual mode offers a decent manual feel, almost as if it really were a six speed manual. Not real, but not bad, all things considered!
Other Lancers can be had with a real manual transmission.
This particular Lancer's power comes from a 2.4 liter DOHC 16 valve four cylinder engine that puts 168 horsepower onto the road. Other Lancers get either a normally aspirated or a turbocharged two liter engine.
That power, in this instance, can go to either the front or all wheels. The car defaults to front wheel drive, but you can also choose all wheel drive on demand or "lock" it into four wheel drive, the latter of which may be perfect if you're heading off road or if the roads are really, really crummy.
The SE AWC differs from base Lancers cosmetically, via stuff like a black mesh grille with chrome surround and a cool rear spoiler that's visible from the driver's seat via the rear view mirror.
Lancer's suspension includes McPherson struts up front with a multi-link system in the outback (oops, wrong car company!). There's a stabilizer bar up front as well. The car actually does a pretty nice job of treading the sport/comfort line and this is enhanced by the nicely tuned, electrically assisted rack and pinion steering.
The Lancer SE AWC rides on 16 inch alloy wheels wearing 205/60 series rubber. Brakes are discs all around, with ABS and electronic brake force distribution. Pedal feel is fine and the brakes perform well.
The interior is thought out and executed well, though the "deluxe fabric" seats of Mitsubishi's sample Lancer are real pet hair magnets, so keep a vacuum or a Schticky around if you have a menagerie at home. That said, the seats – manually adjustable and heated up front – are comfortable and supportive and do a nice job of holding you in place when the twisty bits arrive.
The Lancer SE AWC offers reasonable audio as standard equipment. The 140-watt CD/MP3 head unit with four speakers is nothing spectacular, but it manages to sound better than some supposedly premium systems I've heard. Don't take that to mean it's as good a real audio premium system, of course, but overall I was surprised at how enjoyable the sound was in this Lancer. And it streamed the music from my smart phone – as well as offering hands free calling – thanks to its Bluetooth capability. Pairing was straightforward.
The steering wheel is comfortable, has redundant controls for the audio, etc. and both tilts and telescopes, so it's easy to get a comfortable driving position. The instrument panel is straightforward, with analog gauges and a multi-information display.
Niceties include auto-off halogen headlights, variable intermittent windshield wipers, power central locking, power windows with driver side auto down/up and keyless entry with a panic alarm feature.
There's decent storage space, good cup holders and – undoubtedly anathema in this politically correct age – there's even an ash tray!
The standard air conditioning system is manually operated, but it worked well during the hot weather we had during my week with the Lancer.
Mitsubishi Lancers start at just shy of sixteen grand Canadian, with the SE AWC model starting at just over $23,000 (not including taxes, etc.). That's pretty competitive in the small sedan marketplace, especially considering you get AWD with this car. If you don't care about AWD, though, you can get more stuff for about the same money elsewhere, though not necessarily the same combination of utility and fun the Lancer offers.
Lancers have been around for years and Mitsubishi has done a nice job with the car. It's a handsome (it kind of reminds me the Acura TL of a couple of generations ago) and interesting car that comes with a very good warranty as well: a 10 year/160,000 kilometre Powertrain Limited Warranty with a five year/100,000 kilometre fully transferable bumper-to-bumper New Vehicle Limited Warranty.
Too bad Mitsubishi didn't put their electric drive technology into the Lancer instead of the i-MiEV. While I'd still have the same issues with an electric Lancer that I did with the i-MiEV (you can catch that review here), the Lancer is a far nicer car – as a car.
Of course, the Lancer would probably cost close to fifty grand by then!
As it sits, however, it's a nice car, fun to drive and priced well.
Copyright 2012 Jim Bray
TechnoFile.com