Mitsubishi i-MiEV – coal, natural gas or nuclear-powered eco-saver?
By Jim Bray
July 26, 2012
Count Mitsubishi as being on board for saving the world through battery power.
The Japanese automaker is one of the first companies to offer an honest-to-goodness all-electric car for the Canadian market, and I got to spend three days with one recently. It was the first all-electric car in which I've had a chance to spend some seat time, and of course I was very interested.
Full disclosure: I proudly count myself on the "climate change" (the new term for the global warming hoax) denier side of the issue. It's not that I deny that the climate changes; it does. Heck, I live in the foothills of the Rocky mountains, which fossil evidence apparently deems was once a sea, yet now it's very dry and there are these huge rocky things to the west that keep out the Pacific ocean.
As for human-caused climate change, well if I were a betting person, I'd toss my ante on the side of Person Nature (or Person Universe, which is probably more like it). It's arrogant in the extreme to think we little humans can hope to outdo anything the natural world can toss at us, whether that world was God created, "big banged" into existence or started up by complete random chance. And every time we do think we can outdo ol' Mama (er, sorry, Parent) Nature, she unleashes a whammy that should make us feel a tad more humble.
Just ask the Japanese, or anyone who lives where nature has wreaked havoc.
And this doesn't even consider asteroids…
Now that we understand each other, let's look at the Mitsubishi i-Miev, a car that's supposed to help steer us away from fossil fuels and greenhouse gases and which will, therefore, save the earth from our profligate acts of eco-rape. And I was very surprised to find that, while I scoffed at the idea going in, I actually enjoyed the i-MiEV's electric performance and thought it was kind of neat. And there's potential here.
But when you tally all of what this car really is and what it does, you end up with a vehicle that could pass muster on its electrical abilities, albeit with a number of caveats, but which fails in a more basic goal: being a compelling car.
Let's start with the overall package. If it weren't Gaia-embracing, this car might not get many second looks. On the other hand, I actually did get plenty of looks with the i-MiEV – but not from the usual suspects; they appeared to be less hippie nods of approval and more "What the heck is that?!" gapes from people who had yet to see a car whose shape is reminiscent of the old " Rock-O-Plane" midway ride I loved as a kid. Except the Rock-O-Plane was more fun…
The i-MiEV's kind of teardrop-or-egg-shape is probably pretty aerodynamic, and therefore efficient, and while I don't find the styling particularly compelling, to each his own. To me, the car's design screams "econo-box," which I suppose is truth in advertising except for the fact that the i-MiEV lists for about thirty-two thousand Canadian loonies.
That shape also helps maximize interior room, which is a nice bonus. And it's pretty well equipped, too. You get power windows, air conditioning, a reasonable audio system – more reasonable than the metal of the doors, apparently, because I was streaming some tunes from my phone (Bluetooth is included, thank goodness) and the doors rattled when I cranked it.
And the seats seem designed clearly for weight reduction because the padding is thin. I also couldn't find a really comfortable driving position because the steering wheel neither tilts nor telescopes. In 2012.
The electric power that runs the car is adequate if you leave it in default mode, and there's another mode that maximizes the regenerative braking. Switch to eco mode, however, and you might as well walk. Still, in default mode I had no trouble keeping up with traffic and even passing when called for, but the car's center of gravity feels like it's located at about roof level, because it felt like it was going to go buttock over beverage brewer on a couple of off ramps I like to use as stability tests.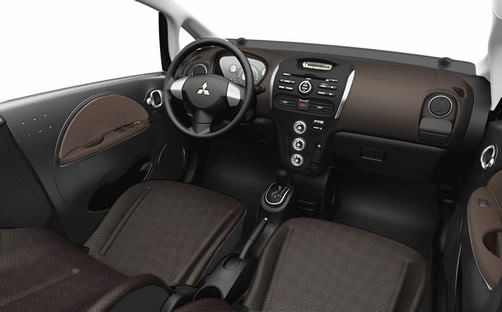 Mitsubishi says the car's power/torque figures are 66 and 145 respectively, by the way.
The electric performance is weird in its quietness. Start the car and you hear nothing beyond the typical warning bings and bongs and, depending on how you left the car, the stereo or whatever. And it appears that you can't start the car if it's still plugged in – a darn good thing because when I picked up Mitsubishi Canada's sample i-MiEV I might have driven off with it still attached, and wouldn't the security camera footage have been embarrassing on "Dumbest Stuff on Wheels"!
I drove the car around the city for three days, doing regular chores and trips, and when I took it back there was still a "quarter tank" left. Not bad, especially considering it was really hot when I had the i-MiEV and so not only did I drive it – well, reasonably spiritedly (I had to test it!) – it also took all the added strain from the air conditioner, audio, etc. I had EVERYTHING running.
The air conditioner was adequate, but it only hit about 30 degrees Celsius here during my review and the system was giving its all. I wonder if it would be enough for those in Ontario or the eastern U.S. where that insufferable heat was leaving people without electrical power.
Bet those folk are glad they didn't have electric cars to charge!
That's another thing. While I had no issues with the electrical charging – since I didn't have to charge it – that limited range would definitely be a deal breaker for me. Obviously, this is meant as a commuter car – and if you just want to commute downtown every weekday from the suburbs, and can charge the car overnight, it'll probably do the job just fine.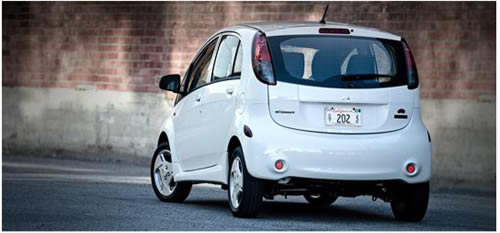 But what if you want to visit family in another city, or go on a road trip? Okay, that isn't really the car's mandate, but for $32,000 it should take me wherever I want to go. Where I live, in Calgary, I couldn't find any charging stations other than the Mitsubishi dealer. To be fair, I didn't look very hard because, really, you shouldn't have to; my Internet searches found bupkis in or around the city.
There definitely are charging stations at the Fairmont Banff Springs hotel, however; I've seen them. They're the closest ones I could find.
Charging via a wall socket is no problem, but that still doesn't address the range issue. According to Mitsubishi, it takes up to 22 hours to recharge the i-MiEV from empty that way (the quick charge option can supposedly give an 80 per cent charge in 30 minutes, which sounds like magic) – and nothing else can use the outlet at the same time. So if you don't have the fancy dancy charging unit and drain the car, you're out of luck for an entire day!
You can buy a quick charger from Eaton but according to Mitsubishi they're expensive and aren't something EV customers would install in their homes. Eaton also makes "level 2" chargers, however, which range from $1,000-$1,500 - or about the equivalent of 885 – 1300 liters of regular gasoline at today's price near my home. Mitsubishi claims an empty battery needs a 6-7 hour charge this way, which isn't too bad if you have the time. They also note that EV owners don't usually let their batteries get down to empty, so an average charge of three to four hours is more normal.
However you slice it, if you want to go on a trip you're out of luck until charging stations are common, the old "chicken and egg" scenario. And who wants to wait even six hours? That's a heckuva bathroom break, though it could also give you time to eyeball some tourist traps if they offered chargers.
Like the Banff Springs does. But according to Google maps, it's 133 km from my home. Mitsubishi's i-MiEV blurb says its range is 140 km. – and I assume that's under ideal circumstances. I can't imagine heading out for Banff knowing that the only thing guaranteeing I won't be left on the side of the road is faith.
If only one could take along jerry cans of electricity!
Then there's the electricity itself. Even if you do save money on gasoline, the electricity has to come from somewhere and you'll be paying for it on your power bill. How much? I have no idea, but there ain't no such thing as a free lunch.
This, of course, also means that if you're contemplating buying an electric car because it doesn't have any greenhouse gas emissions, you're fooling yourself. The emissions may not come from your exhaust pipe, but they're still coming – from a nuclear, coal, natural gas, oil or however your area's power plants are fired. And if you're an anti-nuke, oil or whatever person, think of this: every time someone buys an electric car more "pollution" is created from those big power plants you love to hate.
And what do you do if there's a power failure and you have to be somewhere in a few hours?
I don't know the answers to all these issues, but I would be remiss not to raise them.
As for the i-Miev specifically, if not for the electric stuff it would be an entry level car, and there's nothing wrong with that. But its base price is $32,998, and Mitsubishi Canada's sample included the $3000 premium package, which consisted of 15 inch alloy wheels, a 40 GB HDD Navigation with Mitsubishi Multi-Communication System, seven inch touch screen, calendar, environmental information, driver computer information, rearview monitor and more – including a pretty decent 360-Watt ("maximum") premium CD/DVD audio system with digital music server, Bluetooth, USB input and voice control.  Other than the nav system, it's all stuff I would want.
Various governments may offer rebates to help bring the price more down to earth. I saw an ad in Ontario promising ten grand back, but even $25,000 is too much for this car, as a car. Subsidies also raise the question of fairness. Is it right to force your neighbors to help pay for your supposedly green strategy via their tax contributions?
Ideological discussions aside, when it comes to the bottom line the i-MiEV just doesn't cut the mustard. It isn't the electrics. It's the batteries. And the price. I surfed by Kia's Canadian website and priced a loaded Kia Rio5 at $23,784 and, other than the electric stuff, it's a nicer car. A loaded Toyota Yaris five door via Toyota's website is $23,237.67. So even with subsizies, the i-MiEV is a tad dear.
What you end up with here is a feel good car with thinly padded seats and okay performance as a car. Oh, the hatch is fine, and the rear seats fold down, but such niceties as storage bins are in short supply, the door pockets are too small to hold my little, well, purse, and all you get on the center console is a couple of cup holders.
So, an interesting concept and all that, but no cigar.
But it got me thinking: put a version of this technology (with practical, real world range) into something like a Lancer and you might be onto something.
In the meantime, the Mitsubishi i-MiEV meanders out of the gate as a prime example of why these vehicles won't catch on until the capabilities are upped and the price is "downed" substantially.
Thank goodness we keep finding more oil!
Copyright 2012 Jim Bray
TechnoFile.com