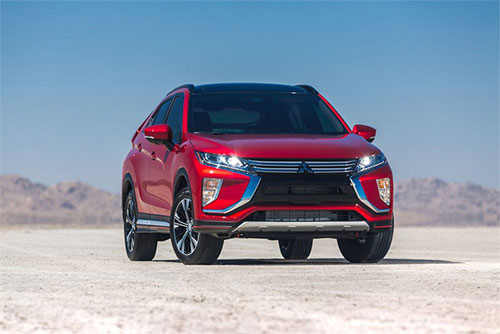 Mitsubishi's small SUV tries to Eclipse its many competitors
By Jim Bray
October 11, 2018
Mitsubishi's new Eclipse Cross SUV is the Japanese automaker's entry into the entry level compact SUV market, a niche currently occupied by such other Japanese models as the Honda HR-V, Toyota C-HR, Mazda CX-3 and Nissan Qashqai. How does it stack up compared to that competition?
Click on the image to open a slide show.
Well, I haven't driven a Qashqai, but I have driven the Honda, Mazda and Toyota and the Mitsubishi compares with them fairly well. And to sweeten the deal, owners get Mitsubishi's extensive warranty policy: a 10-year, 160,000-kilometre limited warranty on the power train, a five-year 100,000-kilometre new vehicle limited warranty with five-year unlimited kilometre roadside assistance.
That's good news. But while there's nothing really wrong with the Eclipse Cross, and it drives as well as such a vehicle is likely to ("Zoom-Zoom" from some of the competition notwithstanding), it still manages to come off like a bit of a dog's breakfast, at least as far as its design is concerned.
If you have a starving dog, then, you're in luck!
Mitsubishi Canada describes the vehicle's styling as "dynamic shield," which "conveys striking confidence with distinct, edgy body lines that flow to the raked rear hatch." And the vehicle's standard 18-inch alloy wheels "intensify the SUV's sporty, commanding stance."
Well, it isn't as funny-looking (or, to be fair, "as over styled") as the Honda, Toyota or Nissan, but that's hardly high praise. I don't know what it is about Japanese designers lately – Mazda excepted, so far – because they seem to be going out of their way to add swoops and creases and you name it that takes what could be straightforward designs and makes them excessively busy.
Look at the current Honda Civic, for example, or the Toyota Camry, or Lexus RX 350, or pretty well any current Nissan that isn't a truck. You'll find stuff like "floating" roofs, angular creases and weird grilles, and plenty more assaults on the optic nerve.
Automotive beauty being in the eye of the keyholder, naturally, your mileage may vary – but I like elegant simplicity, the type of thing now being seen on vehicles such as those from Mazda, Hyundai, Kia, Jaguar, Volkswagen and (most) Mercedes Benz. Sue me.
To these eyes, the Eclipse Cross looks mostly okay from the outside, from its Mitsubishi-family grille to its side panels. On the other hand, the highlights over the front wheels look as if they were ripped right off a last generation Mazda6 while the rear end looks like a cross between a Honda CR-V and Kim Kardashian. No butts about it!
That rear end also features a horizontally-split rear window – shades of the Honda Insight – that has a big spar affecting your view from the rear-view mirror. And only the top section has a wiper – though to be fair if you're going to offer a wiper that's the best place for it. On the other hand, that lower section can tend to get quite dirty when you're driving on wet or muddy or snowy roads.
Mitsubishi says the inspiration for the exterior styling is that of "a competitive sprint runner in the 'Get Set' position. They are crouched down in their lane and on their mark, muscles are defined, energy evident and movement is dynamic. Watching a runner in the set position is highly anticipatory, and such is the emotion while looking at the Eclipse Cross."
And then you get to ooze away from red lights thanks to a 1.5 litre direct injection turbocharged four cylinder engine. Mitsubishi says it puts out 152 horsepower @ 5,500 rpm and 184 lb-ft torque @ 3,500 rpm which, to be fair, is actually decent for this market niche. It's hardly athletic, though, especially since it comes attached to a CVT – continuously variable transmission – that, while not as annoyingly loud as some, still manages to suck some of the joy from the driving experience.
Making the driving experience a little better is a sport mode that makes the CVT pretend it's an eight-speed automatic. It isn't, of course and, while the manual mode is better, you're not likely to confuse it with a real automatic, even with the paddle shifters.
Power goes to all four wheels thanks to Mitsubishi's S-AWC (Super All-Wheel Control) system, which the company says "enhances both straight-line stability and cornering performance by precisely controlling the torque supplied to each of the four wheels." The system also integrates the vehicle dynamics control system that includes Active Stability Control (ASC), Anti-lock Brakes (ABS), and Active Yaw Control (AYC).
There are three driver-selectable modes from which to choose: auto, snow and gravel, each of which is meant to "enhance the S-AWC performance and logic depending on the driving conditions." Since the weather and the roads were fine during my test, I just left it in auto and all was peachy.
The interior is where you'll spend most of your time, of course, and Mitsubishi has come up with a good one. Well, mostly. They've inflicted a trackpad onto the centre console, one that looks suspiciously like it was pried off the same location in a Lexus (I pity the poor Lexus owners who went outside one day to find a hole where their trackpad used to be…). I hate trackpads at the best of times and this one is representative of the species: you have to take your eyes off the road too much while fussing with it.
Fortunately, it's a redundant system because the big LCD atop the centre stack is also a touch screen, and it works just fine, except that it's a tad far away for my stubby little tentacles and its interface could be a lot clearer. Still, it beats the pants off a trackpad.
Mitsubishi Canada's sample also had a colour Head's Up Display (HUD) that works well. Alas, it uses the same type of flip-up plastic screen that Mazda uses for its 3; it works fine, but it's one more thing to break and seems a tad complicated when pretty much everyone else just projects the image "into space" in front of the windshield.
The driving position is fine, and mostly comfortable – though my left butt cheek kept falling asleep and the resulting snoring made my wife think I'd been eating chili again. There's decent room in the back seat, though, and plenty of storage space.
As is de rigueur these days, the Eclipse Cross also comes with an abundance of automotive aunties, including Blind Spot Warning and Lane Change Assist, the really handy Rear Cross Traffic Alert, plus Forward Collision Mitigation, Lane Departure Warning, Adaptive Cruise Control System, a multi-view camera system and automatic high beams for the headlights.
Naturally, you also get the usual assortment of belts and bags.
Available in four trim levels, ES, SE, SE Tech package and GT, Mitsubishi Canada's sample was the top line GT, which carries a starting price of $35,998. It's a pleasant vehicle, and it'll probably serve its customers well.
And while its entry level price of $27,798 is okay considering the S-AWC system is standard, an all wheel drive Nissan Qashqai starts at $24,898 and an AWD Honda HR-V can be had for $25,400. The Toyota CH-R starts at $24,750, but it's front drive only.
Comparing top trim levels, the HR-V Touring is $33,626, Toyota CH-R XLE is $26,350 (though still only front drive) and Nissan Qashqai SL is $30,298. These aren't complete apples-to-apples comparisons, of course, (standard equipment and stuff like that – including "incentives" – varies), but they're a reasonable starting point.
All things considered, I have a feeling the Eclipse Cross isn't going to be that better mousetrap Mitsubishi would like, but if you're looking for a vehicle that will get you around without fuss and which comes with a generous warranty, the Eclipse Cross is worth checking out.
Copyright 2018 Jim Bray
TechnoFile.com
Jim Bray is a member of the Automobile Journalists Association of Canada. His columns are available through the TechnoFile Syndicate.