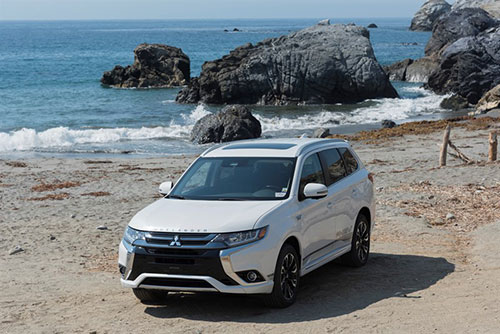 Mitsubishi's Outlander PHEV puts in a plug for green driving
By Jim Bray
August 23, 2018
Mitsubishi has unleashed its plug-in hybrid version of the Outlander and I have to admit it's the nicest Mitsubishi SUV I've driven to date.
Not that a plug-in hybrid is near the top of my list of things to look for in a new vehicle, but judging by the number of plug-in hybrids available these days it seems clear that a) people either want such a vehicle or b) car makers are being pressured to add such vehicles to their offerings whether they sell or not (otherwise, why would we need government incentives that force your neighbours to help you pay for your purchase through their taxes?).  
Click on the image to open a slideshow.
Mitsubishi's "green" version of the Outlander has apparently been available elsewhere in the world for years, but this was the first model year the product has been offered to Canadian consumers. And according to the company, it appears Canadians are embracing the vehicle. "With 598 units delivered in the month of July (2018), Outlander PHEV leads the plug-in hybrid segment with more plug-in hybrids sold year-to-date than any other nameplate", the company said in a release, "helping Mitsubishi Motor Sales of Canada to achieve its (sixth) consecutive best month sales record."
That just shy of 600 units means the Outlander PHEV accounted for nearly a quarter of Mitsubishi's total sales for the month.  
Why? "Fuel efficiency is the top purchase reason for Outlander PHEV," said Kathryn Soubliere, senior manager, Sales Operations. "As customers factor in the long-term fuel savings of Outlander PHEV, the vehicle becomes a compelling value proposition for real-life use particularly because there is no compromise to any of the SUV capabilities Canadians desire."
Well, I imagine it depends on which Canadian you're asking. My wife and I just bought an SUV – used, as befits our budget – and I didn't even look at a PHEV, or any hybrid for that matter. The deal breaker for me with many vehicles these days, especially hybrids, is the continuously variable transmission or – as Mitsubishi's media website describes the version that comes on the Outlander PHEV – a "one-speed transmission."
These transmissions don't have gears and therefore never shift, and they suck a huge amount of the fun from the driving experience.  I've hated nearly every CVT I've driven, with a few exceptions for ones that try to mimic "conventional" automatic transmissions. And even the ones I didn't hate are still really noisy, whining and bleating like a left-wing activist when confronted by facts.
On the upside, however, the CVT in the Outlander PHEV wasn't nearly as whiny and annoying as many.
The gasoline-based power plant in the Outlander PHEV is a two litre four that oozes a mere 117 horses (and 137 lb.-ft.) but the good news is that you don't really notice that this mid-sized vehicle has an engine more suitable to a Yaris because the electric stuff does a good job of maximizing the oomph output. In fact, there are two electric motors, one on the front axle and one at the rear. Power is also gained via regenerative braking.
The system also features a front-mounted generator that converts mechanical power to electricity and charges the drive battery continuously. A Power Drive Unit (PDU) helps convert the electricity and sends it to the front motor.

The rear motor measures 60 kWs and it - and an Electric Motor Control Unit (EMCU) - is mounted beneath the rear cargo area. Mitsubishi says that both the front PDU and rear EMCU are intelligent control units that "contribute to heightened energy efficiency and optimal motor control."

The battery pack is a high-capacity 12kWh lithium-ion thingy the company says was developed specifically for the PHEV system. It's stored in a dust and waterproof encasement under the floor between the axles.
There are multiple ways to charge the vehicle. It comes with a 120-volt cord that seems to take forever (or at least overnight) to recharge, or you can spring for a Level Two charger such as you'll find at hotels and shopping malls, which supposedly gives you a charge in under four hours. You can also use a Level Three fast-charging station that should get the charge mostly done in about as much time as it takes to stop for a coffee.
Or you could just drive the vehicle. There's a "Battery Charge mode" you can select via a button on the centre console that keeps the gas engine fired up and uses the generator to charge the battery. This uses more gas, of course, which may be a tad counterintuitive if you've bought the Outlander PHEV to save gas (to be fair, however, it still just sips compared with non-hybrids).
There are three driving modes: EV (all electric), Series Hybrid (the gas engine adds its power to the electric motors for extra oomph while the battery charges), and Parallel Hybrid (in which the engine powers the wheels directly, enhanced by the electric motors – the most fun!).  
The power goes to all wheels thanks to Mitsubishi's Super All wheel control system, making this vehicle one of the few all wheel drive models to sport PHEV technology.
The company also claims it's Canada's only plug-in hybrid vehicle with a 10-year or 160,000 km powertrain warranty, 10-year electric battery warranty and five-year or 100,000 km comprehensive warranty.
Inside the Outlander is very nice, and Mitsubishi's top line GT trim level was about as loaded as one could want. Leg and headroom are great (at least, if you're short like me), the seats are comfortable and luxurious and the ride is very quiet (other than the CVT). Mitsubishi's sample had premium soft leather seats and the rear bench of the two row SUV is quite comfortable, with seatbacks that can be split and/or folded in many ways.  

There's a pair of paddle shifters behind the steering wheel, but they don't really shift. Instead, they control the regenerative braking system, letting you adjust the strength of the regenerative braking through six settings.  
The shift lever is a little weird, but no more so than in a Prius – and at least the Mitsubishi doesn't beep inside when you back up, the way a Prius does. The A/C is also a tad weak (or it seemed so during our very hot week with the Outlander PHEV) and I found the interface for the LCD screen on the centre stack to be quite confusing. The Rockford Fosgate audio system is quite good, though.  
You also get the usual nannies, including blind spot monitoring, rear cross traffic alert, lane departure warning, etc. etc.
I haven't been a huge fan of Mitsubishi vehicles of recent vintage, though to be fair I haven't driven a lot of them, either. But this Outlander PHEV is a very nice SUV, efficient and pleasant and even quite nice to drive. You could save a few grand from the PHEV's (GT trim) as-tested price of $49,998 by choosing the 2.4 litre gas engine version in GT S-AWC trim, which starts at $37,998. You can buy a lot of gas for that extra 12 grand, though you'll still have to deal with a CVT.
On the other hand, there's also a six-cylinder version of the Outlander available, and it comes with a real automatic transmission! It starts at $34,998.
Guess which one this lead-footed oaf would choose.
Copyright 2018 Jim Bray
TechnoFile.com
Jim Bray is a member of the Automobile Journalists Association of Canada. His columns are available through the TechnoFile Syndicate.