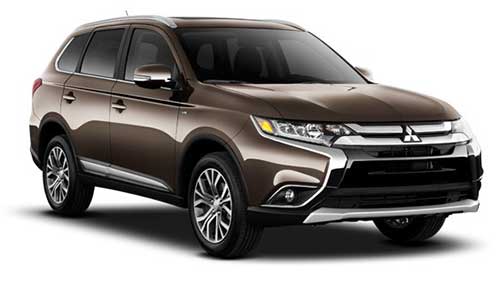 Mitsubishi Outlander GT 4WD - control yourself!
By Jim Bray
January 15, 2016
Mitsubishi's 2016 Outlander faces an uphill battle to be seen in the crowded midsize SUV/Crossover niche, despite many good things about the vehicle itself.
It's too bad; at heart, the Outlander is a decent vehicle, but as executed on Mitsubishi Canada's sample GT 4WD version, there are some things that leave a bit to be desired - and that could help contribute to the Outlander's perhaps getting lost in the competitive shuffle. The driver's seat, for example. It's comfortable enough, but when I dumped my prodigious posterior into the sample's it rocked back as if it were mounted too loosely. This phenomenon would repeat itself when I tromped the gas pedal, which was quite disconcerting - though it did indicate that, if there are things lacking in this vehicle, power isn't one of them!
Mitsubishi has freshened the Outlander this year, giving it sharper rear styling as well as a number of other design and engineering improvements such as increased structural rigidity for the body and suspension, a redesigned suspension, electric power steering, noise-isolating windshield and rear door glass, added sound insulation throughout the vehicle, improved weather stripping and engine compartment trim. It all contributes to a vehicle that's improved plenty from previous years.
The sample's power came from the optional 224 hp, 215 lb.-ft. of torque, three litre V6 engine and, while that number may not seem particularly generous (Toyota Highlander's V6 is rated at 270/248, for example), I never had an issue with the Outlander while merging, passing or taking off from green lights. The base engine, by the way, is a 166 horsepower, 2.4 litre four cylinder engine.
Lesser trim levels get saddled with a CVT, but the GT trimmed sample had a six speed automatic.
The 2016 Mitsubishi Outlander GT also offers the company's Super All-Wheel Control – adjusted via a knob on the centre console - and this sophisticated system includes torque vectoring capabilities to help keep you on the road when things get curvy or slippery. Roads weren't particularly slippery during my week with the Mits, but I can't imagine the system would be anything other than competent. And it performed fine on the curves.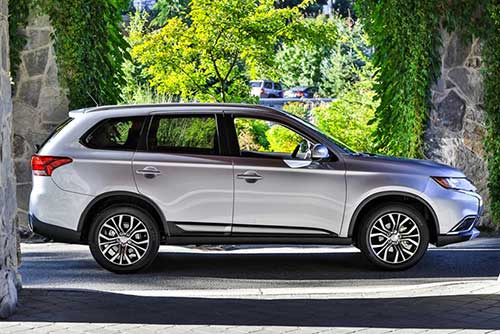 The suspension is independent all around (struts up front with a multi-link bum), and it feels just fine. There are four wheel disc brakes (and the usual aides for them) and pedal feel and performance is also fine. I wish I could say that the electrically-assisted rack and pinion steering is fine as well, but it seemed a tad sloppy.
The GT trim level also inflicts upon you the current spate of safety technologies - Adaptive Cruise Control, Lane Departure Warning and Forward Collision Mitigation. This is a darn shame and the way they're been integrated into the Outlander is really annoying. This, of course, isn't specifically a Mitsubishi thing, but the Outlander's version is so sensitive it would freak out and display a big "BRAKE!!!" sign on the dashboard when I'd pull out from behind a slower vehicle to pass it. This not only p****d me off, because there was nothing unsafe about the manoeuvre I was making, but because the bright warning drew my attention toward the dashboard and away from the view outside, where it should have stayed. You can shut off the nannies, but you have to do it each time you fire up the Outlander.
Again, this isn't specifically a Mitsubishi thing; it's becoming more industry-wide every day. More dumbing down of our society! If you need all this stuff, perhaps you should take public transit or wait for autonomous vehicles to become practical.
For its as tested price of $38,498 (sans government-mandated kilos of flesh), Mitsubishi's sample Outlander was pretty fully equipped. Besides the nannies, it also came with the upgraded Rockford Fosgate audio system (though I wasn't particularly impressed by its power or audio fidelity - and as with some of the south Korean cars I've driven, the satellite radio reception was spotty). It also got a power tailgate, paddles for the six speed automatic transmission (mounted on the steering column, unfortunately, rather than the wheel, so they don't move with the wheel), dual zone automatic climate control, heated front seats, a rear view camera and Bluetooth.
Ah, the Bluetooth. I could use my phone for tunes or for phoning, but not both at the same time (it kept disconnecting and reconnecting whenever I changed functions). The system also wouldn't download my phone book (though it claimed it was doing so); the bottom line was that if I wanted to make a call I had to pull over and stop the Outlander, then dial by hand. So why was there Bluetooth again?
That particular whine aside, the GT trim also gets you rain-sensing wipers, hill start assist, the fold-flat third row seat, power and leather driver's seat, automatic LED headlights, a glass sunroof and, as part of a $2000 option, a navigation system. So there's a lot of good stuff stuffed into the Outlander, especially for its price.
I had trouble getting into and out of the Outlander's third row and once back there really wanted to get out again as quickly as possible. Look upon the rearmost seats as being more for emergency use rather than as a place where you want to stow the ankle biters on their way to and from hockey practice. On the other hand, young kids will probably be able to scamper into and out of Steerage a lot more spryly than a middle aged fat oaf.
I may be damning the Outlander with faint praise and that's a shame because at heart it's a good vehicle. But even though it's a big improvement over earlier ones, it seems a tad second tier considering what else is available. On the other hand, one can't argue its value: a reasonably comparable Kia Sorento, Mazda CX-9 or Toyota Highlander - all of which also offer three rows of seats - will run you in the neighbourhood of $47,000 and you won't get Mitsubishi's 10/5/5 (power train/new vehicle/roadside assistance) warranties.
Copyright 2016 Jim Bray
TechnoFile.com